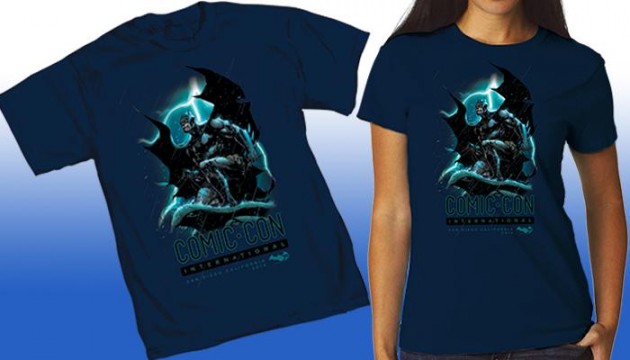 If you wanted an official San Diego Comic-Con t-shirt in years past, you'd better be prepared to stand in a long that could rival even Hall H. But last year, that changed, with pre-orders online before the convention. After a successful trial in 2013, Comic-Con International has decided to once again offer pre-orders for the official San Diego Comic-Con t-shirts this year, as well as a few others.
There are five t-shirts available for ordering, including one featuring the Jim Lee The Dark Knight design from this year's Souvenir Book cover, to celebrate Batman's 75th Anniversary this year. Also available are a Toucan t-shirt featuring art by Rick Geary, and a Comic-Con logo t-shirt available in either a pale pink or a black design.
In addition to the official Comic-Con International shirts, CCI is also offering two other shirts for pre-order – The Comics Arts Conference Logo T-Shirt in maroon, which features the words "I'm a Scholar ask me how" on the back, and a Comic Book Legal Defense Fund's shirt, featuring Jeff Smith's BONE character and the words "Free Speech is Patriotic".
All t-shirts are manufactured by Graphitti Designs, and are available for the following prices and sizes:
ADULT S-XL $21.55
ADULT XXL $24.79
ADULT XXXL $28.03
WOMEN'S S-XL $21.55
YOUTH S-L $18.31
T-shirts that are pre-ordered can be picked up in the Marriott Marquis & Marina in the Comic-Con International merch area – the Santa Rosa Room – between the hours of 9:30AM-7PM on Thursday-Saturday, or 9:30AM-3PM on Sunday. All pre-orders are guaranteed, though pre-orders will close online on July 16.
You can find more information about the shirts, including all the designs, and pre-order them online now on CCI's site.
Will you be buying one of these shirts? Let us know in the comments.