Comic-Con news stops for no man (or woman, or wookie). We've already got more news for you on several artists and some previews of their work, a Scott Pilgrim bag making its debut at SDCC, information about BioWare's appearance at the convention, news on what you might be seeing from NECA, information on how to become a part of the BBC America's booth display, and much more.
Here's the stuff you might have missed for today:
Last year, Blizzard Entertainment, maker of such awesome games as Diablo III, World of Warcraft and StarCraft II, brought some pretty sweet exclusives to Comic-Con last year. Safe to say, there was a constant swarm surrounding its booth all weekend. Well, fans of the popular video game company will be happy to hear Blizzard will once again return to Comic-Con, according to an announcement on the Heroes of the Storm website:
Blizzard is proud to announce that we'll be returning to this year's San Diego Comic Con, bringing with us never-before-seen treasures and show exclusives from our Licensing Team! Keep an eye out for schedule details and exciting product reveals (coming soon).
Artist Otis Frampton tweeted he was denied an Artist Alley booth at SDCC. Luckily he will be there anyway at a table with fellow Artist/Writer Josh Howard.
Aw, crud. Looks like I was denied an Artist Alley table at SDCC. Good thing I already have space in a booth. Thanks, @joshuahoward!

— Otis Frampton (@otisframpton) June 3, 2014
Scott Pilgrim fans will be able to find this official Ramona Flowers bag at San Diego Comic-Con, where it will make its debut. Oni Press made this announcement on Twitter, and even shared a photo of the bag.
And if you haven't seen it yet, we'll also be debuting the OFFICIAL RAMONA FLOWERS BAG at SDCC! pic.twitter.com/gzLnpxu2Z1

— Oni Press (@OniPress) May 30, 2014
Check out this LETTER 44 mission patch we'll be premiering at SDCC! Should pair nicely with the trade of V1! pic.twitter.com/0OvuF5iqUV

— Oni Press (@OniPress) May 30, 2014
Superbook, a bible-based children's website, revealed on Facebook the packaging for one of their upcoming DVD releases — Revelation: The Final Battle. San Diego Comic-Con attendees will be getting exclusive packaging for the DVD.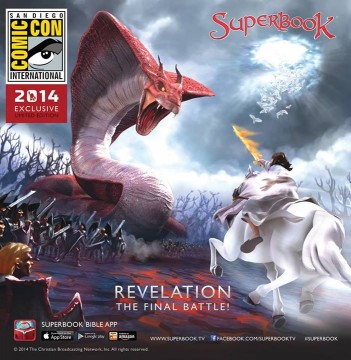 Marvel colorist and the creator of Ultraduck, Edgar Delgado, announced via Twitter that he'll be at booth #CC-21 during Comic-Con.
Take a note guys and gals, my #SDCC table number is CC-21! See you in 2 months!

— Edgar Delgado (@delgaduck) May 30, 2014
Attendees will also be able to find Lea Hernandez, a comic creator for DC, IDW, and more, at Artist's Alley table AA-19, according to an announcement she made via Twitter.
https://twitter.com/theDivaLea/status/472483132235448320
Illustrator Marcelo Matere announced on Twitter that he will also be in Artists' Alley, at table AA-03.
Here we go! My SDCC Artist Alley table is AA-03 😉

— Marcelo Matere (@marcelomatere) May 30, 2014
Adobe Photoshop Imagineer Daniel Presado posted on Instagram that he will be giving away t-shirts, which he designed personally, at the Adobe booth.
BioWare announced on its website that fans will be able to find them at San Diego Comic-Con, as well as several other conventions, for "panels, activities, and the return of the Dragon Egg Hunt". The gaming company's newest offering, Dragon Age Inquisition, will likely be showcased, but we'll let everyone know once we have more information.
Eisner-award winning author Paul Tobin announced on Twitter that he will be doing a signing at San Diego Comic-Con for his latest book, I Was The Cat.
@roxypolk @PeriscopeStudio @BenjaminDewey @OniPress We'll do our first signing at SDCC, and then I'm not sure about around town.

— Paul Tobin (@PaulTobin) May 30, 2014
NECA may have revealed its last Comic-Con exclusive, but that doesn't mean that's all that attendees have to look forward to. The toy company told a fan on Twitter that attendees will be shown the Queen from Alien Vs. Predator at the convention.
@CarnalCraving thanks. Yes Queen will be shown at sdcc. No plans for MUTO right now

— NECA (@NECA_TOYS) May 31, 2014
Artist Patrick Ballesteros has revealed a sneak peak via instagram of an upcoming piece of art meant for San Diego Comic-Con.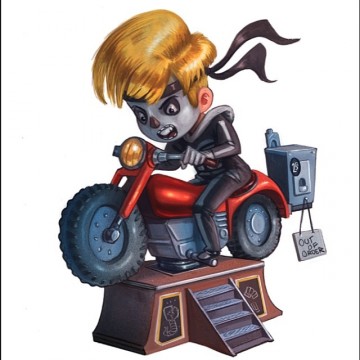 Just like last year, the BBC America booth will once again have a giant video wall displaying Doctor Who fan art and fan videos. The official Doctor Who tumblr is asking fans to submit their art and videos to the network, and if selected, will be displayed during SDCC.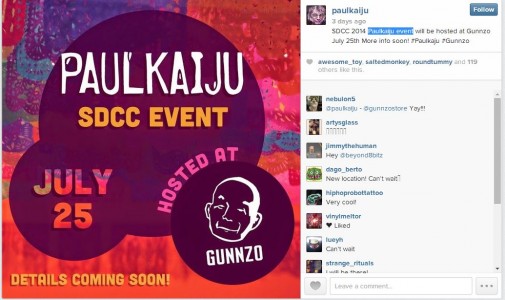 Star Trek fans – stars John Savage-Gary Lockwood and Blanca Blanco of the independent production Star Trek Equinox will be appearing July 24-26 at Comic-Con. Autographs, photo ops and exclusive merchandise are on sale now via GoFundme.
Artist Juan Muniz posted a sneak peek on Instagram of some of the new bunny character postcards and wall-graphic stickers that he's working on for SDCC.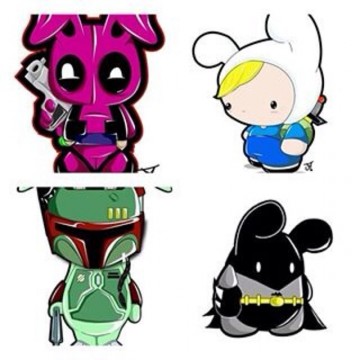 Australian fans can enter to win a trip to Comic-Con courtesy of Defiance on Syfy Australia. Fans can enter daily (beginning June 8) by taking a quiz on the Syfy Australia Facebook page and earn bonus entries by watching for the bonus codewords the network will share during new episodes of Defiance. This contest is open to Australian residents only.
We're giving @DefianceWorld fans the chance to go to @Comic_Con! Spread t word @GrantBowler @juliebenz @TonyCurran69 pic.twitter.com/69v8CWbDdP

— SYFY AUSTRALIA (@syfyAU) June 1, 2014
Lucy Knisley's new book An Age of License, described as "an Eat, Pray, Love for the alternative comics fan," will debut at SDCC. Fantagraphics released the final cover art on Twitter:
Final cover art for @LucyKnisley's An Age of License! Galleys at #BEA14, debut at #sdcc2014! http://t.co/pYO8sVb5g5 pic.twitter.com/WbU4bREE7q

— Fantagraphics (@fantagraphics) May 27, 2014
Who gotta sassy gassy new con banner for SDCC? That would be @SilvaniArt & me! Find us at booth F07! pic.twitter.com/Pt4Hpgh6rF

— Amy Mebberson ✌️🏳️‍🌈🏳️‍⚧️Ally (@amymebberson) June 2, 2014
Anything we missed? Let us know in the comments, drop us a line or tweet us at @SD_Comic_Con.