If you thought Comic-Con was exhausting, just try keeping up with all the news. That's why we've rounded it up for you in today's edition of Under the Tents, which has information about the world premiere of the film Mercenaries, good news for several Eisner Retail Award nominees but bad news for potential Masquerade participants, sneak peaks of several exclusives, information on how you can score a ticket to the MTV Fan Fest, and word that Kevin Bacon will be at Comic-Con.
And don't forget to check our Offsite Event calendar, presented by Eventbrite. New events added daily!
Here's what you might have missed:
Actress Nikki Bilderback announced via Twitter that her upcoming film, Mercenaries, will make its world premiere at SDCC on Friday, July 25. The film, which is being hailed as the "female Expendables", may also get a panel, according to Bilderback. It's unclear if the screening and the panel will take place offsite, or at the convention center.
https://twitter.com/LadyBilderback/status/478686992272592896
https://twitter.com/LadyBilderback/status/478691387630579713
For those hoping to participate in the Masquerade, hopefully you've already turned in your entry form, as the event is now filled up. Comic-Con International's website now reads:
This year's Masquerade is now full, and no new contestants can be accepted at this time
Thank you for your enthusiasm for Comic-Con International's 40th Masquerade!
Artist Mike Henderson announced that he will be doing some autograph signings at SDCC, though no further details were given.
@JoshCrewsReally No, I decided not to table at SDCC. Just signings, meandering and attempting to relax.

— Mike Henderson (@MikeSHenderson) June 17, 2014
Lee Joel Bermejo revealed his second Comic-Con exclusive print on Twitter, which features Batman, Superman, and Wonder Woman.
https://twitter.com/ljbermejo/status/478934852117331968
This year's list of nominees for the 2014 Will Eisner Spirit of Comics Retailer Awards are now up on CCI's site. You can view all 37 comic retail stroes from around the globe on the site.
David Horvath, co-creator of Uglydolls, posted a photo on Instagram of an upcoming, hand-sculpted piece for Comic-Con. The piece, presumably titled Ryu-no-suke, is created by artist Ryuca.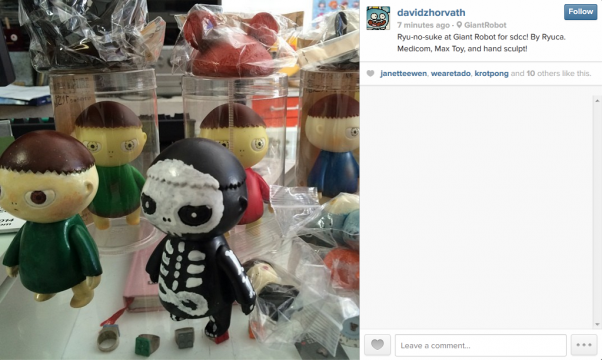 Want another chance to win the MTV's Ultimate Fan Experience, your opportunity to "score a trip for two to San Diego to attend the mtvU Fandom Awards at Comic Con on July 23-25, along with a meet and greet with Linkin Park, VIP access to their show", and more? Then visit MTV's site and enter for a chance to win.
Kevin Bacon told a fan on Twitter that he will be at this year's SDCC. Bacon has attended the previous two years for The Following, and while nothing has been stated about the show's attendance in 2013, we're taking this as a very good sign that the show will return this summer. [Thanks @microkim79]
"@NoGreenEggsSam: @kevinbacon will you be at San Diego comic con this year!?"yup!

— Kevin Bacon (@kevinbacon) June 17, 2014
The Velocity Team, a group of South African and Australian comic creators, are raising money on Indiegogo to return to Comic-Con. The campaign also states that the group has a "prime panel slot on Saturday the 26th". To help the group reach San Diego, you can visit the campaign page.
If you'd like to find Welcome to Night Vale at Comic-Con, you can visit the TopatoCo booth, the podcast announced on Twitter.
That being said, we'll still be in San Diego at @topatoco booth. Also doing a @ThrillingAdv crossover show on 7/26 (separate tix, link soon)

— Night Vale podcast (@NightValeRadio) June 17, 2014
Fat Rabbit Farm posted a preview on Twitter of their upcoming Comic-Con exclusive. What could it be?
Photo: #SDCC2014 #exclusive underway! #limitededition what could it be?? http://t.co/EKT05keeEk

— Fat Rabbit Farm (@FATRABBITFARM) June 17, 2014
Toy Tokyo also teased attendees with some Comic-Con exclusives on Instagram.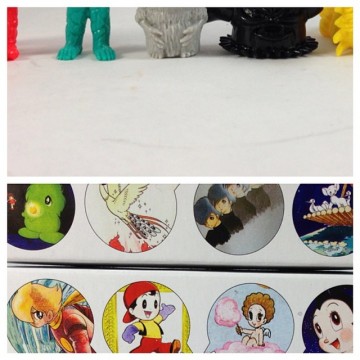 Hannah Lynn Art will have an exclusive card design at Comic-Con of a vampire anime girl with wings, and she shared a preview of the work on Instagram.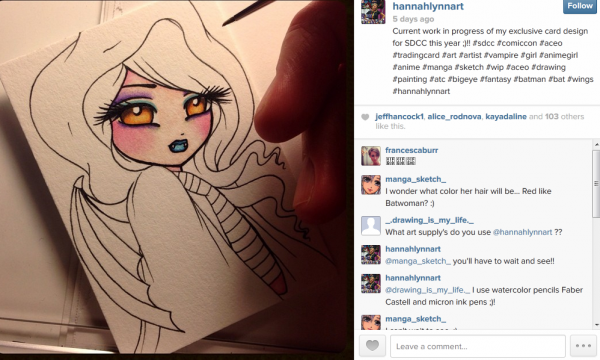 Spike and Mike's Festival of Animation will be returning to this year's Comic-Con, and also offering daily giveaways, including LED Hand Clappers, Burger Lounge gift cards, Sick & Twisted Barf Bags, as well as a free phone or tablet per day from Verizon 4G. Attendees can visit Spike and Mike at Booth #1536, where Breehn Burns, Director of Bravest Warriors, and Jason Johnson will be doing signings.
The Nucleus art gallery revealed on its website that the company will once again be attending Comic-Con at Booth #2743, where it will be holding guest appearances, artist signings, and releasing new art prints.
OSSM Comics announced it will be in Artist Alley at Booth #GG-12, where attendees can stop by to meet creators Omar Spahi, Brian Buccellato, Siike Donnelly, and MONOMYTH artist Eric Ninaltowsi.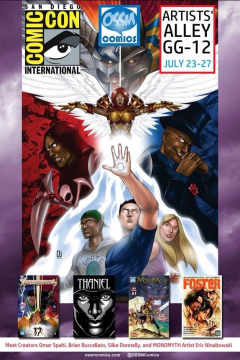 Vannen Watches released a teaser of the "super limited" The Walking Dead Comic-Con exclusive watch they're partnering with Skybound on.
Teaser for our upcoming San Diego Comic-Con exclusive watch with @skybound. Super limited and a few surprises #sdcc. pic.twitter.com/BbFI2skLia

— VANNEN (@vannenwatches) June 17, 2014
Anything we missed? Let us know in the comments, drop us a line or tweet us at @SD_Comic_Con.