It's just a little over a month until San Diego Comic-Con, but it's just the right time for another edition of Under The Tents. We've got updates on several artists who will be attending the show, possibly huge news about what we could be seeing from the Power Rangers, word of a Weird Al offsite and a Sin City: A Dame To Kill For party, and much more.
And don't forget to check our Offsite Event calendar, presented by Eventbrite. New events added daily!
Here's what you might have missed:
Animator Bill Plympton announced on his Twitter account that he will be returning as an Animation Alley vendor this year, at Booth #1537. Plympton also mentioned that he will have both panel and film screening details soon.
Advance notice: I'll be back at #SDCC again this summer, same booth as last year, 1537, on the corner of "Animation Alley". See you there.

— Bill Plympton (@plymptoons) June 14, 2014
While I'm away in Annecy, my staff's been setting up a panel at #SDCC. Stay tuned for panel & film screening details!

— Bill Plympton (@plymptoons) June 14, 2014
Award-winning author Jonathan Moore revealed on Twitter that he will be signing copies of his book Redheads at Comic-Con, at the Famous Monsters Booth on Saturday, July 26, from 9:20AM to 2PM. Afterwards, Moore announced that he will be at either Random House or Del Rey to sign his other book, Close Reach.
Excited to be signing Redheads at the #FamousMonsters booth at #SDCC2014 on 7/26! pic.twitter.com/BhyFPAIbdo

— Jonathan Moore (@JonMooreFiction) June 14, 2014
@sdccgotgirl Will be at Famous Monsters from 9:30 am to 2:00. Then I'll be at Random House or Del Rey signing my book Close Reach till 7:00

— Jonathan Moore (@JonMooreFiction) June 14, 2014
Artist Juan Muniz and his cartoon pal Felipe told Las Vegas Weekly that they'll be attending Comic-Con to lease wall graphics, new prints, and participate in signings.
Actor Jason David Frank, most famous for playing Tommy Oliver, the Green Power Ranger in the series Mighty Morphin Power Rangers, posted a photo to his instagram account stating that he would be teaming up with both Lionsgate and Sabanentertainment at San Diego Comic-Con "for media and a special appearance to be announced soon". It was recently announced that Lionsgate and Saban Entertainment will be producing a live-action movie based on the Power Rangers franchise – and although none of the cast of the new film are known, could this mean that we could get an announcement about the upcoming movie at Comic-Con (including the possibility that Frank could have a role)?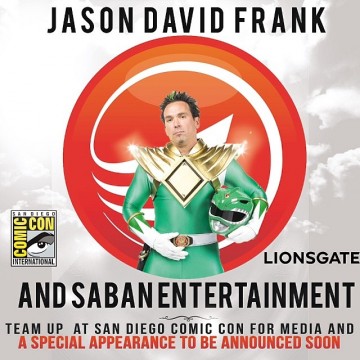 Everyone's favorite parody recording artist Weird Al announced via his website he will be making a "rare" Comic-Con appearance this July, with more information in the coming weeks. [thanks @JeffMcClelland!]

Comic Book Resources recently took the new Warner Bros. Batman Tour, and reported back on what they learned – which includes news that a "life-sized replica of the Batmobile for the new Arkham Knight video game is scheduled to be built for 2014's Comic-Con International in San Diego". [Thanks, Peter Bruels!]
Adobe Photoshop Imagineer Daniel Presedo announced via Twitter that the Adobe Booth #4145 will be having artists on hand to teach attendees Photoshop "tricks and examples".
https://twitter.com/dramenon/status/478609474760892416
Artist Lee Joel Bermejo released a preview on Twitter of one of his upcoming art prints for Comic-Con:
https://twitter.com/ljbermejo/status/478612656836726784/
The Suicidegirls announced a contest for one lucky fan to "become a Sin City Suicidegirl" at this year's Comic-Con. The winner will receive round trip airfare, hotel accommodation for four nights, the opportunity for a photoshoot on the Suicidegirls website, and – most interestingly – "a ticket to attend a party for the Film [Sin City: A Dame to Kill For] at the Hard Rock Hotel". No word yet on which night the party will be at, or how attendees can try to score entrance, but we'll keep you updated.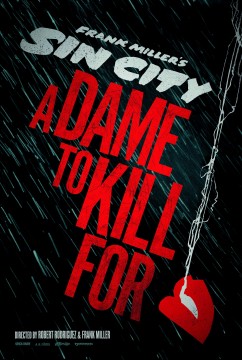 Ed Boon, co-creator of the Mortal Kombat series, said on Giant Bomb's E3 Day 3 wrap-up show (around the 31:00 mark) that new characters from the recently-announced Mortal Kombat X would be announced at Comic-Con, assuring the game would have some appearance at the convention.
Anything we missed? Let us know in the comments, drop us a line or tweet us at @SD_Comic_Con.