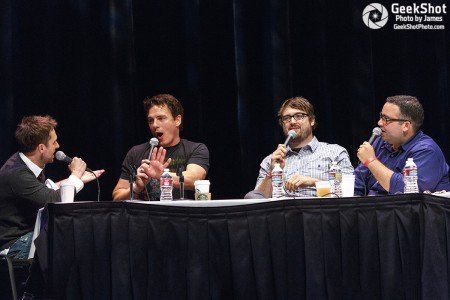 [UPDATE] The guests for this year's podcasts have been announced by The Nerdist. The sold out 10:30PM show will feature WWE star CM Punk, while the 7:30 show (which still has some tickets available) will feature Evangeline Lilly and Michael Rooker.
[PREVIOUS] Chris Hardwick is everywhere at San Diego Comic-Con. Whether he's hosting the big Hall H panel – or last year, panels – running the annual Course of the Force, or putting on a live show, he either never sleeps, or has perfected the science of cloning and just isn't sharing yet.
Either way, fans of Mr. Nerdist will be seeing him again in San Diego, as he just announced two shows at the Balboa Theater during SDCC.
The first will be a live version of the popular Comedy Central show @midnight, where three celebrity contestants try to "win the internet" by delivering the funniest take on the day's social media happenings. No word yet on which celebrities will make an appearance, but based on past Nerdist Podcast Live! shows, they are certain to be fan favorites.
The second will be a return of the Nerdist Podcast Live! show with Hardwick, Jonah Ray, and Matt Mira. Again, no special guest has yet been announced, but years past have included Matt Smith, Karen Gillan, and a very lively and memorable John Barrowman.
@midnight Live! will be on Friday July 25 at 10:30pm, and Nerdist Podcast Live! will be on Saturday, July 26 at 10pm. Tickets for both shows are $30 each, and will go on sale to the general public this Friday, May 9, at 10am PT. A special pre-sale will be held on Thursday, May 8, for those with a special password found on the Balboa Theater Facebook page.
You can find event pages for these offsite events, as well as many others, on our 2014 Offsite Event Calendar. Start planning your after-con schedule now!
Will you be enjoying your late-night burrito with these two shows? Let us know in the comments.