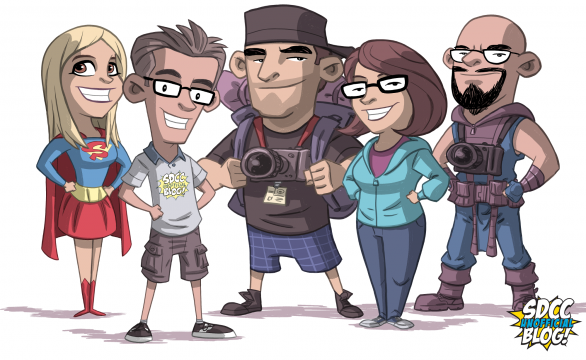 [UPDATE] We have a winner! Thanks to everyone who entered.
If you tuned into our latest Google+ Hangout, you were treated to a sneak peek at our wonderful new team renditions by artist Otis Frampton, the creator of the upcoming Image book Oddly Normal. You can see the individual images in the gallery below:
Otis Frampton is a comic book writer/artist and animator. He is one of the two artists on the popular animated web series "How It Should Have Ended" and recently created his own animated series on the HISHE YouTube channel, "ABCDEFGeek". His creator owned fantasy series "Oddly Normal" will debut from Image Comics on September 17th, 2014.

Image press release for "Oddly Normal": https://imagecomics.com/content/view/journey-to-the-magical-land-of-fignation-in-oddly-normal

To learn more about Otis and his work, please visit his website: www.otisframpton.com
We're totally stoked to be turned into cartoons, and now you can too. Thanks to Otis, we're giving away an awesome prize pack that includes:
A pen and ink commission from Frampton – whether it be yourself, a friend or any other character you want (upon approval by Framption)
Signed copies of the SDCC edition of Oddly Normal #1 and preview issue #2
A copy of Frampton's first book in his ABCDEFGeek series
How awesome is that? To enter, just select complete the tasks in the Rafflecopter widget below. And be sure to stop by and see Otis at booth 4504 with Josh Howard (creator of [email protected]). Tell him we sent ya!
Good luck!