Remember last year's awesome McFarlane Spidey guitar from Crazy Cat Collectibles? The toy distributor is back at booth #429 for this month's Comic-Con with some great new exclusives, unveiled today via Comic-Con International's 2014 Exclusives list, and through images provided directly to us from Crazy Cat Collectibles.
Humberto Ramos SDCC exclusive Spider-Man #1 Peavey Guitar: The company's third Spider-Man guitar, this one is from artist Humberto Ramos' Spider-Man #1 cover. The guitar is limited (units to be announced) and will sell for $275.

Terror of Planet X Full Color Stan Lee Exclusive Skateboard: This skateboard deck will be signed by both Stan Lee and Humberto Ramos. Again, quantities to be announced, but it will sell for $295 at the booth.
Stan Lee SDCC Exclusive Funko Pop Vinyl: For those of you who weren't able to pick up the Stan Lee Pop! at NYCC last year, no fear- Stan "The Man" will have his own SDCC Pop! courtesy of Crazy Cat Collectibles. Quantities are said to be "extremely limited". It will go for $25 at both #429.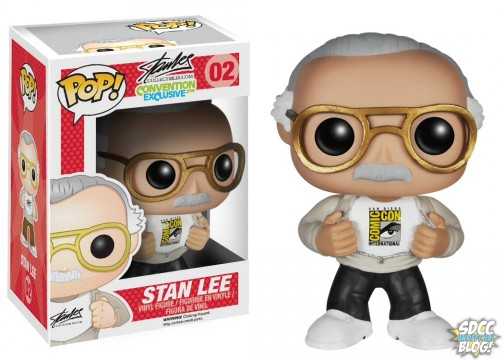 Crazy Cat Collectibles will have some other surprises in store, so we'll be sure to update as soon as we hear.
Excited about their lineup of SDCC exclusives? Let us know in the comments.