Now, normally a one-off exclusive would go in our "Under The Tents" column, but this one is so awesome we had to make an exception.
Behold, the Exclusive Spider-Man Limited Venom Edition Guitar from Peavey and Crazy Cat Collectibles.

Okay True Believers, wipe that drool off your face because we have the details on what should be a much sought after collectible.
The guitar will be available during San Diego Comic-Con at the Crazy Cat Collectibles booth, #429. A companion piece to last year's McFarlane Spidey #1 Rockmaster Electric Guitar sold-out model, this year's is also limited to 100 pieces worldwide but emblazoned with Todd McFarlane's classic cover art from Spider-Man issue #13. Here's the description:
Musicians of every skill level, from beginner to pro, can become a real guitar hero with these new musical instruments from Peavey. The Rockmaster Guitar is a full-size electric guitar with a high-gloss finish on a basswood body which provides excellent balance and tone. The maple neck and rosewood fretboard enable fast rhythm and lead playing.
This year's Venom guitar is numbered both on box and guitar, which last year's did not have and was a much-requested addition from collectors. And everyone who purchases one of these bad boys will also receive a limited edition guitar pick.
Interested? Good. Now here comes our exclusive information you won't find anywhere else that will have you running, not walking, to the booth when the doors open.
A small number of these will be randomly signed by none other than Todd McFarlane and Stan Lee. You won't know if yours is one of them, because they will literally be signed and sealed until purchased. And to add, an even smaller number of these will include a remark on the guitar by McFarlane himself. Click on the image below to enlarge in its full-size beauty…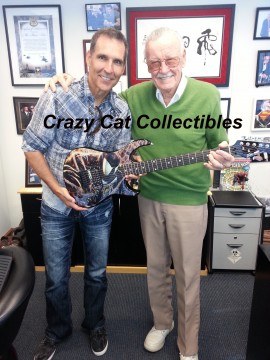 The guitar will go for $275 and includes a guitar strap and amplifier cord. It will be available starting Preview Night at the Crazy Cat Collectibles booth, #429, and throughout the convention. Don't have Preview Night tickets? Don't worry – Crazy Cat will be putting daily limit on the number for sale each day, to ensure some will be available on each day of SDCC.
Crazy Cat is also planning a few more "amazing" surprises for Comic-Con, and we'll let everyone know as soon as they are announced.
Who wants one of these beauties to hang over their mantel? Let us know in the comments.