Hallmark has announced its Comic-Con exclusives for 2014, along with booth events throughout the week.
As we reported previously, Hallmark will be bringing three new Keepsake Ornaments to SDCC. We now have official descriptions, prices, product runs and images of these Keepsakes, see below:
Wampa™ – This Keepsake Ornament created especially for event sales depicts the ferocious horned predator that attacked Luke Skywalker on the ice planet Hoth as seen in Star Wars: The Empire Strikes Back™. In place of actual wampa fur, the ornament is covered in velvety flocking. Sales limited to 200 pieces per day as part of a total production run of 1,800 ($35 each).
Arkham's Avenger – Inspired by the 2011 video game Batman: Arkham City, Batman crouches on a rooftop gargoyle in this Keepsake Ornament created as an event exclusive. Sales limited to 175 pieces per day as part of a total production run of 1,575 ($35 each).
War Machine™ – As featured in the Marvel Cinematic Universe, this event exclusive is a repainted variant of last year's Iron Patriot™ Keepsake Ornament. Sales limited to 150 pieces per day as part of a total production run of 1,350 ($25 each).
A new exclusive was unveiled in today's announcement, the Star Wars™ itty bittys: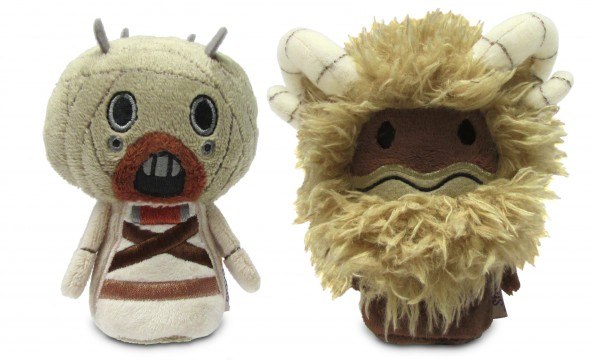 Star Wars characters will be joining the itty bittys line this fall, but you can get this two-pack containing a Tusken Raider and Bantha from Star Wars Episode IV: A New Hope exclusively at Comic-Con. The two-pack will go for $20, and is limited to 300 pieces per day.
The Hallmark booth #2913-H, will have previews of upcoming products as usually, but as part of the Lucasfilm pavilion it will be transformed stylized as Tatooine, decorated with costumes, Star Wars characters and daily photo ops with the Star Wars cosplay group 501st Legion.
Booth swag will include a series of five buttons featuring Star Wars Keepsake Ornaments, and a new button will be handed out each day of the convention. Keepsake Ornament Artist Jake Angell will be on hand at the booth throughout the convention to sign his War Machine ornament.
You can view the entire press release on the Hallmark site.
Will you be checking out Hallmark's booth during SDCC? Let us know in the comments.