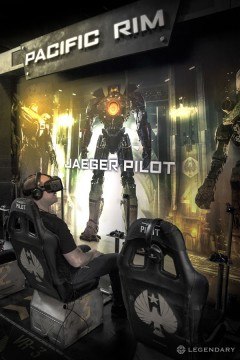 Comic-Con attendees who always wanted to know how it feels to pilot a Jaeger from the Guillermo del Toro film Pacific Rim will finally get their chance. Legendary Entertainment is hosting the Pacific Rim Jaeger Pilot Oculus Rift Experience at its booth, #3920. Here's a description of what sounds to be one of the most popular events on the exhibit floor:
We have worked closely with the leading pioneers of virtual reality, Oculus VR, to deliver a new benchmark in Oculus Rift experiences.
Fans will experience what it feels like to pilot a 250-story robot as they step into a fully-realized Jaeger Combat Simulator. Strapping on the Oculus Rift headset, fans will 'Drift with the Rift' and experience the beloved universe of Pacific Rim in a whole new way.
Tickets will be distributed at the Legendary booth, #3920, daily at 9am, on a first-come first-served basis. Check out this video to get a preview of the booth attraction:
And if that doesn't get you pumped, you have no pulse.
Other Legendary booth events include the Crimson Peak Gothic Gallery, where fans can get a "glimpse behind the curtain of Crimson Peak, through an intimate set piece of the gothic haunted house" created by Guillermo del Toro for the upcoming film.
Decisions, decisions. Are you going to be changing your plans to check out the Legendary booth first thing in the morning? Let us know in the comments.