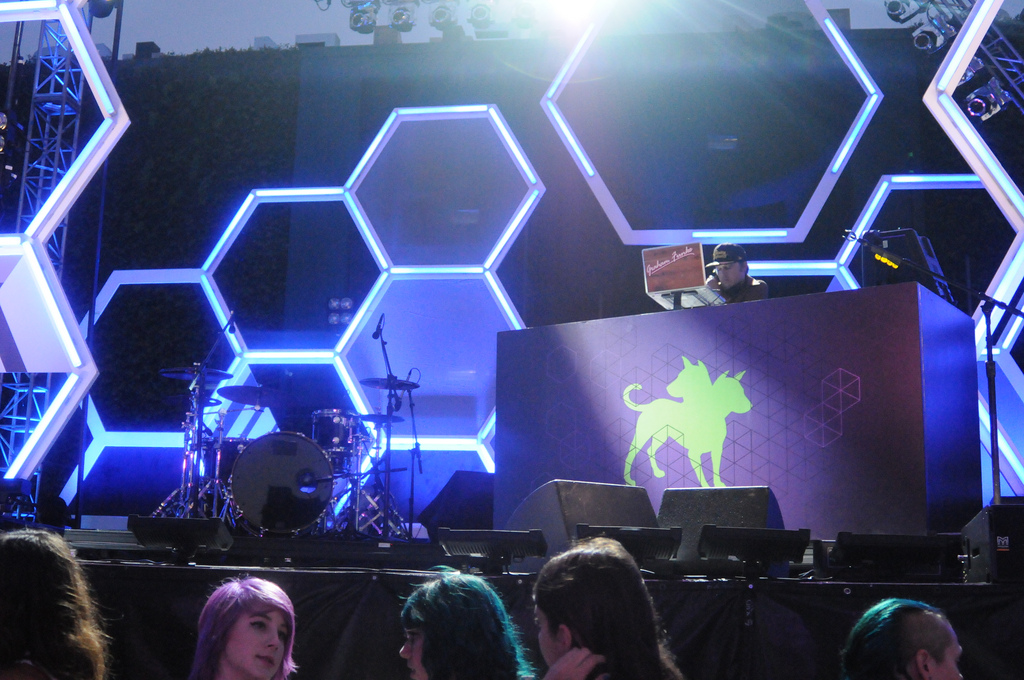 MTV has just added a few more reasons to attend the MTV Fan Fest and mtvU Fandom Awards celebration at San Diego Comic-Con on Thursday, July 24. In addition to a performance from Linkin Park, the free offsite event has just added another musical guest, taped appearances from celebrities, and more.
In a press release, MTV announced that Oakland-based hip hop artist G-Eazy will be joining Linkin Park in treating attendees to free musical performances, as he will take the stage to sing songs and to promote his new album, These Things Happen.
Additionally, MTV announced that the mtvU Fandom Awards Special, which will be filmed throughout the evening, will feature taped appearances from some big names in the Comic-Con world, like Hugh Jackman, Aaron Paul, Shailene Woodley, and many more. There's no word on whether or not those taped appearances will be screened live during the Comic-Con event, but the special will air on mtvU later in the week on Sunday, July 27, at 8/7 central.
The special will mostly focus on the mtvU Fandom Awards that will be happening at San Diego Comic-Con and celebrates some of the biggest names in the Comic-Con crowd – where else can fans give Orphan Black, Veronica Mars, and Destiel their own awards in a special that airs on cable TV? Online voting is now open, and those attending the offsite event will get to find out the winners, live.
Here's a look at the categories for the Fandom Awards:
OMG moment of the year
"Star Wars" – new cast photo
"Breaking Bad" – series finale
"Game of Thrones" – The Purple Wedding
"How I Met Your Mother" – series finale
Batfleck – Ben Affleck cast in "Batman v. Superman"
'Ship of the year (unspoken relationship fandoms we're dying to see)
Katniss Everdeen/Peeta Mellark — "Everlark" ("The Hunger Games")
Dean/Castiel — "Destiel" ("Supernatural")
Sherlock/John Watson — "Johnlock" ("Sherlock")
Damon/Elena — "Delena" ("The Vampire Diaries")
Stiles/Derek — "Sterek" ("Teen Wolf")
 Breakout fandom of the year (most popular new fandoms)
"Hannibal"
"Orphan Black"
"Sleepy Hollow"
"Frozen"
"Bates Motel"
Best fandom forever (BFF) presented with Tumblr
"Harry Potter"
"The Lord of the Rings"
"Buffy the Vampire Slayer"
"Doctor Who"
"Sherlock"
"Batman"
Fandom feat of the year
"Veronica Mars" – fans were successful in funding a Kickstarter campaign to create the "Veronica Mars" film
"Teen Wolf" – fans raised funds to build a wolf sanctuary
"Community" – the fandom kept the show on the air by petitioning for more episodes, while also getting back original writer Dan Harmon
"Hannibal" – fans used their power to get the show renewed for a second season
"Supernatural" – Mischa Collins and the fans of the series created "Random Acts," raising money for charitable organizations
Will you be attending the MTV Fan Fest and mtvU Fandom Awards? Who are you hoping wins the Fandom Awards? Let us know in the comments.