Petco Park Events was kind enough to provide us with a map and hours for the annual Petco Park Interactive Zone, held just across the street from the San Diego Convention Center.
This year the Interactive Zone brings us booths from upcoming movies like Teenage Mutant Ninja Turtles and Sin City 2, TV series including the Sleepy Hollow Headless-Horseman bridge, and a number of other activations, including the return of the Adult Swim Fun House. And good news for foodies- the local food trucks will be on hand to help curve those convention-going appetites as well.
[UPDATE July 19] We received more details on a couple of the activations – Amazon and Courtyard – which we wanted to share with our readers.
First up is the Amazon Geek Boutique, which listed the events and descriptions in detail on its Facebook events page:
Amazon Locker with a Transformer twist: Amazon Locker has launched in various cities allowing customers an easy and secure self-service option to collect their Amazon shipments at convenient locations, with no additional cost. To up-level Amazon Locker to Comic-Con standards, we've partnered with Paramount Pictures and Hasbro to bring the special Transformer Locker to our Geek Boutique. Try out the Transformer Locker with a pick-up code given by us in our booth, and then win great prizes such as Fire TV devices, Amazon gift cards and collector edition sunglasses. Be sure to follow #transformerlocker on Twitter during the event!

Amazon Devices Taco Truck: For the past month, the Amazon Taco Truck has visited popular destinations around the Southern California area, showcasing our e-readers, Kindle Fire tablets and Fire TV to interested customers. We've brought this truck to Comic-Con, and are excited to add the newly released Fire phone to our truck device set!

Device Lounge Area: In the Lounge, fans will be able to play games on Fire TV, charge their cell phones for free with our phone charging stations, relax, and read comics. Be sure to check out the comiXology app on our devices, which has revolutionized the comic book and graphic novel industry by delivering a cloud-based digital comics platform that makes discovering, buying, and reading comics more fun than ever before. On Saturday, July 26th Amazon will host the "Face of Funimation," Justin Rojas, as he will spend some time talking with anime fans on upcoming Funimation projects.
This event is open to the public and doesn't require Comic-Con credentials—we encourage everyone to stop by Petco Park to geek-out with Amazon!
The Amazon Geek Boutique also has an Eventbrite page for tickets, although entry is free.
Next is Courtyard Marriott's Super Hero HQ. What would Courtyard Marriott be doing at Comic-Con, you ask? Quite a lot, actually, with some huge guests scheduled to make appearances throughout the weekend:
Fans packing their cape for Comic Con will compete to be crowned "King" and "Queen" in a "cosplay" contest created by Courtyard by Marriott, featuring author George R.R. Martin, actor Norman Reedus and famed special FX maestro, Greg Nicotero ("The Walking Dead"). The experience will also offer attendees free make-up touch-ups at the hands of a top Hollywood special FX make-up team throughout the convention (July 24 – 27).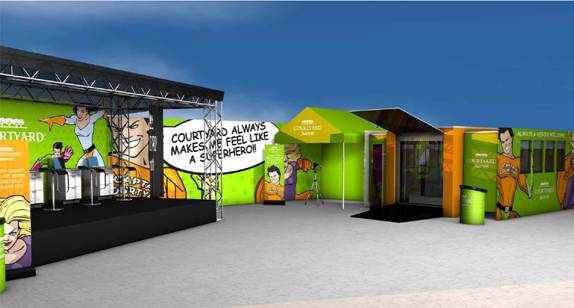 George R.R. Martin? Norman Reedus? Greg Nicotero? We're ready to check in.
We've updated all of these events on our Offsite Event Calendar presented by Eventbrite. Check them out.
Original post is as follows…
Here's the tentative layout, and see descriptions below: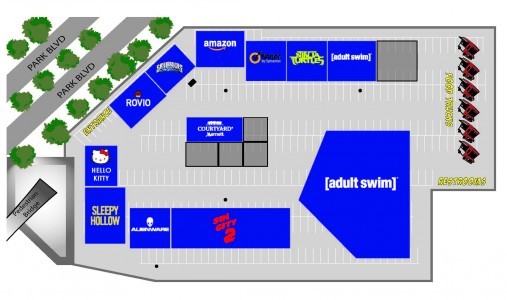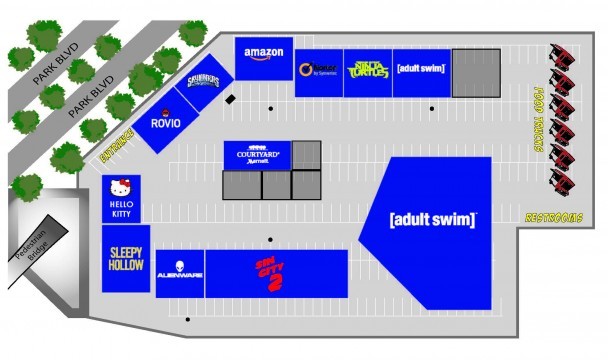 Zone Hours:
Wednesday, July 23: 5:00pm (Preview Night)
Thursday, July 24 – Saturday, July 26: 9:00am-9:00pm
Sunday, July 27: 9:00am-7:00pm
Teenage Mutant Ninja Turtles & Pizza Hut: Paramount Pictures and Pizza Hut will be providing a Teenage Mutant Ninja Turtles experience where guests can relax and watch the film's trailer and other footage while sitting in Turtle lair furniture from the movie, receive a TMNT photo takeaway as well as instantly upload their pictures to their social media sites. However, the biggest attraction to this space will be the 12ft tall, 16ft long, life size version of the all-time favorite Pizza Thrower where fans can climb up and shoot down Shredder. Additionally, Pizza Hut will be serving up complimentary slices of its newest Cheesy Bites Pizza. You can also find more information about this event here.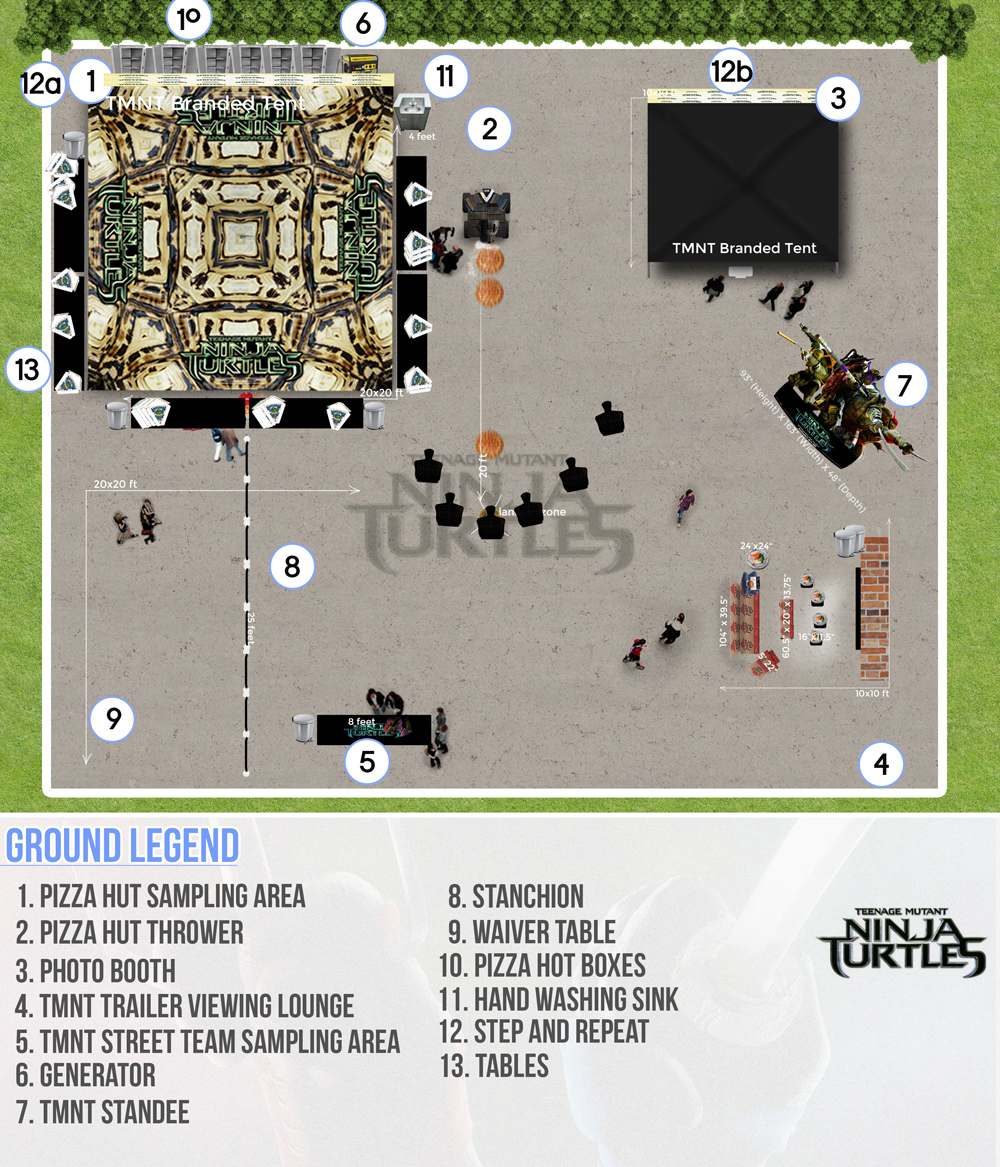 Sin City 2: The Sin City: A Dame To Kill For exhibit features six of the classic cars from the film, including a 1985 Dodge Diplomat, a 1955 Chevrolet Bel Air, a 1960 Chevy Corvette, a 1985 Cadillac Eldorado, a 1964 1/2 Ford Mustand Convertible, and a 1949 Cadillac Sedanette. Fans will also be take Sin City style photo booth photographs and try for a chance at giveaways, which include Sin City branded t-shirts, poker chips, playing cards, and books. TV screens in the exhibit will be showing the trailer and other content from the film, and there will also be a DJ providing Sin City music. A wall around the exhibit that features daily work by local street graffiti artists. In addition, there will be a green screen set up for attendees to photograph themselves into the movie. There will also be signings, with more information still to be announced.
Sleepy Hollow: FOX brings Sleepy Hollow to Comic-Con, reintroducing us to the Headless Horseman with the famous covered bridge. Before entering the bridge, fans will have a chance to take photos with a 7' tall Headless Horseman. Once inside, fans will have their photo taken in front of a green screen and don Oculus Rift Virtual Reality headseats to be transported inside the set of Sleepy Hollow. Then try to escape the bridge without losing your head! You can read more about this experience by clicking here.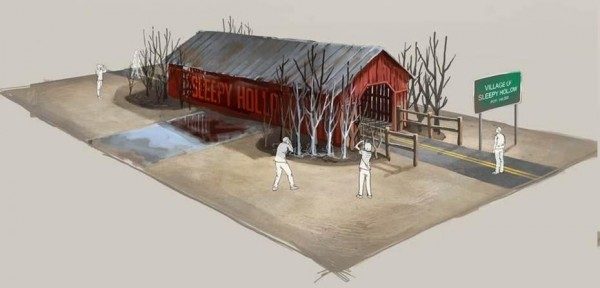 BOXTROLLS: The EAT LIKE THE BOXTROLLS food truck will be present Friday and Saturday inviting guests to sample grasshopper kabobs, chocolate dipped chapulines (small Mexican grasshoppers seasoned with chile and lime), waxworm flan, and small ground beef tacos for the less adventurous. Buttons, lollipops and activity sheets for children will also be passed out at the space. Event Days: Friday, July 25: 2:00pm-4:00pm, Saturday July 26: 2:00pm – 4:00pm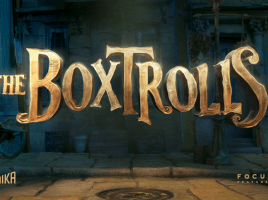 Adult Swim: The slightly bizarre Adult Swim Fun House will return for a second year. Multiple challenges will force guests to crawl, slide, and sing their way to get through this giant castle. Next to the Fun House is the Meatwad Full Dome Experience, which will guide guests on a journey through a mind-fudging interdimensional-space-coaster-love canal. Once successfully out of the Dome or Fun House guests will be able to get free, live screen printed t-shirts, photo opps, and get to watch other participants. Adult Swim will also be hosting panels and events such as a first look new television series inside the Interactive Zone. Both events are 18+, and require a timed ticket to enter. Hours: Thursday – Saturday 3pM-10PM daily *Free tickets required, 18+.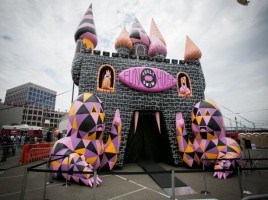 Norton's X- Men Days of Future Past Tent: Although we don't have much information about the specifics for Comic-Con, in the past, attendees have been allowed to step foot into the Norton X-Men tent and take a photo of themselves as a member of the X-Men team, as well as create their own Norton X-Men commercial.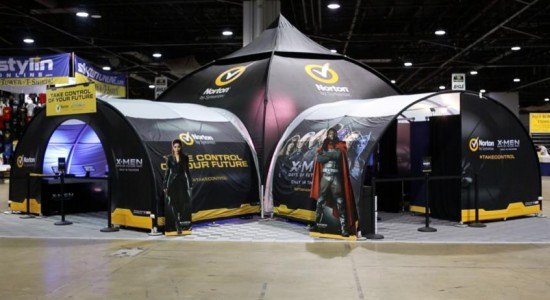 Skylanders: A Skylanders Trap Team game truck will be activated, giving fans broad access to hands- on demos of Skylanders Trap Team prior to its release date October 5th.
Sanrio's Hello Kitty: Drop by Comic-Con Interactive Zone at Petco Park to meet Hello Kitty and receive free goodies, temporary tattoos, and custom nail art. Hello Kitty can also be found inside the convention center, with lots of cool happenings all weekend long.
Courtyard by Marriott: The Courtyard by Marriott will take attendees' costume to the next level with free make-up touch-ups from a top team of Hollywood special FX make-up artists. Courtyard will also have roving judges to select top costumed attendees to compete in a competitive ceremony. Lastly, to provide further insight into character development, Courtyard's space will be home to live fan chats with top Comic-Con stars. A "fast pass" to skip lines is available to Marriott Rewards Members.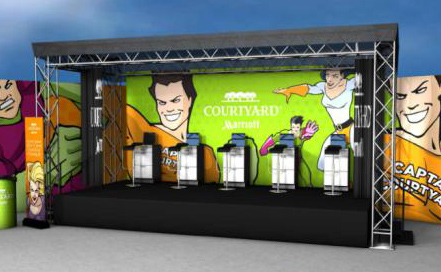 Angry Birds: Come join Stella and her friends as they introduce attendees to Golden Island, the setting for the new Angry Birds game launching this fall. Enjoy the Island, create a custom Angry Birds Stella t-shirt, get your hair and nails done or take photos with the characters. Angry Birds gaming stations and phone chargers will also be available, as well as a place to just sit and relax!
Amazon: Amazon Locker will distribute prizes while promoting the Amazon Box set release of Transformers 4, and the Kindle Truck will be parked in the Zone with where visitors can go hands-on with Kindle devices. Comixology, one of the presenting sponsors of Comic-Con, will be jointly featured with their lineup to be announced.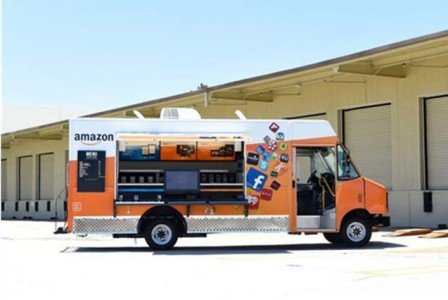 Which of these activations are you most excited for? Let us know in the comments.