[UPDATE] Thanks to our reader Shawn Richter, we have another Trolley wrap to share – Agents of S.H.I.E.L.D. is back!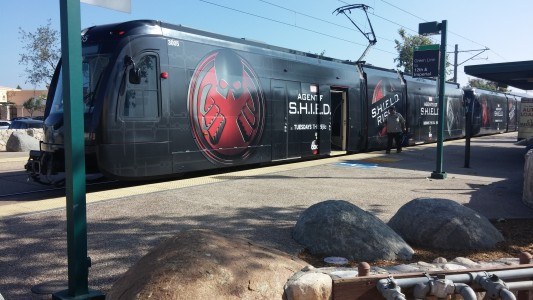 Even weeks before San Diego Comic-Con, signs of the convention start to pop up all over the Gaslamp District and the city of San Diego. In addition to the official Comic-Con International banners going up around the city (the designs this year feature Big Hero 6 and Guardians of the Galaxy), the San Diego Trolleys have received a whole new look just in time for Comic-Con.
Each year around Comic-Con, the trolleys typically get a makeover to promote something playing at the convention (last year featured Marvel's Agents of S.H.I.E.L.D.), and this year is no different, with some of the trolley cars now sporting advertising wraps for the upcoming FOX series Gotham. The wraps feature all of the key players from the series, from Ben McKenzie's Detective James Gordon to the Penguin, Harvey Bullock, Bruce Wayne, Catwoman, Poison Ivy, and more.
These photos were taken at the Santee Trolley Station, by our reader Mike Walker:
There are two trolley stations directly across the street from the convention center (the Convention Center and Gaslamp Quarter stops) that remain operational throughout the convention, so attendees often see the trolleys go past even if they never step foot onto one. Over the last few years, different entities have used the trolley to advertise, including ABC promoting Marvel's Agents of S.H.I.E.L.D. in 2013, and Hasbro and FOX each transforming trolley cars to promote My Little Pony and FOX's Animation Domination block, respectively, in 2012.
Do these signs of Comic-Con in the city excite you? Let us know in the comments.