Reality hits us whenever the Comic-Con banners are posted in the Gaslamp and around San Diego. This is the first sign, pun intended, that SDCC is right around the corner.
So as we are a month away from the official start of SDCC 2014, we have word that the Comic-Con banners are now being prominently displayed around the Convention Center.
[UPDATE June 25] In addition to the Big Hero 6 banners which we mentioned below, there are also now banners for Guardians of the Galaxy up around the city of San Diego – though we've heard they have yet to make their way to the Gaslamp District just yet. Best of all, the Guardians banners actually give each Guardian their own banner (well, almost: Rocket and Groot share one banner).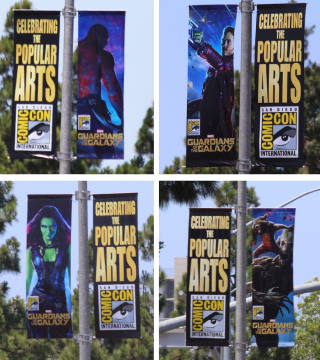 Thanks Pat Loika for the photos!
[Previous] Here are the first tweets confirming the banners, which went up overnight.
The banners for San Diego Comic Con have gone up on the light poles downtown. Waiting to see the enormous posters on the skyscrapers. #SDCC

— Mark Wilson (@CrustySeaDog) June 24, 2014
And the Comic Con signs are up!!! #cantwait #sdcc #comiccon @ Gas Lamp Quarter http://t.co/nN7qMdkEw5

— Laina Augusto (@pinayblackbelt) June 24, 2014
And here's the Instagram picture, showcasing Disney's upcoming animated feature Big Hero 6: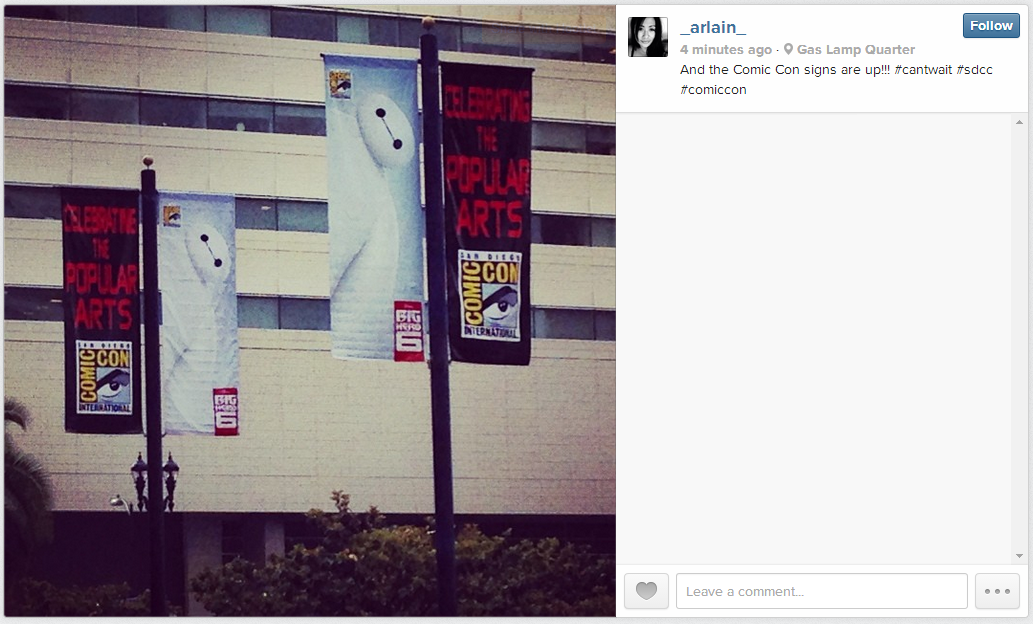 [UPDATE] And here's another picture from Twitter follower @socentury:
IT'S COMING!!! @Comic_Con @SD_Comic_Con @FiggMonster pic.twitter.com/p0eIFc3BOZ

— Courtney Ann (@socentury) June 24, 2014
Disney has generally sponsored the banners in prior years, with films such as Thor: The Dark Lord, Wreck-it-Ralph and TRON: Legacy. And all of these films have made an appearance at their respective Comic-Cons. So is this an early confirmation that Disney and Big Hero 6 will be appearing at SDCC this year? We're also interested to see which other banners make it up in the next few weeks.
Does the first sighting of Comic-Con banners get you excited for SDCC next month? Let us know in the comments.