MTV returned to San Diego Comic-Con in 2014 with another fan party, although one that looked and felt a bit different from 2013's MTV2 Party in the Park. Instead, for 2014, MTV hosted the mtvU Fandom Awards and MTV Fan Fest, celebrating not only Comic-Con attendees, but also what they're most passionate about.
The party kicked off at 7PM, with a line already around formed around the stadium. Once attendees made their way through the massive line and the gate, they were given a badge and lanyard, which entitled each person to one free food item and one drink. Just like last year, this was much better than the normal convention food – instead, we got to chow down on burgers, tacos, and more, and sip on either beer, wine, soft drinks, or water.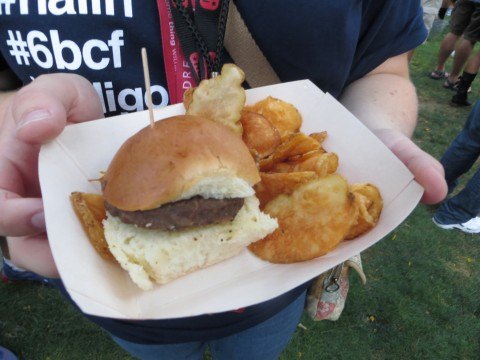 This was down slightly from last year, where attendees were given two food items and two drinks – but we understand the change, and in our opinion, the food was actually better this year to make up for the difference. And, if one item wasn't enough, you could buy more for a small fee.
There were also plenty of free activities around the park. A silent disco let attendees rock out to the music on their headphones, that no one else could hear, and for a brave few willing to dive into an inflatable, or take a spin on what looked like a terrifying upside-down ride, were given free swag like light up swords to commemorate the moment.
The real event, though, kicked off a little later in the evening, with the mtvU Fandom Awards. The awards, which were held for the first time, aimed to celebrate all things fandom, with categories like "OMG Moment of the Year", "Best Fandom Forever", and the "Best Fandom of the Year".
Some of the major talent in town for the convention, including Channing Tatum, Nikolaj Coster-Waldau, Natalie Dormer, MTV's Teen Wolf's Tyler Posey and Tyler Hoechlin, and many more, took to the stage to both hand out and accept awards. Best of all, because the awards were for the fans, the awards were actually then given to a fan in the audience. You can see the complete list of winners below.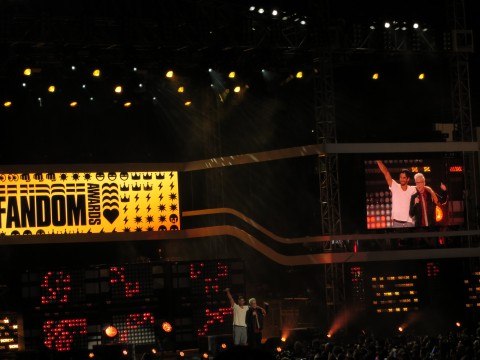 Many fans crowded around the area on the field to get an up-close look at the celebrities, but many more just hung around on the hill, politely sitting so that everyone around them could see, in a surprising act of Comic-Con kindness.
After the Fandom Awards and a brief respite, Linkin Park took to the stage to perform a set for fans, along with artist G-Eazy.
Just like in 2013, the line to get in was especially long, so if you wanted to make it into the park before the festivities, you had to be willing to line up early (but it's Comic-Con – just expect lines for everything). As one of the few free, open events on Thursday nights, it's a nice staple to give attendees something to do once getting out of a long first day at the convention center, when we've all still got just enough energy to still want to party.
With MTV's Teen Wolf (which received its own booth this year) renewed for a fifth season, we hope that MTV continues to take over Petco again in years to come. We all need more silent discos in our life.
Here's a look at the winners of the Fandom Awards, which aired on MTV on Sunday night:
 OMG Moment of the Year: "Game of Thrones" — Purple Wedding
Ship of the Year: Damon/Elena ("The Vampire Diaries")
Breakout Fandom of the Year: "Hannibal"
Best Fandom Forever (BFF) presented with Tumblr: "Harry Potter"
Fandom Feat of the Year: "Teen Wolf" — fans raised funds to build a wolf sanctuary
Visionary Award: John Green
Did you attend the MTV Fan Fest and mtvU Fandom Awards? Let us know in the comments.