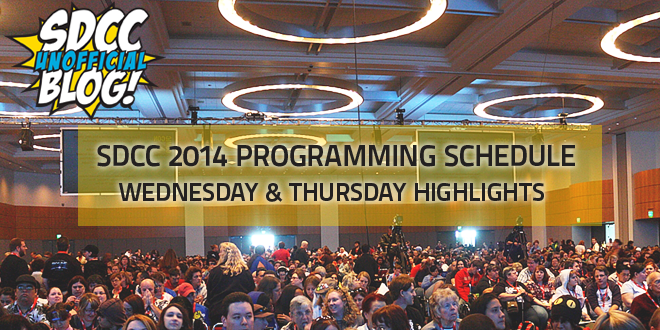 It's two weeks away from Comic-Con, and CCI is releasing the programming schedule for Comic-Con 2013 in its annual fashion. We'll be bringing you the highlights of each day as they're announced.
We'll also be discussing our thoughts on this year's lineup, including our top picks, in a special series of live podcasts this weekend. The first of which will cover Preview Night, Thursday's and Friday's lineup, and will be on Friday July 11 at 9pm ET/6pm PT. [UPDATE: The podcast is now live – click on the link above to subscribe/stream/download the audio and video]
Since we already know the Wednesday sneak peek pilot screening schedule, it's a simple choice: Catch some cool television pilot episodes, or fight the crowds on the exhibit floor for that must-have exclusive? Having said that, bring on Thursday!
The biggest news is that, as we were afraid, there's almost no news about Hall H. Last year, many of the biggest studios only revealed their location and time with the official schedule release, with exact properties and titles to be featured not being revealed until later (or not at all, in the case of the 'surprise' appearance of the cast of X-Men: Days of Future Past). Although there are back-to-back panels blocks scheduled for Dreamworks Animation, The Giver, Paramount Pictures, Entertainment Weekly's: The Visionaries annual summit of blockbuster directors, and Batman '66; only The Giver and Batman '66 offer any insight into what those will be featuring. Basically, we expect to see lots of announcements as we get closer to the convention about what those panels will entail.
One movie studio which did announce its offerings is Sony Pictures Entertainment, which is scheduled for the Hilton Bayfront's Indigo Ballroom. As we reported yesterday, the studio will be bringing Goosebumps and Jack Black, as well as some information on Pixels, the upcoming Chris Columbus sci-fi comedy. Also in the Indigo Ballroom will be "Goonies Never Say Die", which promises to have a panel of cast members and special surprise guests, as well as "possible insights into the much anticipated sequel". Um, awesome. Fans eagerly awaiting news of Disney's Big Hero 6 should also head to Room 7AB for "The Art of Big Hero Six" – which will feature director Don Hall and several designers from the film to unveil a look at the development of the movie. Depending on how the rest of the week's schedule shakes out, this could be fans only chance to see Big Hero 6.
In the realm of TV, Preview Night on Wednesday will insist of screenings for The Flash, Constantine, iZombie, and a new episode of Teen Titans Go! On Thursday, Ballroom 20 is once again open early at 10AM. The day will be kicked off not with the dearly-departed Psych, but rather with 24's return to Comic-Con for the first time since 2009, followed by several CBS Television Studios panels, including the world premiere pilot screening of Scorpion and Reign's Comic-Con debut. Community is also back, thanks to TV Guide, though it's moved from last year's Hall H position. Hannibal also gets a room shift, though this time moving up, and is sandwiched between MTV's Teen Wolf and Showtime's Penny Dreadful.
There's also so much TV at this year's Comic Con that it can't all fit in Ballroom 20, you'll have to head over to Room 6A for TNT's The Last Ship and Legends, Indigo Ballroom for USA's Dig and "Legends of TV Land" with Betty White. Disney is in 6A at 11:15am to show off Toy Story That Time Forgot, the upcoming holiday special on ABC. And we hope it's a big year for Star Wars fans, with "The Heroes of Star Wars Rebels" giving fans a sneak peek at the upcoming series. Dave Filoni, Simon Kinberg, Freddie Prinze, Jr. and others will appear as guests on the Thursday panel, from 6-7pm in Room 6BCF.
Delving into the realm of comics, there are some big panels happening on the first day. The biggest names of the day look to be on the "DC Comics: Batman 75: Legends of the Dark Knight" panel. Legendary comic creators Neal Adams, Greg Capullo, Geoff Johns, Frank Miller, Grant Morrison, Denny O'Neil, and Scott Snyder will all be attending to discuss Batman's history. In fact, Batman is well represented with a Spotlight on Bill Finger (co-creator of Batman), "Batman in the 70's", a CAC session, in addition to the previously mentioned Batman '66 panel. DC Comics is also doing its "All Access: 101, DC Digital" (with some big names like Kevin Smith), and "Master Class: Art History" (with John Romita, Jr. among others).
Not to be outdone, Marvel Comics has 3 panels including its standard "Breaking into Comics the Marvel Way". There are six "Spotlight" panels featuring Dan Slott, Amanda Conner and Jimmy Palmiotti, and more. If you want to hear more from a specific creator, the Spotlight panels are the way to go. Other comic publishers such as BOOM!, Image, and Avatar each have one panel. If you're a comics fan you'll have multiple choices all day long.
Video games have always been a big part of Comic-Con, but Thursday looks stacks for bit-heads. Things kick off first thing at 10am with The Witcher 3 in Room 6A. Then at 11:45am in Room 6BCF check out Halo: Nightfall, the upcoming live-action digital series for Xbox Live from Ridley Scott and 343 Industries. At 2:15pm is the "Blizzard Entertainment Showcase", showing off the company's upcoming toys, books, collectibles, and more. "The World of Capcom" is at 4:45pm in Room 6BCF to share the latest updates on the companies upcoming games. And closing out the day at 6pm is the Skylanders panel to talk about how the franchise is expanding, from video games to toys to comics.
For anyone in need of a break from all those great works of fiction, room 6A hosts a panel firmly rooted in reality (though not very down to earth): the legendary Buzz Aldrin, along with other NASA scientists and Seth Green as a host, will celebrate the 45th anniversary of the moon landing and take a look at the future of NASA.
Finally, in case Thursday's schedule didn't have enough TV panels for you, evening programming features the first ever Adventure Time Royal Ball of Ooo in Room 7AB. The ball is set to feature a world premiere screening of a new episode as well as a costume contest (with a "righteous prize" for the winner).
What will you be lining up for on the first full day of Comic-Con? Let us know in the comments.