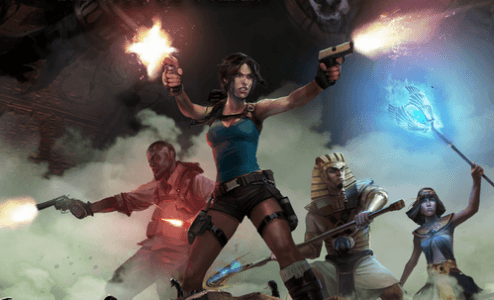 [UPDATE] We just received the updated press release for the event, with some new information. Homefront is now off the list, and Escape Dead Island is press only. But we've now learned Square Enix will be showing announced KINGDOM HEARTS HD 2.5 ReMIX and THEATRHYTHM FINAL FANTASY CURTAIN CALL at their booth on the exhibit floor during the convention, #3829.
Original post as follows…
Square Enix and Deep Silver have something awesome planned for video game fans outside the Convention Center during SDCC.
On Friday and Saturday of Comic-Con weekend, Square Enix and Deep Silver will be hosting an Arcade-style public showcase for fans to experience their incredible lineup of video games including the newly announced Lara Croft and the Temple of Osiris and team-based vampire vs. human online game Nosgoth. Also playable will be two new Hitman titles, Hitman GO and Hitman: Sniper; and several other Deep Silver titles – Homefront, Escape Dead Island, Metro Redux and Sacred 3 – will be showcased during the event.
If you are a gamer or are just want to get away from the convention hall madness this would be a great place to unwind and get your game on.
When:
Friday and Saturday (July 25-26)
11:00 am – 2:00 am
Where: 
Whiskey Girl (702 5th Avenue) in San Diego's historic Gaslamp Quarter.
Here is a list of Square Enix titles on hand:
Lara Croft and the Temple of Osiris
Developed by Crystal Dynamics, Lara Croft and the Temple of Osiris is the sequel to the critically-acclaimed Lara Croft and the Guardian of Light. In her new adventure, Lara Croft travels to Egypt and must join forces with rival treasure hunter Carter Bell and imprisoned gods Horus and Isis, to defeat the evil god Set. Featuring a four-player co-op story, players must work together to explore the temple, defeat hordes of enemies from the Egyptian underworld, solve devious puzzles, and avoid deadly traps. All the while, players will compete for treasure, powerful artifacts, and ultimate bragging rights.

Nosgoth
Developed by Psyonix, Nosgoth is a unique team-based player-versus-player game pitting together a variety of brutal Human and Vampire characters in a fight for survival. Created as a competitive free-to-play title in order to break down barriers between the creators and the players, Nosgoth doesn't include weapons, items or abilities that are inherently better (aka supremacy goods). All items in the Nosgoth in-game store are side-grades not upgrades to create a fair game experience based purely on skill.

Hitman: Sniper
Hitman: Sniper is a brand new competitive sniper game with numerous levels full of creative opportunities to manipulate guards, the environment, and targets to complete the hit. Take on the role of Agent 47 and scope in on your marks using skill, subtlety, smarts and subterfuge to complete your contracts. Spend your hard earned blood money on a wealth of powerful rifles and authentic, game-changing upgrades. Engage your friends in leaderboard driven challenges and prove you have what it takes to be the deadliest marksman around.

Hitman GO
Hitman GO is a turn-based strategy game where you will strategically navigate fixed spaces on a grid to avoid enemies, infiltrate well-guarded locations and take out your target on beautifully rendered diorama-style set pieces. You really have to think about each move and all the Hitman tools of the trade you would expect are included; disguises distractions, sniper rifles and even 47's iconic Silverballers.
Are you a gamer and are excited about the showcase? Let us know in the comments if you plan on stopping by.