[UPDATE] Shawn "The Con Fluence" Marshall has found more signs of The Walking Dead offsite at The Hilton Gaslamp Hotel. Below the Terminus sign in the upper courtyard, the facade of a beat-up van can be seen. Could this be part of a bigger installation?
[PREVIOUS] Fans of The Walking Dead have a chance to get down and dirty – with their food, of course – at San Diego Comic-Con this year. AMC announced that it will be offering some lucky fans a chance to attend a The Walking Dead BBQ.
In order to gain entry, fans will need to head to The Hilton Gaslamp Hotel downtown, and tweet a selfie in front of the Terminus map located outside of the terrace entrance at the hotel. Even those unfamiliar with the Hilton Gaslamp should have no trouble finding the hotel, as our own Shawn "The Con Fluence" Marshall has discovered that the building is currently being branded with Terminus signage.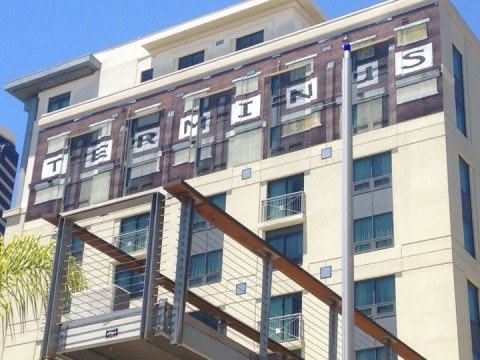 Once your selfie is posted, show up at the Terminus map outside the terrace entrance and show your tweet. The first 200 people to show up at the pick-up location on Friday, July 25, or Saturday, July 26, between 9AM-11AM will receive one wristband to attend The Walking Dead BBQ.
From AMC's site, here's the fine print:
*Supplies are limited (200 wristbands per day).  Must be 21 and over. Proof of posted selfie is required for wristband pick-up.  Wristband is for the sole recipient only on the specific date. Wristband holders can only attend 1 event during the 2-day promotion.
Will you be trying to attend The Walking Dead BBQ? Let us know in the comments.