Happy 4th of July! Before you begin the festivities today, catch up on all the Comic-Con news from yesterday, because there was a lot of it. We've got hints about panels and properties we might be seeing at the con, including The Strain, Max Steel, and Reign, as well as lots of news on exclusives, artists, and more. Robots, a Twin Peaks print, and a crocheted Superman? We really can't think of any better way to kickstart your holiday.
And don't forget to check our Offsite Event calendar, presented by Eventbrite. New events added daily, like Nerdioke on Wednesday night, combining two of our favorite things — nerds and karaoke.
Here's the news you might have missed:
Bleeding Cool has the details on Top Cow's exclusives the publisher will be offering at its booth. Expect to see exclusive variant covers of Aphrodite IX, Rise of the Magi, limited Witchblade prints, VIP sketch packages from Marc Silvestri and Matt Hawkins/Stjepan Sejic, and a ComicCon Writer's Package where you can have "a one-on-one writer's meeting with Top Cow President, COO, and writer Matt Hawkins".
Check out all of the details at the Bleeding Cool post.
The Island Now interviewed The Strain's child actor Ben Hyland, who mentioned that this summer, he "plans to attend summer camps and promote "The Strain" on press junkets, at its premiere and the upcoming Comic-Con International trade show from July 24-27 in San Diego, Calif." Could we be seeing FX's The Strain at SDCC?
Hugo Award-winning illustrator John Picacio posted more details about his Comic-Con posters, El Corazon and La Luna. The posters will measure 11″x18″, and be available to attendees for $10 at Picacio's autograph signing in the Sails Pavilion, after his 1PM Spotlight Panel.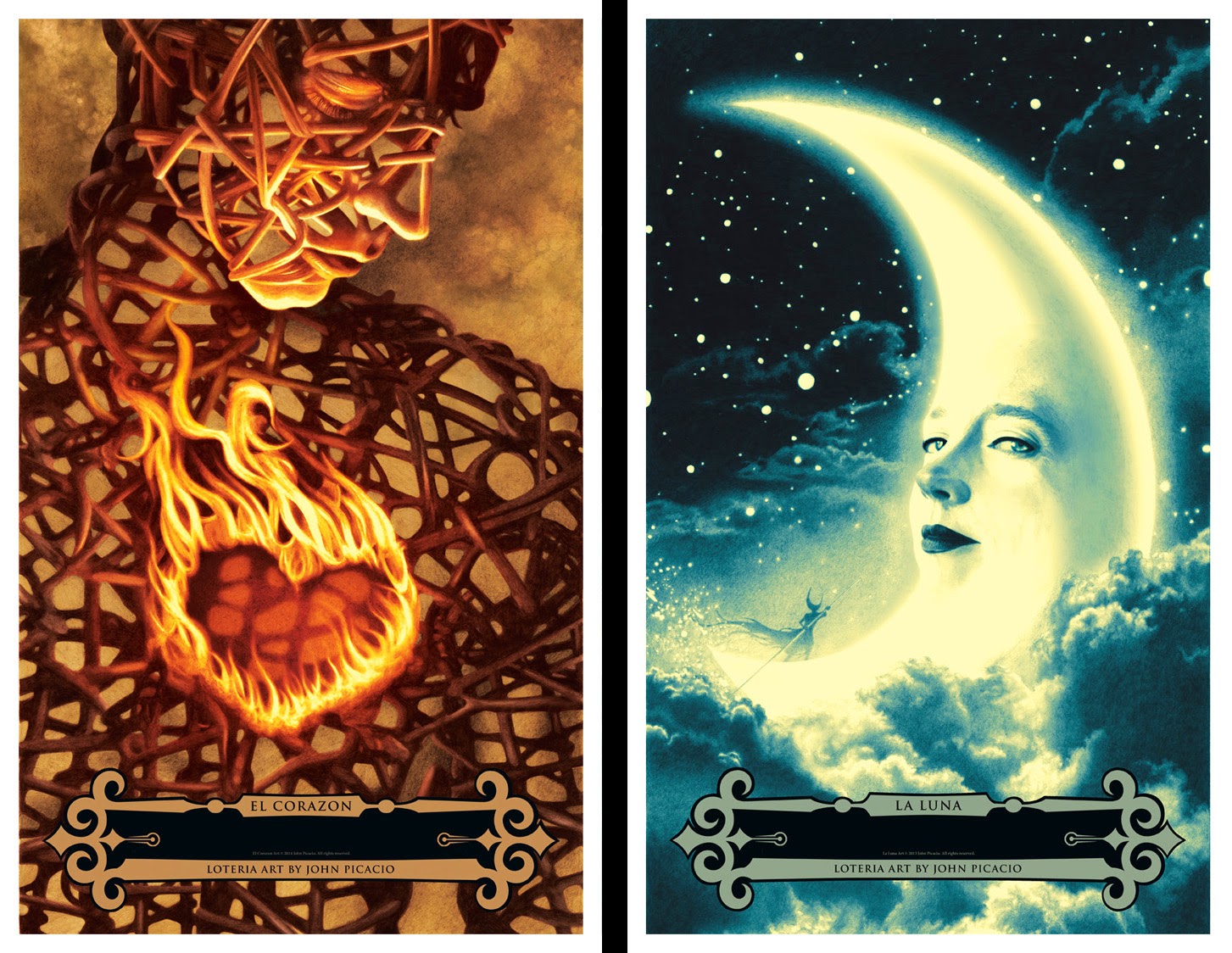 Picacio will also be featured in a Spotlight panel on Saturday from 1PM-2PM in Room 4, and attendees at the panel will be treated to not only sneak peeks of his latest works, but will also receive a free, giant Loteria prototype card featuring art by Picacio.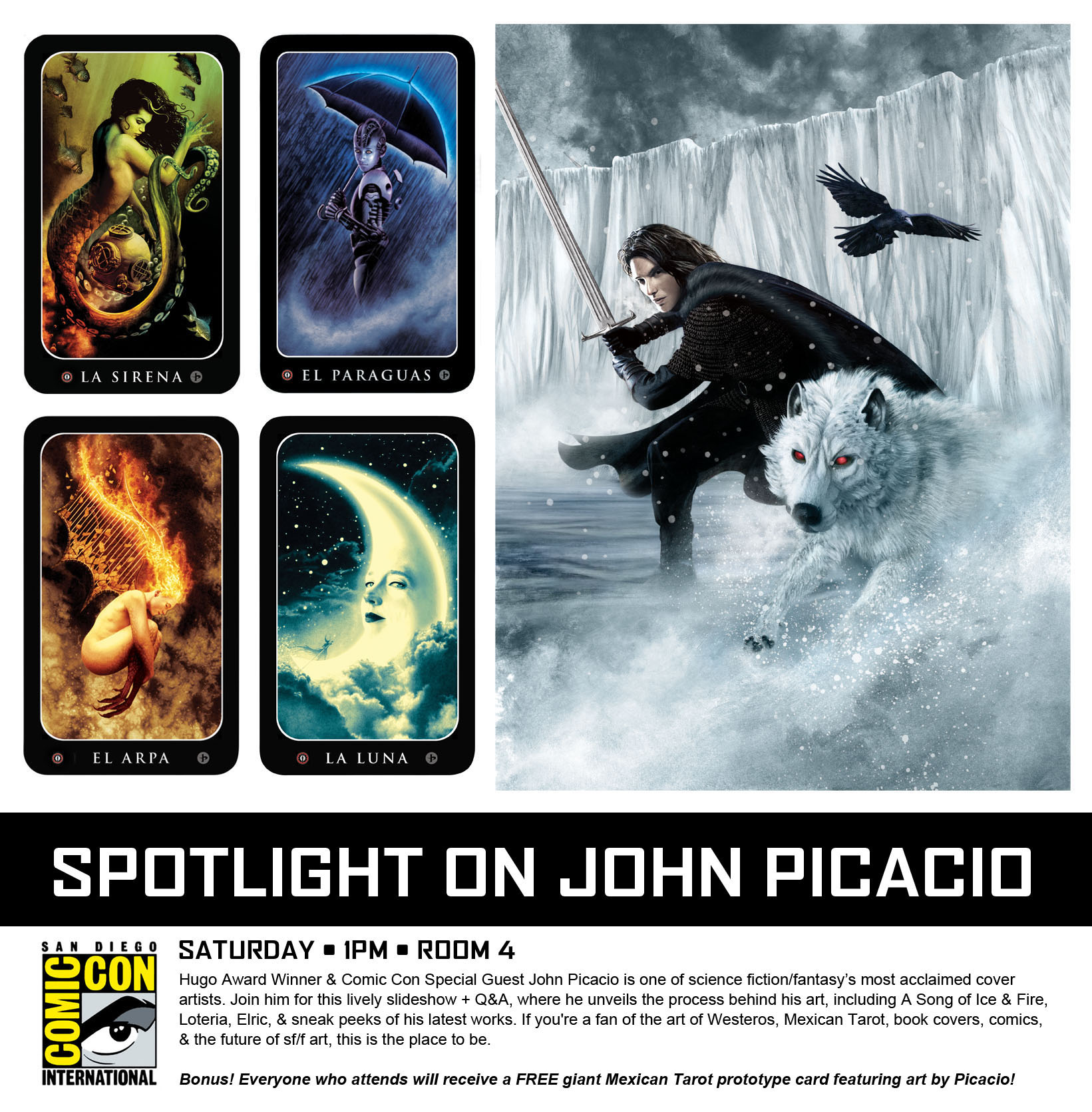 Lovers of freebies, proceed directly to the Random House booth. Daniel H. Wilson posted on Twitter that he will be signing 200 free copies of his book, Robogenesis, there at Comic-Con.
https://twitter.com/danielwilsonpdx/status/484407152308936705
Geeky Hooker has announced even more "crocheted critters" to find during Comic-Con. The new batch is "up, up and away" – but maybe you can still catch up to Superman and Spock in time to make them yours by joining in on the hunt. Follow her on either Twitter or Facebook to track the drops during SDCC.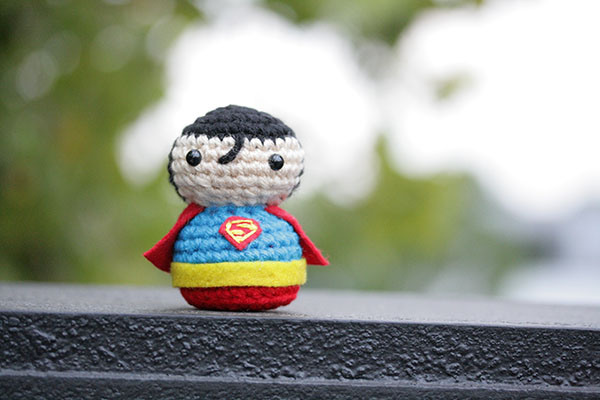 Bad news for fans of Kevin Hearne, author of the Iron Druid Chronicles and the upcoming Star Wars novel Heir to the Jedi. He announced via Twitter he had to cancel his appearances for SDCC.
Artist John Ottigner showed off the cover of Dweores Book Zero on Twitter, which will be at available at booth N14 during Comic-Con.
Check out the first Dweores comic book cover It will be in booth N14 at SDCC! #comic #robot #SDCCS2014 #droid pic.twitter.com/b7gZIAShWd

— John Ottinger Dweores (@redrobot11) July 3, 2014
Artist Tula Lotay tweeted details of her SDCC art book. The first 50 will include a sketch by Lotay, all numbered and signed. The sketch edition of the art book will go for about $50.
1st 50 of my art book will have a sketch. Online Aug 1st & at SDCC. Sketch ed £30. Normal ed £15. All no. & signed 🙂 pic.twitter.com/Zp9HGVPpKa

— Tula Lotay (@tulalotay) July 3, 2014
Beedee Beedee Beedee! Oh, you can't speak robot? Well let us translate: Action Figure Express is giving away a 1:1 scale replica of Twiki the robot from the classic sci-fi television series Buck Rodgers in the 25th Century. To enter, stop by the AFX booth, #3345, on the exhibit floor.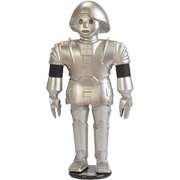 Vinyl Pulse has details on the SDCC Exclusive Golden Monkey Kung Fu Pocket Master from Hyperactive Monkey. Here's the description from the post:
This 3" resin figure is limited to only 60 pieces. It comes packaged in a woodblock printed linen bag and will be available at the Hyperactive Monkey booth #5640 for $45 each.
Click on the preview below to see the entire image over at Vinyl Pulse.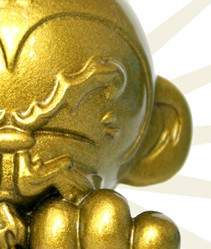 Artist Patrick Ballesteros posted an image on Facebook of layouts for his 2014 sketchbook he's hoping to complete in time for Comic-Con. The book will "

be chock full of mechs, vehicles and robots". Hey, that's like three of our favorite things!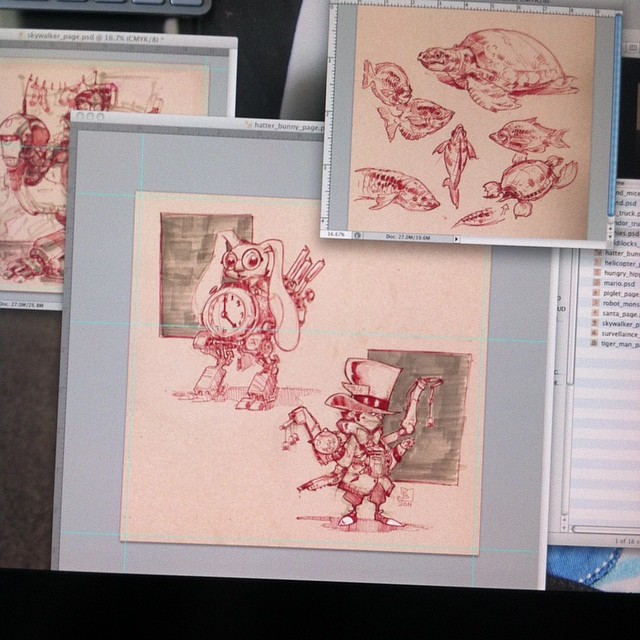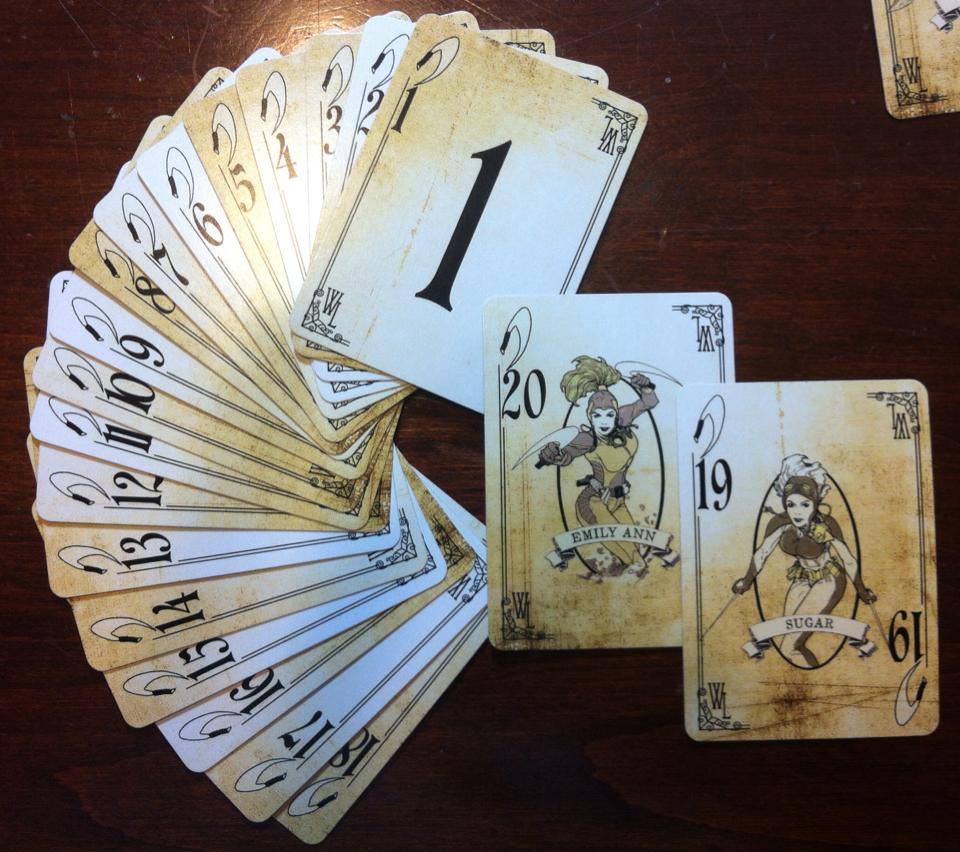 Josh Howard, creator of [email protected], showed off a couple of prints via Twitter he'll have available at Comic-Con. There's this Scooby-Doo print we're pretty sure Jeremy will be interested in:
Finished color Scooby Doo piece. Will have this available as a print at San Diego Comic Con. pic.twitter.com/98bpYCzg4h

— Josh Howard (@joshuahoward) July 2, 2014
And this Twin Peaks print, which will come in an alternate black and white version:
Finished colors for #TwinPeaks print pic.twitter.com/87zI2EsUht

— Josh Howard (@joshuahoward) July 3, 2014
Josh will be at booth #4504 with friend of the site Otis Framtpon. As if you needed another reason to stop by.
Moviefone reports the cast of the 2015 film Max Steel, based on the popular toy line produced by Mattel, will be at Comic-Con this month "and at the Mattel booth", indicating there will be a signing on the exhibit floor.
Thanks to the folks at Vinyl Pulse, we have a look at an adorable set of Androids. The set, called Heroes & Villains II Android, is a mini collectible set of 3″ figures, consisting of heroes BotMan and SuperUser, and "evil doers" that go by Professor Eval() and A/B Tester. You can grab the set at the Dead Zebra Booth #1335 for $40, and you can find additional information on Vinyl Pulse.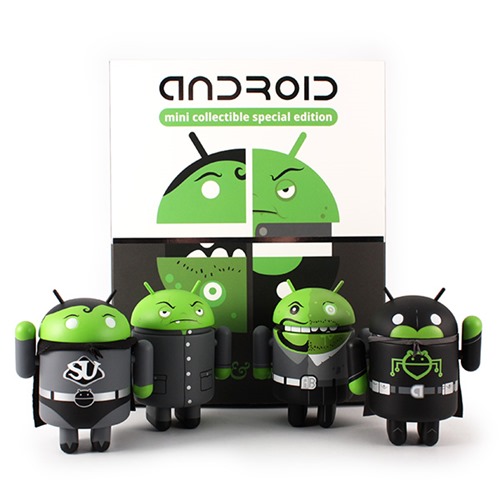 Stuart Ng Books will be the only place to find certain books at SDCC, including Designing The Secret of Kells, An American in Paris: The Art of Devin Crane, JD Morvan & Kim Jung-Gi's Spy Games, Pierre Alary's Moby Dick, and more. Visit Stuart Ng Books at Booth #5012.
Writer and artist Erik Burnham announced that he will be at Comic-Con, "presumably" signing at the IDW Booth. Burnham has now opened commissions to help cover the cost of the trip, for pick-up at the show or to mailed out after. There's additional information on his site.
Terry Moore, the creator of Rachel Rising and Echo, posted a first look on Twitter at a Rachel Rising print headed for Comic-Con. The 11×17 print will sell for $10, and be available online after the show as well.
First look at 2014 Rachel Rising print for SDCC. Will be available online after show. 11 X 17. $10. pic.twitter.com/IdG2r59BfL

— Terry Moore ✏️ (@TerryMooreArt) July 3, 2014
Moore's sketchbook, whose cover he revealed via Twitter, will also be available for $10, and available online after the show:
And in case you forgot, the 2014 Sketchbook looks like this for SDCC. $10. Online after show. pic.twitter.com/jlT3hmJI5n

— Terry Moore ✏️ (@TerryMooreArt) July 3, 2014
Actress Adelaide Kane, the star of Reign, posted on Twitter asking her fans for advice on if she were to go to Comic-Con, what should she dress up as? Although this tease is a far cry from confirmation that Reign will make an appearance at SDCC, we can't help but wonder if CBS Television is going to bring more than a sizzle reel in 2014.
https://twitter.com/AdelaideKane/status/484854124664459264
#4thofJuly Exclusive: Which @Marvel Super Hero is coming soon? Stay tuned for more reveals! #SDCC #Marvel pic.twitter.com/oW4Z52DnHe

— Hot Wheels (@Hot_Wheels) July 4, 2014
.@kerrydixon no, it's not a #SDCC exclusive but it will be on display at Comic-Con

— Hot Wheels (@Hot_Wheels) July 4, 2014
Anything we missed? Let us know in the comments, drop us a line or tweet us at @SD_Comic_Con.