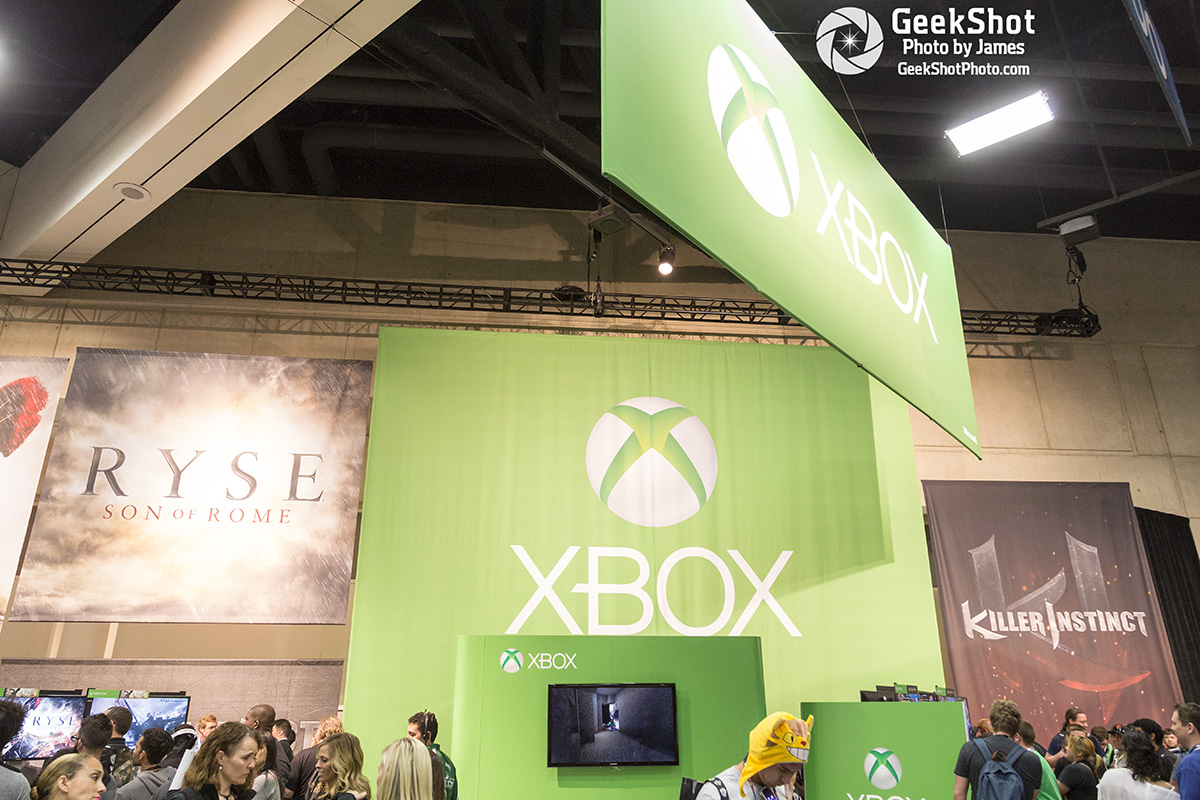 Fans of Xbox will have plenty of opportunities to try new games first-hand, get sneak peeks at what's coming next for the video game conglomerate, and geek out with other gamers! Xbox announced its San Diego Comic-Con schedule on their site today, and it's jam-packed.
At Xbox's Booth (#100) and at the previously-announced Xbox Lounge at the Manchester Grand Hyatt, attendees can swing by for a chance to try out upcoming titles that won't be heading to Xbox One consoles until later this year, including Sunset Overdrive, Madden NFL 15, Skylanders Trap Team, Lego Batman 3: Beyond Gotham, Evolve, and many more.
The Lounge will be open on Thursday from 11AM-6PM, Friday and Saturday from 11AM-8PM, and Sunday from 11AM-5PM, and while nothing official has been said about this year's event, previous years at the Xbox Lounge have required a Comic-Con badge. [UPDATE: Scratch that, you will need a badge for entry, per CCI's offsite post yesterday.]
The Lounge will also host a variety of walk-up-and-play tournaments for games Titanfall, Killer Instinct, and Forza Motorsport 5 – and fans can play against both attendees and MLG pros and Youtube stars.
Xbox will also be holding several panels at Comic-Con for upcoming games Sunset Overdrive (Thursday, Room 5AB, 5PM-6PM) and Halo (Friday, Room 6BCF, 10:15AM), as well as the upcoming live-action series Halo: Nightfall (Thursday, Room 6BCF, 11:45AM). The company will also be offering a first glimpse at its upcoming documentary, Atari: Game Over on Friday, which documents the fall of the Atari Corporation and the discovery of thousands of E.T. video games that had been buried years before.
The company also promises that it has lots of "surprises" in store for attendees, so stay tuned for more.
From Xbox's site, here's the full line-up of their Comic-Con plans:
Comic-Con International: San Diego is the biggest, craziest, most awesome pop culture convention in the world – and from July 24-27, Xbox will be in sunny Southern California, bringing its A-game.

Make that a ton of AAA games. Check out all the exciting events you can attend – and games you can play – at the show.

COME TO OUR PANELS

See some previews for upcoming games, and learn the latest scoops from some of Xbox's most talented developers. If you're a gamer, you won't want to miss any of these.

Halo: Nightfall First-Look

Thursday, July 24, 11:45AM – 12:45PM, Room 6BCF

Prepare for your next step in the Halo Journey with a deep-dive into Halo: Nightfall, the upcoming live-action digital series from 343 Industries and Scott Free Productions. Join 343's Kiki Wolfkill (Executive Producer), Frank O'Connor (Franchise Development Director) along with key Halo: Nightfall cast and crew, and be among the first to get the details of the story and production.

The Fusion of Art and Style in Sunset Overdrive

Thursday, July 24, 5:00PM – 6:00PM, Room 5AB

Join Xbox Live's Major Nelson to get an inside look into the inspiration behind the vibrant and off-the-wall style of Sunset Overdrive, a new open-world action game coming exclusively to the Xbox One this fall. Audience members will be the first to see new Sunset Overdrive content illustrating the creative freedom the game offers players. Hear directly from Insomniac Games's Drew Murray and Marcus Smith (Game and Creative Director, respectively) along with art director Jacinda Chew and lead character artist Gavin Goulden.

Halo: The Master Chief Collection Developer Panel

Friday, July 25, 10:15AM – 11:15AM, Room 6BCF

Join 343 Industries' Senior Producer, Dennis Ries, and Franchise Director, Frank O'Connor, Certain Affinity's President and original Halo 2 multiplayer and online design lead, Max Hoberman, and other guests for an in-depth conversation about Halo: The Master Chief Collection. Fans can hear about what to expect from the highly anticipated compilation and discuss the efforts being made to bring the story of the Master Chief and Halo's legendary multiplayer to a new generation.

Digging E.T. – Behind the Scenes of the Xbox Originals Documentary, "Atari: Game Over"

Friday, July 25, 3:30PM – 4:40PM, Room 5AB

Comic-Con fans will get the first glimpse at "Atari: Game Over," the Xbox Originals documentary that chronicles the fall of the Atari Corporation through the lens of one of the biggest mysteries of all time, dubbed "The Great Video Game Burial of 1983." As the story goes, the Atari Corporation, faced with overwhelmingly negative response to the E.T. video game, disposed of hundreds of thousands of unsold game cartridges by burying them in the small town of Alamogordo, New Mexico. Join Atari founder Nolan Bushnell, original Atari video game designer Howard Scott Warshaw (E.T., Yars's Revenge, Raiders of the Lost Ark), two-time Academy Award winning executive producer Simon Chinn ("Searching for Sugar Man" and "Man on Wire"), Emmy winning executive producer Jonathan Chinn (FX's "30 Days" and PBS's "American High"), director Zak Penn ("X-Men 2," "Avengers," and "Incident at Loch Ness"), Fuel CEO Mike Burns and more as they take fans behind the scenes and share an inside look into the making of this weird and wonderful film. Moderated by Larry Hyrb, Xbox's Major Nelson.

VISIT US AT THE XBOX LOUNGE AND OUR BOOTH

Whether you're in the convention center hanging out at the Xbox booth (booth #100) or down the street at the Xbox Lounge in the Manchester Grand Hyatt (1 Market Place), we've got over two dozen different games to check out. Come by to play an unparalleled line-up of games that will all be heading to Xbox One consoles later in 2014 or check out our entertainment offerings.

Sunset Overdrive
Evolve
Forza Horizon 2
Fable Legends
Ori and The Blind Forest
Super Dead Rising 3 Arcade Remix
Madden NFL 15
Skylanders Trap Team
The Evil Within
The Crew
Lego Batman 3: Beyond Gotham
Disney Infinity: Marvel Super Heroes (2.0 Edition)
Killer Instinct
Disney Fantasia: Music Evolved
Project Spark
Minecraft
Powerstar Golf
Project Totem
Lovers in a Dangerous Spacetime
#IDARB
Fenix Rage
Dance Central Spotlight
Titanfall
Forza 5
Kinect Sports Rivals

Xbox Tournaments Powered by MLG. As the exclusive sponsor of the Comic-Con Lounge, Xbox is teaming up with Major League Gaming (MLG) to bring eSports to Comic-Con. From July 24-27, the Xbox Gaming Lounge will host a variety of walk-up-and-play tournaments for Titanfall, Killer Instinct, and Forza Motorsport 5. The tourneys are designed for all Comic-Con attendees, gamers, and aspiring competitors. MLG commentator Chris Puckett will provide play-by-play commentary for walk-up gamers, who will also have the opportunity to play against MLG pros and YouTube stars. Tournaments will be broadcast on the MLG apps for Xbox One and Xbox 360, as well as MLG.tv and MLG mobile apps.

The Xbox Gaming Lounge is located at the Manchester Grand Hyatt (One Market Place, Seasport Ballroon, 2nd Floor).

Thursday, July 24 – 11:00AM – 6:00PM
11AM – 1:30PM – Forza Motorsport 5
2:00PM – 6:00PM – Titanfall

Friday, July 25 and Saturday, July 26 – 11:00AM – 8:00PM
11AM – 1:30PM – Forza Motorsport 5
2:00PM – 8:00PM – Titanfall

Sunday, July 27 – 11:00AM – 5:00PM
11AM – 5PM – Killer Instinct

Comic-Con is about so much more than gaming, and Xbox is teaming up with some of the most popular entertainment brands around to give you tons of cool content. In addition to the events listed above, we've also got a few surprises in store for the show. Stay tuned for more news on SDCC next week here on Xbox Wire!
Are you excited about Xbox's return to Comic-Con? Let us know in the comments.