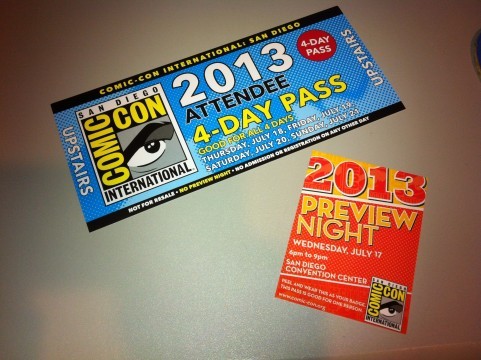 San Diego Comic-Con may be over, but Comic-Con International isn't done with policy tweaks just yet. As previously reported, for the first time, attendees will need some information printed on their physical Comic-Con badge in order to be eligible for Preregistration to attend in 2015. Preregistration is the first chance badge sale for those who attended in 2014, and according to an earlier announcement on their site, the sale is tentatively planned for sometime this fall.
However, for the first time, attendees must physically prove that not only did they purchase a badge for San Diego Comic-Con this year, but also that they physically attended.
A "Badge ID", which is different than the numbers printed on barcode e-mails, can be found at the bottom of each badge from this year's convention (for general attendees only – first time attendees, press, professional, volunteer, staff, and other categories of badges are not eligible for Preregistration). This number will be required to "unlock 2015 preregistration", with instructions being e-mailed out sometime in the next few weeks. According to CCI, the validation period will only be open for a short window, likely so that Comic-Con can confirm everyone who will be trying for a badge this fall, and then actually hold the sale. [UPDATE] We have confirmed with Comic-Con International that "first time attendees" are those for whom 2015 would be the first time attending. If 2014 was your first year attending, you're still eligible.

For those who purchased a badge and who have either lost them or who didn't pick them up, it sounds like you may have to wait for the General Sale, tentatively planned for spring of 2015.
Those who participate in the Preregistration sale are not guaranteed a badge, and it's not known what percentage of the total number of badges sold are available in this annual sale. However, with as hard as Comic-Con badges are to obtain, getting two shots at the golden ticket helps a tremendous amount.
We recommend taking a photo of your badge, to make sure that if you do lose it at some point in the next few weeks, you'll still have that number handy.
From CCI's site, here's the full announcement:
Comic-Con International 2014 may be over, but don't throw away all that swag just yet! You're going to need your physical Comic-Con 2014 badge to qualify you for Comic-Con 2015 preregistration this fall.

If you purchased a badge for Comic-Con 2014, you may have noticed a "Badge ID" printed at the bottom of your badge. Keep this number safe, as it is the key that will unlock 2015 preregistration for you! Sometime in the next couple of weeks you will receive a very important email from Comic-Con with instructions on how to enter your badge ID online for preregistration validation. The validation period will only be open for a short window of time so keep an eye out for this very important email or bookmark Toucan, the official blog of Comic-Con International, WonderCon Anaheim and APE. We will post helpful registration hints and tips on the blog in the weeks preceding preregistration.

If your Comic-Con 2014 badge does not have a "Badge ID" printed at the bottom, it is likely you attended under another category that is not eligible to participate in 2015 preregistration. Professionals, guest of professionals, trade professionals, exhibitors (and exhibitor-purchased attendee badges), volunteers, staff, complimentary passes, and press are not eligible to participate in online preregistration. Online registration for these categories will occur at a later date.

Please be sure to "opt-in" to email correspondence to receive all Comic-Con 2015 preregistration announcements. To review your opt-out selections, visit https://secure2.comic-con.org/memberid/ and log in to your Member ID account
How do you feel about this new development? Let us know in the comments.