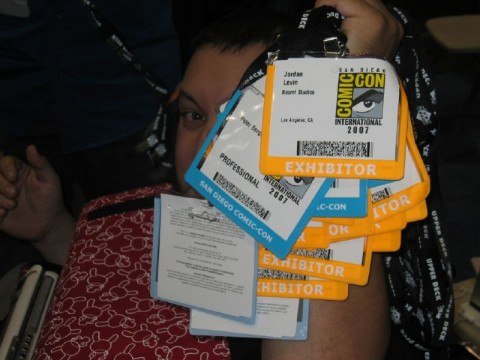 The dust has barely settled from San Diego Comic-Con 2014, but it's already time to start looking ahead to 2015. Ever since it was announced that the event will take place from July 8-July 12, there's only been one question on every attendee or potential attendee's mind: When will badges go on sale?
Comic-Con International has given a little insight into the answer to that question. According to an updated page on their site, CCI announced that Preregistration will "open sometime in the fall of 2014", with Open Registration taking place sometime "next spring". Preregistration is only for those who attended San Diego Comic-Con in 2014, while Open Registration is open to anyone with a Comic-Con Member ID. For both dates, they're marked by a "Subject to change" disclaimer, meaning that while CCI would probably like to keep to these two time frames, unforeseen circumstances could push them back.
Such was the case for the 2014 badge sales, which happened later than any badge sale in recent memory (Preregistration happened on February 8, while Open Registration happened on March 15). Comic-Con International completely revamped the buying process — adding in a randomized waiting room, put in place to handle the stress of the hundreds of thousands of geeks worldwide hoping to score that Golden Ticket to San Diego each year. This new system slotted attendees into a random order to be allowed to purchase badges, rather than using the old "whoever clicks a link a millisecond faster" method getting priority.
There was a lot of discussion about whether or not this process actually improved or destroyed the process of purchasing a badge. The new system had a few issues — some error screens, telling people they'd already purchased when they hadn't — but for the most part, the system seemed to be an improvement over the old model. Open Registration occured with even fewer problems, so if Comic-Con International chooses to utilize the same randomized waiting room, we're hopeful EPIC has worked out even more of the kinks.
Badge sales for 2014 also saw another major change — the move to single day badges only. While in the past, Comic-Con attendees had been able to select all four days with Preview Night, or all four days without Preview Night, with the single click of a button, Comic-Con International began issuing single day badges only for 2014. Although anyone who purchased all four days (with or without Preview Night) would still have their badges consolidated into a single badge at the actual convention, the hope was that by taking away that option, more people would decide to choose only the days they actually planned to attend.
There's no word yet on if either of these changes are staying for 2015, though we do know that Comic-Con International will continue to use EPIC Registration for their badge sales.
The demand for badges has far outweighed the supply for years now, with San Diego Comic-Con's attendance capped somewhere around 130,000 attendees (and a portion of that could be press, professional, and exhibitors). For anyone hoping to attend 2015's convention, it's important to follow every rule that Comic-Con International has. Each person hoping to attend will need their own Comic-Con Member ID prior to the sale, so if you're even considering about attending, now would be the time to sign up for one. Juniors (ages 13 to 17) are also required to have a Member ID, though children 12 and under do not need to buy a badge.
If you attended San Diego Comic-Con in 2014, make sure that you hold onto your badge, as CCI has promised this year, you will actually need information printed on your badge in order to participate in Preregistration. Here's an excerpt from the Toucan Blog last month:
Only those that have purchased a Comic-Con 2014 attendee badge AND retain their actual badge will be eligible to participate in 2015 online preregistration. You will need information printed on your 2014 badge to participate in online preregistration, so do not discard your badge or give it away!
You can read what we already know about 2015's convention here, and once we have more information about the 2015 badge sales, including dates, prices, and more, we'll be sure to update.
Will you be trying to buy a badge for 2015? Let us know in the comments.