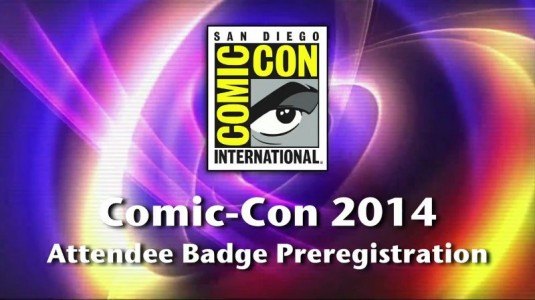 Editor's note: Important update below for those eligible for preregistration but also wanting to participate in open registration in the spring. Update: You will be able to.
For weeks, we've been expecting news of San Diego Comic-Con's Preregistration date. All of us have felt the anticipation build as CCI has released news regarding prices and policy changes, the new randomized EPIC Registation waiting room, and what to expect from their new Prereg waiting room process.
Yesterday, CCI ended our wait by officially confirming the date of the sale: Saturday, February 8, beginning at 9AM PT. Along with that date announcement, CCI has released detailed information and videos to try to help make the new process as smooth as possible for us — and ironically, it's a lot of information to sort through.
So how does the new process work?  We have compiled an information quick-list and simple breakdown for quick and easy reference to help make it easier to understand.
Here's some of the information you will need to know to get you through the Preregistration process:
CCI will be sending out an e-mail with a link and personal code to each eligible person at least 24-48 hours in advance of the sale. So be sure to watch for that e-mail. You may also retrieve your personal code through your Member ID account under the "Registration Info" tab.
The link within the e-mail will take you to the EPIC landing page. The landing page will be open between 7AM-9AM PT.  Once you enter the landing page, you will need to enter your personal code in order to be verified as eligible for the sale. Remember that your arrival time at the landing page does not give you an advantage to a better place in line.
Important: Only one device and browser will be authorized per registration code.  Once the code has been entered only that computer will be authorized for the waiting room.
Once your personal registration code has been entered and authorized, you will be able to enter the EPIC waiting room. Once in the waiting room, the sale won't begin until sometime around 9AM.  It's very important that you remember NOT to refresh the page.
The waiting room page is set to refresh itself every 2 minutes. The spinning blue circle will let you know that the page is active and refreshing.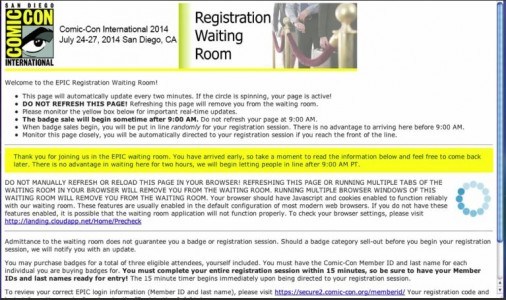 Once in the waiting room, a yellow status box will help keep you informed of updates, like badge inventory. In addition to the status box, be sure you listen in to the SDCC Blog Google+ videocast as well. We will be live-broadcasting the sale and keeping an eye on any updates we hear about. We will send out a link for our videocast later this week.
Around 9AM CCI will begin placing everyone that is in the waiting room into a randomized "line".  This random line assignment will require a few minutes to finalize, and can take between 10-15 minutes. So have some patience and try not to panic if you don't see anything happening right at the specified sale start time.
Once you reach the front of the line, you will begin your badge purchasing session. The first step in this process is to enter your Member ID and Last Name.  You will have 15 minutes to complete the entire process, and badge inventory is being held from the moment you arrive on this page — so there's no reason to hurry.
After entering your Member ID and last name you will need to select the number of people you are purchasing for. Select this number carefully because you will not be able to return to this step.
Once you enter the number of people you are purchasing for, you will be brought to the Badge Selection Page. It is here where you will need to enter and validate the Member ID and Last Name of each person you are purchasing for. Be sure to have this information handy.
Badge inventory will not refresh while on the Badge Selection Page.  However it is important to note that you must not hit the back button during the selection process or you will lose your reserved badges.
If you are purchasing badges for a Junior, Military or Senior and these options are not listed or available to select, CCI recommends that you purchase the adult badges and then contact them after the sale is over.
As a reminder, have all your funds in place. Only one credit card can be used to purchase all the badges in your cart.
Before the badge order is processed you will have one last chance to review your information. If you need to edit and make any changes make sure you use the "Edit" button.  Do not hit the back button.
Make sure you type "agree" in the provided box to agree to CCI's Terms and Conditions.
After you've completed the purchase, you'll receive a confirmation e-mail from EPIC Registration.
[UPDATE] The CCI Toucan Blog updated yesterday with some technical tips, many which we covered above. However there were some important details also mentioned within the post we wanted to update you with.
It now appears that you will be able to use someone else's credit card for payment, but because of the way the new registration system works, you won't be able to use it for a partial payment. Here's the direct quote:
Many of you have also sent us questions regarding credit card payment. You may use someone else's credit card with their authorization. The address and name associated with the credit card does not need to match the information in your Member ID account. Additionally, if any of the contact information in your Member ID account is currently incorrect, you will have the opportunity to change it when the Member ID system reopens later next week. For tomorrow's sale, it is critical that you log in using the information that is currently listed in your Member ID account, even if your last name is incorrect.
Here's one that we're a bit confused with. The post mentions that those who are eligible but do not purchase a badge during the preregistration sale are not allowed to buy one at a later date. Here's the quote:
If your Membership Type (Adult, Senior, Junior or Military) is incorrect, please purchase the badge option that is shown to you during your registration session. If you require a refund for the discounted price, we will be able to assist you after the sale, but if you do not purchase a badge tomorrow when they are available we will not be able to sell you one at a later date.
Does this mean that those who only get single day badges during preregistration will not be able to purchase the remaining days during open registration, like in previous years? And for those who are eligible for preregistration but are unable to participate, does this mean they will not be eligible to purchase a badge when open registration comes along in the spring? We've put out a call to CCI to confirm, and will update everyone when we hear back.
[UPDATE 2] We received clarification from CCI in the form of a tweet confirming those who were eligible for preregistration can indeed participate in open registration:
If you were unable to purchase your desired badge type, you may be able to buy in Open Online Registration. More info http://t.co/bu38IRPnfu

— San Diego Comic-Con (@Comic_Con) February 8, 2014
This quick reference should help in assisting you to remember all the information. Also, be sure to check out our Preregistration tips page, which has been updated and reflects all of our best advice for ensuring that you get a badge this weekend. For a more visual guide of how the process will work, check out CCI's instructional video:
http://www.youtube.com/watch?v=07z59DUl5sk
Are you excited or nervous about the Preregistration badge sale process?  What do you think of the changes?  Let us know in the comments.