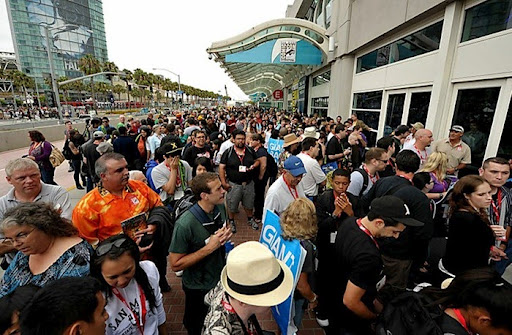 Fans of San Diego Comic-Con have been very patient this year, but we can all breathe a sigh of relief, because for better or worse, the process of finding out if you'll get to attend the biggest, best pop culture convention has almost come to an end. Comic-Con International just announced that Open Registration badge sales will be taking place this Saturday, March 15.
As previously announced, the process will work very similar to Preregistration, which was revamped this year in an attempt to "even the playing field". Beginning at 7AM PT on Saturday, eligible attendees will be able to access a waiting room. You'll need a unique, personal Registration Code which will be e-mailed to you this week, or you can log into your Member ID now to access the code.
Once you've verified your code, you'll be able to stay in the waiting room until 9AM PT, when you'll be randomly placed into a line to await your turn to check out. For those who had previously purchased a Four-Day badge without Preview Night, you'll be able to add Preview Night on as a stand-alone option for $35.
The San Diego Comic-Con Unofficial Blog will be hosting a live Google+ Hangout during the sale beginning at 8:30AM PT, as well as sharing any glitches or issues that crop up during the sale on Twitter.
Here's the e-mail that CCI is currently sending out:
Comic-Con International is pleased to announce that Open Online Registration is finally here! Comic-Con 2014 Open Online Registration will begin shortly after 9:00 AM Pacific Time (PT) on Saturday, March 15, 2014.

The EPIC Registration landing page will open at 7:00 AM (PT) for you to enter your personal registration code and authorize your device to enter the waiting room.

Your personal registration code and link to the landing page will be sent to you via email at least 24 hours prior to the start of the sale. You can also access your registration code by logging in to your Member ID account and selecting the "Registration Info" tab. We suggest you add [email protected] as an approved/authorized sender to your email account.

You must authorize your registration code prior to 9:00 AM (PT) on March 15. The EPIC Registration waiting room will close for entry at 9:00 AM (PT).

Are you wondering what a registration code is? Confused about why there are two different opening times? For answers to these important questions and others, we strongly encourage you to read the Comic-Con 2014 Open Online Registration instructions.

You can also find important registration information and helpful tips on Toucan, the Official Blog of Comic-Con International, WonderCon, and APE. Click the "Registration Update" link on the categories menu for specific registration related topics.

Please keep in mind that not all eligible attendees will be able to purchase a badge during Open Online Registration. There are far more eligible attendees than badges available. You can increase your chances of obtaining a badge by reading all of the instructions carefully and having your personal information ready on the day of the sale.

Sincerely,
Comic-Con International
Will you be trying for a badge this weekend? Let us know in the comments.