While there's still no date for Open Registration — the general sale for San Diego Comic-Con that's open to anyone who's created a Member ID — they have confirmed via the Toucan Blog several details about the impending sale.
Earlier this week, CCI closed Member ID's to new creation and changes, which is normally the first sign that a badge sale is getting ready to take place. Anyone who logs into their Member ID now will be able to view their eligibility status, as well as their Registration code (located under the 'Registration Info' tab). It will look something like this: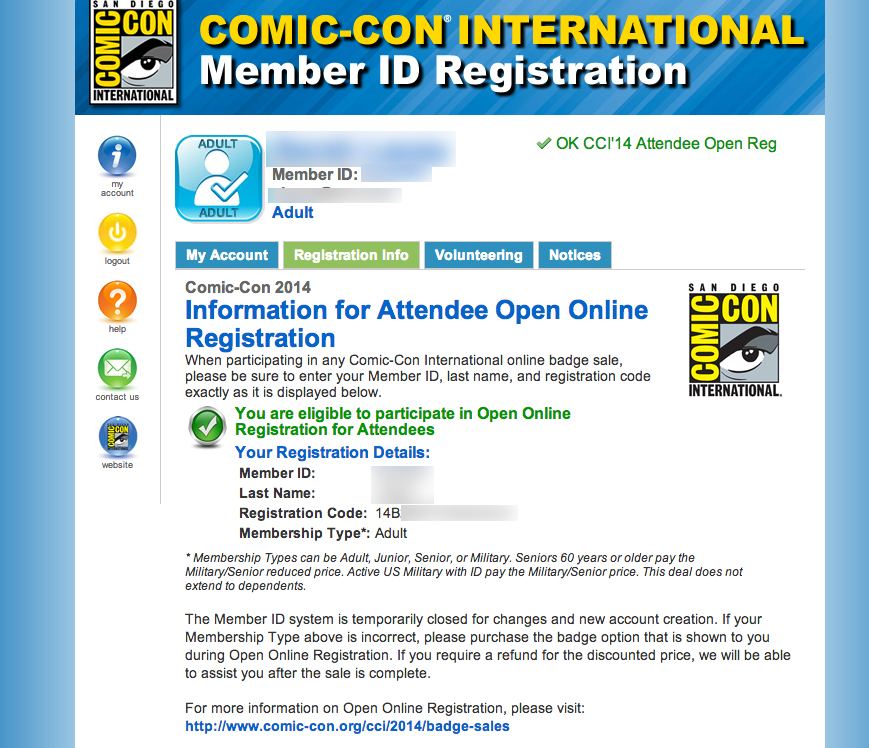 So who is eligible? According to CCI:
Anyone who has already registered for or purchased a Comic-Con 2014 Preview Night option is not eligible to participate Open Online Registration.
This means that if during Preregistration you purchased a Four-Day badge without Preview Night, or any combination of single day badges, you are still eligible to participate in Open Registration. And while CCI does not explicitly state it, this means it's very likely that anyone wanting to upgrade their Four-Day badge to a Four-Day with Preview Night will be able to. This is similar to how it worked last year, when attendees could upgrade by paying the full price for the better badge, and later being refunded by CCI automatically for their Preregistration process.
[UPDATE] CCI has confirmed on their Badge FAQ that unlike last year, those who already have a four-day badge from Preregistration will be able to add a stand-alone badge for Preview Night, for $35 for an adult badge (or $16 for a junior, senior, or military badge). Here's the full update:
I bought all four daily badges (Thursday through Sunday) during preregistration, will I be able to buy a Preview Night badge during Open Online Registration?

If you make it to the front of the waiting room line and Preview Night badges are still available, you will be able to purchase the Preview Night badge as a stand-alone option. You will not need to purchase all four daily badges again to add on Preview Night. The stand-alone Preview Night option is only available to those who already have a Thursday, Friday, Saturday, and Sunday badge for Comic-Con 2014.
For any detractors of the new randomized process, Open Registration will operate in much the same way. Eligible attendees will be e-mailed a link to the Waiting Room 48 hours prior to the sale, and beginning at 7AM on the sale date, may begin accessing the Waiting Room by using their unique Registration Code.
Starting at 9AM, anyone who is in the waiting room "will be placed in line randomly when the sale begins." Once you've reached the front of the line, you'll be allowed to purchase up to three badges, including one for yourself.
There's no advantage to arriving early, and while there are no tricks to helping you score a badge, you can read our Preregistration Tips to make sure you're prepared.
Will you be trying for a badge in Open Registration? Let us know in the comments.