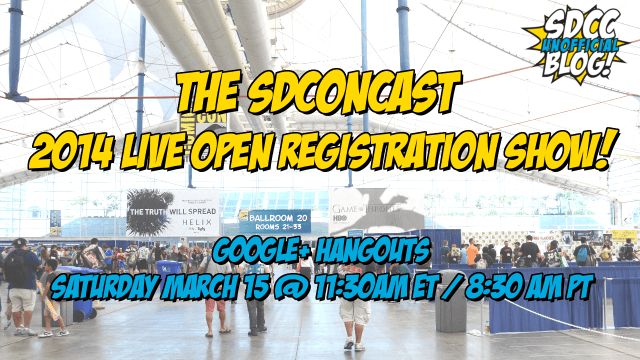 Nearly a month ago, the march to San Diego Comic-Con 2014 began with preregistration. As the weeks draw closer to San Diego Comic-Con in July, the next big event for attendees is nearly upon us: Open registration, the process where anyone can purchase a badge to Comic-Con (granted, you already have a Member ID).
Since registration generally follows the closure of the Member ID site to new members, and since historically open registration has occurred on a Saturday, we're anticipating the date and time of open registration to be March 15, at 12PM ET / 9AM PT. [UPDATE: Confirmed!]
We covered the preregistration action live via a Google+ Hangout, and it was so well received we'll be doing it again for open registration. Come join us 1/2 hour prior to the start of open registration where we'll again be monitoring the registration process and providing status updates, tips and some well-needed entertainment. We encourage those of you hoping to score a badge to tune in and join in the conversation, and help your fellow hopefuls who are also going through the process.
We'll update this post with the live stream when we go live next Saturday, but until then be sure to bookmark this link to the Hangout. We'll also update everyone with the link to the Hangout via Twitter, Facebook and Google+.
Please note: We are anticipating the date for open registration to be on March 15, but no formal announcement by CCI on when the event will take place has yet been made. The date of our Hangout is subject to change, based on the official, announced date.
We hope to see you there, and good luck!
Thanks everyone for joining in! We had a ton of great questions and appreciated everyone stopping by. If you missed the Hangout or want to relive the excitement, you can watch the replay below.