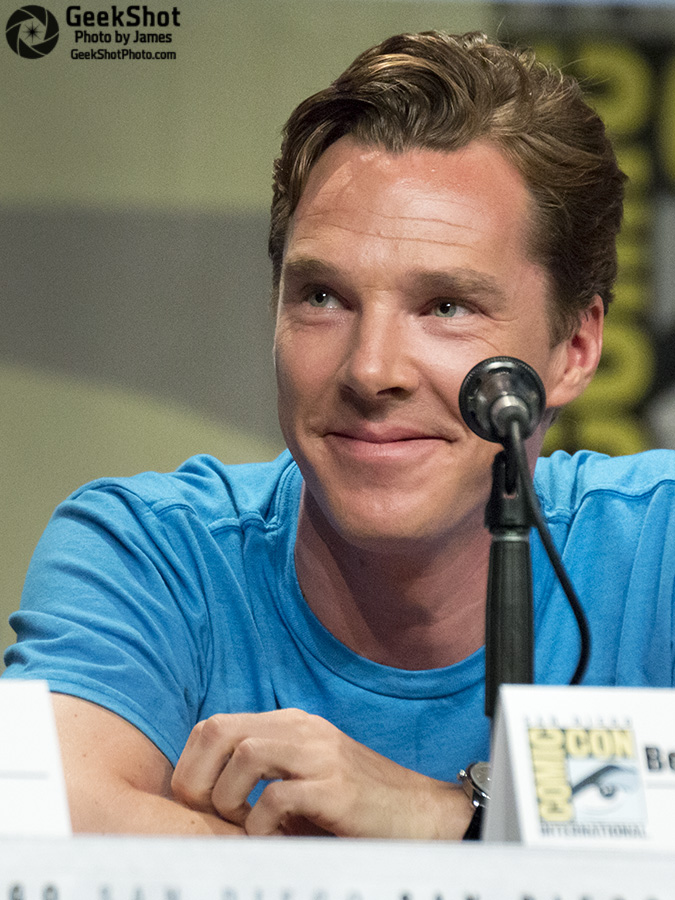 Welcome to the GeekShot Photo Exclusive Series. This will be a weekly post featuring cool, interesting, or just plain awesome moments we have captured during San Diego Comic-Con. Each week we'll post a photo by Beth or James of GeekShot Photography. We may include a short story about the photo, but sometimes we'll just let the photo speak for itself.
About This Photo
Benedict Cumberbatch at The Hobbit: The Battle of Five Armies panel during the 2014 San Diego Comic-Con.
Fans of "The Batch" (does anyone actually call him that?) were very pleased at Comic-Con this year. He showed up to not only promote The Hobbit, but The Penguins of Madagascar as well. If you were lucky enough to find out about his surprise appearance you could even have walked into the Penguins panel since it was on the lower attended Thursday schedule.
That's enough about Mr Eyebrows, I'm actually here to talk about "The Battle of the Five (or more) Obstacles" to taking photos during panels. Notice the cheekbone blocking placement of the microphone/stand. The mic is just one of the things that can block your view while taking photos. Luckily the ever present water bottles were on each side of Benedict so I didn't have to deal with them this time. There's also security or other photographers who are allowed to take photos from right in front of the stage who will randomly get in your line of sight. Then there is the panel guest who may sit far back, or lean low, or put their hands in front of them. So many ways to get blocked while taking photos it feels like a constant battle. On top of all that, you have to also hope you get accurate focus and decent light to get a good shot.
It's all part of the job though. And hopefully you can come away with a few shots you're proud to show off.
What are your tips for taking photos at the Con?  Let us know in the comments.
You can see all of the previous posts in this series here.