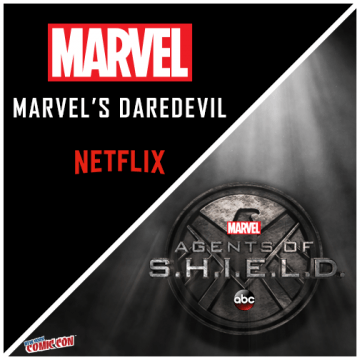 Not only is Disney taking two of its most anticipated feature films, Big Hero 6 and Tomorrowland, to New York Comic Con as we reported last week, but it's also bringing some of the most anticipated Marvel titles – at least in the TV world.
New York Comic Con announced today that some of Marvel's biggest TV properties will be headed to New York in October to take the stage at Javits Center. On Saturday, Marvel's Head of Television Jeph Loeb will be appearing, and he's bringing with him the world premiere of an all new episode of the series Marvel's Agents of S.H.IE.L.D. before it debuts on ABC. Also that day, he'll be presenting an exclusive first look at the animated Marvel's Hulk and the Agents of S.M.A.S.H. and the future of Marvel's animation department.
The bigger news, though, is that the following day, Loeb and showrunner Steve DeKnight will offer the first-ever-appearance for Marvel's Daredevil, which is set to debut on Netflix in 2015.
There's no word yet on if cast from any of the series will be appearing, but we'd be surprised if Marvel didn't bring out some of its large roster of actors. Last year, actors Iain De Caestecker and Elizabeth Henstridge took to the stage to promote S.H.I.E.L.D..
[UPDATE] Marvel has revealed that they will be bringing along the "star-studded cast" of Daredevil, including lead actor Charlie Cox, who plays Matt Murdock, the title character of the series. According to Marvel's press release, this will be the first time Marvel's Daredevil cast will have assembled publicly to answer questions about the series.
Even if they don't though, a first look at Daredevil is a very big deal. Netflix has been notoriously shy about attending large conventions, only bringing Hemlock Grove to WonderCon in 2013. The online streaming company still has yet to make an appearance at San Diego Comic-Con, and this will be its first time to bring one of its series to New York Comic Con.
As we said last week, Disney is heading to New York Comic Con in a much bigger way than it did at San Diego Comic-Con back in July. After a weak showing for Disney properties, San Diego at least held its own with the Marvel branch of the Disney company. Now, though, it looks like Marvel is poised to take over New York as well. Could it also be adding panels for some of its upcoming films, like The Avengers: Age of Ultron, as it did for the original film back in 2011?
Are you excited about these additions to New York Comic Con? Let us know in the comments.