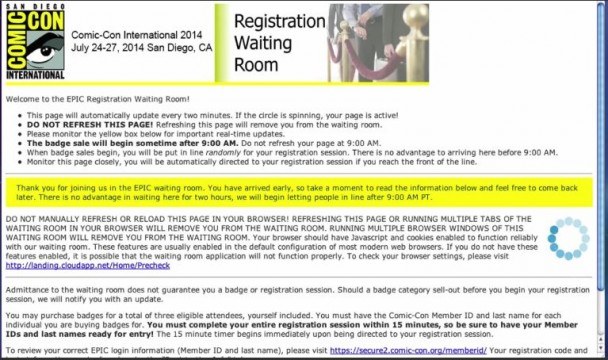 While we wait for a date for San Diego Comic-Con's 2015 Preregistration – the first badge sale of the season, in which those who attended the year before have the first shot at badges – we've got some news on the Preregistration process for 2015's sale, set to happen "sometime" next month in November.
The badge sales for 2014 were heavily delayed, all the way to Februray 2014, because EPIC Registration's system for Comic-Con International and buying badges was undergoing a major overhaul. Despite the delays, though, the system performed well (mostly), and it seems that CCI will be utilizing a fairly identical system for 2015's sales.
Eligible attendees will once again be given a link to the EPIC Registration waiting room, to enter between 7AM PT and 9AM PT on the day of the sale, where they will once more need to enter their Comic-Con 2014 unique Badge ID (helpfully now stored in your Member ID account under the "Registration Info" tab if you've already lost your physical badge again). Attendees will only be able to authorize one computer and one browser to enter the waiting room.
As with last year, what time you enter the waiting room, so long as it is before the 9AM PT start time, will have absolutely no bearing on your actual place in line to buy tickets. After 9AM, the EPIC waiting room will instead randomly line up attendees for their registration session, for their turn to buy badges.
When it is your turn to buy badges, the screen will ask for:
Comic-Con member ID
Last Name
How many eligible attendees you are purchasing badges for
The next screen will display the current badge inventory, and that inventory is held for 15 minutes, so you don't need to worry about frantically filling out your information.
Attendees will be able to purchase a total of three badges – including one for themselves – for eligible attendees only. If the person you are purchasing for isn't eligible for Preregistration on their own, then you won't be able to buy them a badge, and they'll have to wait until Open Registration at a later date.
You can read our entire Step-by-Step process to last year's process (which was also identical to the later Open Registration process) to brush up on the system. You can also read Comic-Con International's official page about the process.
Are you a fan of this system? Let us know in the comments.