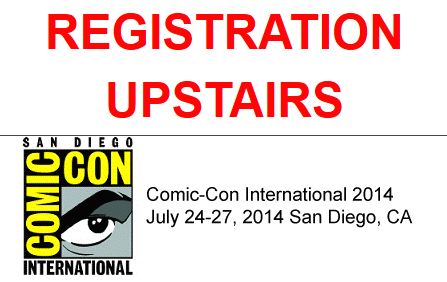 Are you prepared for the biggest sale of the year?  That's right, the time to purchase San Diego Comic-Con badges is here — Saturday March 15th at 9:00AM PT is the official word.  Last week CCI began making preparations for the sale by closing the Member ID system to any changes or new accounts and then by giving confirmed details about the impending sale.
If you participated in the 2014 Preregistration, most of the process should seem familiar. However, we know that many of you still have questions and we have included some new information which we were able to learn from the Preregistration sale and how it all works.
Here's a breakdown of some of the information you will need to know to get you through the Open Online Registration process:
To be eligible to participate in the sale, you and everyone you're buying a badge for must have a Member ID. CCI also states that if you already acquired a 4 Day Badge with Preview Night, you will NOT be eligible for this sale. To find out if you are eligible, be sure to log into your Member ID, where you will find your eligibility status and also your personal, unique Registration Code.
What you will need: Your Member ID, last name, personal registration code, and a credit card number with expiration date and CVV 3 digit security number from the card being used.  You may use someone else's credit card with their authorization.
Be sure to have the Member ID and last names for all the people you are working together with.
CCI has sent out an e-mail with a link and personal Registration Code to each eligible person. You may also retrieve your personal code through your Member ID account under the "Registration Info" tab.
The link within the e-mail will take you to the EPIC landing page, which also includes a link on the landing page to check your browser compatibility.  We suggest that once you receive your e-mail, be sure to click through and test your browser.
Reminder: Mobile devices are NOT compatible with the new registration system.  CCI cannot guarantee that your mobile device will work.  We suggest that you use a PC for the badge sale.
The landing page will open at 7AM PT on Saturday morning, and you'll have until 9AM PT to verify your Registration Code and enter. Remember that your arrival time at the landing page does not give you an advantage to a better place in line.  However, if you arrive to the waiting room after 9AM the waiting room will close and you will be unable to authorize your code.
Important: Only one device and browser will be authorized per registration code.  Once the code has been entered only that computer will be authorized for the waiting room. CCI has made clarification that different multiple browsers may be used.  Please see [UPDATE 2] below.
Once in the waiting room, the sale won't begin until sometime around 9AM.  It's very important that you remember NOT to refresh the page.
The waiting room page is set to refresh itself every 2 minutes.  The spinning blue circle will let you know that the page is active and refreshing: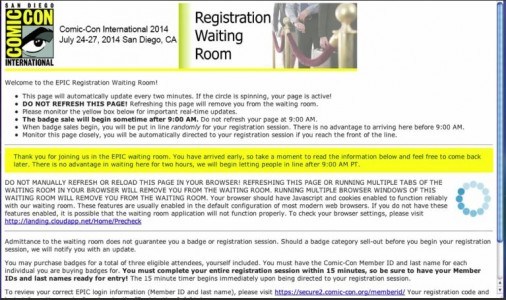 Once in the waiting room, a yellow status box will help keep you informed of updates, and will inform you of the badge inventory status.  So be sure to read those yellow status box alerts.
Around 9AM CCI will begin placing everyone that is in the waiting room into a randomized "line". This random line assignment will require a few minutes to finalize, and can take between 10-15 minutes.  So try not to panic if you don't see anything happening right at the specified sale start time.
Once the sale begins, you will have no way of knowing what place you are in line, as there will be no countdown timer to how far along you are in line.
Reminder: Do not hit your refresh button after randomizing is complete. You will be in the waiting room until your time comes to purchase badges.  If you hit refresh at this point you will be sent to the back of the line.
Once you reach the front of the line, you will begin your badge purchasing session. The first step in this process is to enter your Member ID and last name. You will have 15 minutes to complete the entire process, and badge inventory is being held from the moment you arrive on this page — so there's no reason to hurry.  However you may want to make note of your start time so you will know how long you have left before time expires.
After entering your Member ID and last name you will need to select the number of people you are purchasing for. Select this number carefully because you will not be able to return to this step.
You will then be brought to the Badge Selection Page. It is here where you will need to enter and validate the Member ID and last name of each person you are purchasing for.
Badge inventory will not refresh while on the Badge Selection Page.  However it is important to note that you must not hit the back button during the selection process or you will lose your reserved badges.
If you are purchasing badges for a Junior, Military or Senior and these options are not listed or available to select, CCI recommends that you purchase the adult badges and then contact them after the sale is over.
As a reminder, have all your funds in place.  Only one credit card can be used to purchase all the badges in your cart.
Before the badge order is processed you will have one last chance to review your information. If you need to edit and make any changes, make sure you use the "Edit" button. Do not hit the back button.
Make sure you type "agree" in the provided box to agree to CCI's Terms and Conditions.
After you've completed the purchase, you'll receive a confirmation e-mail from EPIC Registration.
In years past SDCC badge sales have sold out in record time.  However with the new changes to the registration system the time needed to spend in front of your computer may be longer. During our assessment of the Preregistration sale we noticed badges sold out within two hours and 26 minutes.  This is a much slower rate than in years past, most likely this is due to a more controlled entry into the badge purchase area of the site, as well as the 15 minute time frame set aside for badge purchase.
Seeing as only a portion of badges were allotted during the Preregistration sale we may see even longer wait times for the Open Online Registration sale. So make sure you will have the time available on badge purchase day.
[UPDATE 1]  CCI has confirmed some new information regarding the waiting room entry via a new Toucan Blog post.  Even though the waiting room will be closed to new entries at 9AM, if you are kicked out of the waiting room, your code will be able to re-enter after 9AM.  Here's what CCI has to say about it:
Q: What if I am kicked out of the waiting room after 9:00 AM or lose connectivity while I am in line?

A: If you entered the waiting room prior to 9:00 AM, your registration code will be authorized for re-entry after 9:00 AM if needed. Simply return to the EPIC landing page and enter your registration code again. You will be put back in line in the same spot you were previously.
[UPDATE 2]  CCI has also clarified the one device and browser per authorization code guideline  It now seems that you CAN run multiple browsers on one computer device if you use a different code for each browser. In other words, one code per browser, not device.  Here is the full explanation from their Toucan Blog:
To utilize four registration codes, you must enter each code on a different browser or device. For example, if you have two devices in your home, you can enter the first two codes in separate browsers on one device, and the second two codes in separate browsers on the second device. You can run multiple browsers on a single device if you have one unique registration code for each browser. However, you cannot run multiple tabs or instances of the same browser. You must use separate browsers for each registration code (ie: Firefox, Google Chrome, Safari, etc..)
Be sure to check out our Preregistration tips page,which has been updated and reflects all of our best advice for ensuring that you get a badge. For a more visual guide of how the process will work, check out CCI's instructional video:
http://www.youtube.com/watch?v=07z59DUl5sk
Are you excited or nervous about the new Open Online Registration badge sale process? What do you think of the changes? Let us know in the comments.