Comic-Con International must have one hell of a New Year's Resolution. In addition to the announced registration improvements and continued testing of the EPIC registration system to ensure it can sufficiently handle the mad nerd rush of internet traffic when badge sales finally happen, CCI has now announced it is improving the Member ID system, via its Toucan blog:
We have implemented tab navigation to help you find important information related to both your Member ID account and your personalized registration info.

Additionally, from time to time Comic-Con will post messages on the new "Notices" tab regarding significant updates or essential information to help keep you informed of all things related to registration and your Member ID account.
We assume the Notices tab mentioned above will be the new means of alerting folks of badge registration dates and times announcements, or providing those eligible with the all-important registration links – these previously had been provided via email, to those who signed up for a Member ID and opted "in" for CCI communications.
For comparison purposes, here is a look at what the old Member ID page looked like (click to enlarge):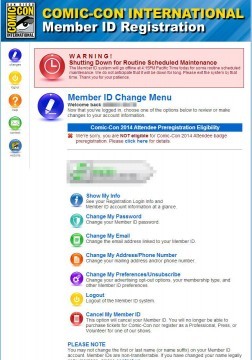 And here is the new page with the tabs (click to enlarge):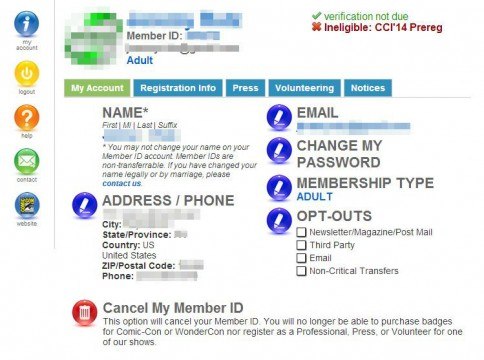 Other improvements we noticed are new tabs for those who are press verified, as well as a Volunteering tab for upcoming info on WonderCon and SDCC volunteering. Of course, we went straight to the new Notices tab to see if there was anything, and we found some encouraging information for those waiting on badge registration dates to be announced:
If you are eligible to participate in badge preregistration, please be aware that the Member ID system will be closing temporarily next week, and when it reopens you will not be able to make any changes to your account until after the preregistration sale is complete. This means that you must review and make changes (if needed) to your Membership Type, email, or other critical contact information prior to the Member ID system closing sometime the week of January 27, 2014.
So it sounds as if CCI is ramping up for pre-registration in the next week or two. As soon as we get some definitive dates, we'll let everyone know.
What do you think of the new Member ID page? Let us know in the comments.