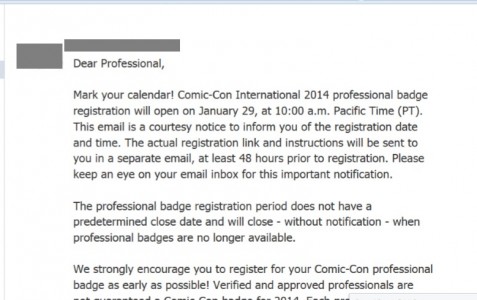 With everyone on pins and needles awaiting the announcement of the postponed badge pre-registration date for San Diego Comic-Con 2014, it seems the good folks at CCI and EPIC Registration have been working hard to make forward progress, and now we have some news to show for it.
Those who have applied for a badge as a creative professional received the following email from CCI earlier today, announcing that creative (not trade) professional badge registration will open on Wednesday, January 29 at 10AM PT:
Dear Professional,

Mark your calendar! Comic-Con International 2014 professional badge registration will open on January 29, at 10:00 a.m. Pacific Time (PT). This email is a courtesy notice to inform you of the registration date and time. The actual registration link and instructions will be sent to you in a separate email, at least 48 hours prior to registration. Please keep an eye on your email inbox for this important notification.

The professional badge registration period does not have a predetermined close date and will close – without notification – when professional badges are no longer available.

We strongly encourage you to register for your Comic-Con professional badge as early as possible! Verified and approved professionals are not guaranteed a Comic-Con badge for 2014. Each professional may register one complimentary guest and/or one paid guest while supplies last. Professional and guest badges in both categories (paid or complimentary) are limited and not all guests can be accommodated. We anticipate that complimentary guest badges may reach capacity within a few hours of the opening of registration. Be sure to register guests at the same time you register for your own badge, as guest badges may not be available if you return to register them at a later date.

Professional guest badges can be used to register an adult or junior guest (age 13 to 17). The badge price is the same ($200), whether the guest is a junior or an adult, when purchased through professional registration. To receive the attendee junior badge price of $100, we recommend purchasing an attendee junior badge during Open Online Registration for the general public. Children age 12 and under are free with a professional badge and do not count toward your guest limit. Child badges must be registered onsite at Industry Registration in Lobby D.

Trade professional registration will open later this spring. Trade professionals may not register for a Comic-Con badge on January 29, 2014.

For more information on Comic-Con professional badge registration, please visit http://www.comic-con.org/cci/professionals
After months of waiting through delays and status updates, we finally have our first step toward badge registration for SDCC 2014. But by choosing to have creative professionals go first, could CCI and EPIC be using this smaller group as a test run of the new system enhancements ahead of the much anticipated pre-registration process?
If so, and if things go well, we can take a guess as to when that pre-registration date will be. As the event is traditionally held on a Saturday, we think it will be held no earlier than Saturday, February 1, at 12 noon ET/9AM PT. We've reached out to CCI for comment and will update this post when we hear back.
[UPDATE] We received a comment from David Glanzer, Director of Marketing and Public Relations for Comic-Con International, stating the announced professional registration does not imply a pre-registration is near:
"We are still in the process of testing the registration system, however Professional Registration should have no affect on our preregistration plans. Once we are confident the testing is complete we will announce a date for preregistration."
Excited that we finally have "a date" for the kick-off to badge registration? What are your guesses as to when pre-registration will be held? Let us know in the comments.