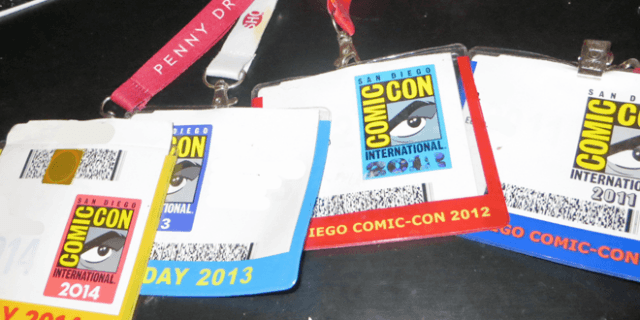 For better or worse, several thousand Comic-Con attendees have their badges for 2015 — and several thousand more don't yet.
Preregistration for San Diego Comic-Con 2015 (the sale that's only available to those general attendees who attended in 2014 and who validated their badge in time) took place this morning, in a sale that mimicked last year's new system, but which also promised to improve upon a few flaws.
Compared to last year, the process was much the same, with two exceptions: Those who entered after 9AM PT would not be able to re-enter, and those who experienced issues once the sale started at 9AM would be able to re-enter, without losing their placement in line.
So just how did the sale go over?
The Waiting Room
The EPIC Registration waiting room opened promptly at 7AM PT, and compared to last year, fewer people seemed to be having problems. Most reported being able to enter without issue, though there were still a few glitches for the occasional user.
@sdccgotgirl what if it's not spinning

— Tcap ~Tara C. (@BellaDonnaITALY) November 8, 2014
@SD_Comic_Con The link in my email won't open. Who do I talk to about this?? My browser passed all the pre requisite tests…

— AgentofSWORD (@Agent_of_SWORD) November 8, 2014
Blue circle isn't spinning, but page refreshes, am i safe? @SD_Comic_Con

— James (@genjutsu00) November 8, 2014
https://twitter.com/xfsista/status/531110304998907904
https://twitter.com/rhett7660/status/531111470772551680
@sd_comic_con @Comic_Con I got kicked out twice! #SDCCPreReg in now, but terrified about getting kicked out after 9am pic.twitter.com/vAGLGKn4xV

— L (@Yo_LRocks) November 8, 2014
Compared to last year's server error screens, most seemed to have problem in two places — either the blue spinning circle would stop, or the Badge ID wouldn't work. In most cases, users were simply incorrectly entering the Member ID into the Badge ID screen, but not in all cases:
@SD_Comic_Con Heard of any issues where it says "The Badge ID you entered does not match our records" even though the ID is correct?

— Jason [the album] (@dramamind) November 8, 2014
@SD_Comic_Con Yeah, I had checked for that. Oddly after failing 5-6 times on two browsers, it eventually accepted it. So weird.

— Jason [the album] (@dramamind) November 8, 2014
@dramamind @SD_Comic_Con Yes, had to try mine three times two different ways (Although I was sure it was right the first time)

— artemis90 (@artemis90) November 8, 2014
For the most part, most issues seemed to be easily resolved with refreshing or trying a different browser. Since the sale didn't kick off until 9AM, those who experienced issues earlier had time to find a solution.
The Sale
Shortly after 9AM, those in the waiting room were randomly assigned a placement in line. While for 2014 Preregistration this process took about 15 minutes, this year, the sorting was done within 5-10 minutes, and attendees were already getting through to the purchase page. Throughout the entire sale, the general theme was that everything seemed to be moving much faster than for 2014.
Wow, got in and bought my SDCC badges super fast. This is the quickest I've ever gotten through #SDCCPreReg @SD_Comic_Con

— Ben Bellevue (@bendabelle) November 8, 2014
@SD_Comic_Con That was fast! OMG. I'm so happy and excited. Thanks for all the info you guys post. SDCC here i come! pic.twitter.com/ZDOH5SCMOl

— SW (@mswintersoldier) November 8, 2014
Once i got in the room purchasing was fast and easy. #sdcc sales went smoothly this time for us

— Starfleetmom 🖖🚗🍎🥦🚴🏽‍♀️🐘 (@starfleetmom) November 8, 2014
i got in so fast i almost didnt realize it and i would have missed my window. i thought my browser messed up actually. #sdcc

— Chin (@nnewi617) November 8, 2014
We only saw a handful of issues once the sale actually started:
@SD_Comic_Con one of first groups in. Booted on payment page. Blocked out for awhile then let back in but only to waiting room. Fun stuff

— doug williams (@dougwilliamsjr) November 8, 2014
@SD_Comic_Con I was able to get 4 day passes, then error message showed to proceed to checkout, I took pictures of screen, what are chances?

— DeAnn (@Sesseril) November 8, 2014
However, with a faster sale, that also meant that badges began to sell out faster. While in 2014's sale, it took 30 minutes for Preview Night to sell out and roughly 80-90 minutes for Friday and Saturday to sell out, this year the timeline was sped up. This year, Preview Night was gone within 23 minutes, and Friday and Saturday sold out at the same time within 39 minutes.
https://twitter.com/InfamousRedPurp/status/531134874610978816
Waiting room says Preview sold out and Saturday running low (pre-reg badges). #SDCC

— Wild Hare (@awildhare) November 8, 2014
Friday and Saturday sold out. #SDCC #NerdOnslaught

— Wild Hare (@awildhare) November 8, 2014
Less than 50 minutes in, all badges for Preregistration were completely sold out — less than half the two hours and 26 minutes it took for 2014 Preregistration to sell out.
Finally in and all sold out. Why does the universe hate me? #SDCC pic.twitter.com/rgpbg5B7QP

— Jennifer Briggs (@SweetNibblet) November 8, 2014
Overview & Next Steps
So why the huge gap in time for this year compared to last year? Were there less badges available?
According to Comic-Con International, not necessarily. Although CCI does not release information on what percentage of badges are offered in Preregistration and what percentage are kept for Open Registration, they did say that there were "technical issues" in 2014's sale, and they have since been able to tweak the system and make improvements.
@SD_Comic_Con @nickadvanced There were technical issues during 2014 Prereg. We were able to expedite the process today from lessons learned.

— San Diego Comic-Con (@Comic_Con) November 8, 2014
Overall, we agree that Comic-Con International and EPIC Registration were able to greatly improve this year's sale. The process was quick, and with much fewer issues than we have seen in previous years. For what problems attendees did have, hopefully by Open Registration or for 2016, the teams behind CCI and EPIC can solve.
As always, even if you weren't able to get the badge you wanted today, there is still Open Registration, which will take place in "early 2015". During this sale, anyone with a Member ID, regardless of whether they have attended San Diego Comic-Con before or not, will be able to try for a badge. Even if you already purchased some of what you wanted during Preregistration (Example: You wanted Friday and Saturday but only got Friday), you'll be able to try for the rest during this sale.
Were you able to get what you wanted today? Let us know in the comments.