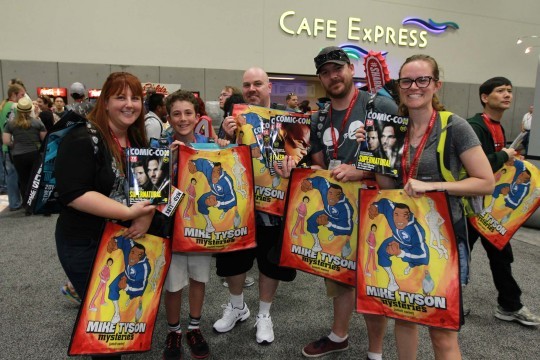 The wait to find out if you can score a golden ticket to San Diego Comic-Con in 2015 is almost over. Comic-Con International announced today that Preregistration – the online badge sale for those who attended San Diego Comic-Con as a general attendee in 2014 – will take place on November 8 at 9AM PT.
In order to be eligible for Preregistration, you must have attended San Diego Comic-Con 2014 as a general attendee (press, professionals, volunteers, and other special groups will have their registration at a later date) and to have validated your unique Badge ID printed on your 2014 badge by October 15 at 5PM PT.
On the day of the sale, beginning at 7AM, you'll be able to log into the EPIC Registration Waiting Room, where you'll need your Comic-Con 2014 Badge ID (which you can find in the "Registration Info" tab once you've logged into your Member ID), your Member ID, last name, and credit card information. Beginning shortly after 9AM, the waiting room will randomly assort you into an order to purchase budges – in a system basically identical to last year's system.
During the sale, attendees will be able to purchase up to three badges – including one for themselves (though you'll need the last name and Member ID of anyone you're purchasing for, and each person must also be eligible for Preregistration on their own). Start buddying up now.
As always, this sale does not guarantee that those who are eligible to participate walk away with a badge. For years now, the demand by those wanting to attend the pop culture behemoth has far outweighed the actual number of badges available (CCI is always hesitant to relay actual numbers, but the number of attendees is set somewhere around 130,000 – and the actual number of those trying for badges may be as high as 900,000 according to a press release by Web Performance, Inc (WPI), who does some of the back-end functions for EPIC Registration, the system Comic-Con International uses to run their badge sales).
It does give attendees an added bonus in scoring a badge though, because if an attendee should fail to score a badge during Preregistration, they can still try again during the General Sale in the spring, in which anyone with a Member ID can try for a badge. In the world of Comic-Con badge sales, any advantage helps.
If it seems like Preregistration just happened, that's because it kind of did. The original plan for Preregistration for 2014 was to have it in the fall, but it was delayed, all the way to February 8, due to the implementation of a completely new system, that now has users enter a waiting room until the designated time, when the room randomly slots users into an order to purchase tickets, regardless of what time they entered the waiting room. You can enter the waiting room two minutes before the set time, or an hour beforehand, and you've got exactly the same chances of being given a good spot in line to purchase.
Prices to attend this year are up slightly, $5 per day across the board (meaning that a four day badge with Preview Night will run you $220, up $25 from 2014's prices).

Member ID's closed this afternoon from further changes, and will reopen at some point after the sale.
You can read more about the exact process of purchasing a badge in our Step By Step Guide to Preregistration from last year.
Open Registration – the badge sale open to everyone – will take place in early 2015.
Are you excited about the sale being this weekend? Let us know in the comments.