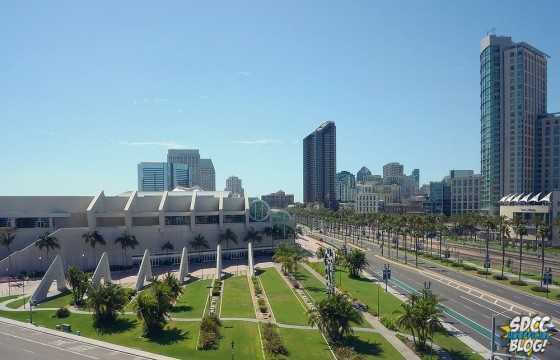 The biggest question surrounding San Diego Comic-Con isn't what movies, TV shows, or comic artists will be attending Comic-Con this year – it's whether or not Comic-Con will need to find a new home in two years years, when its contract with the San Diego Convention Center comes to an end in 2016.
A recent report by the San Diego Workforce Partnership noted that SDCC brings in an estimated $160-$180 million each year to the city, though those figures don't take into account offsite event rentals, ancillary spending by locals, advertising, and more throughout the city – making Comic-Con a convention that many other cities are envious of.
However, despite major setbacks in the plan to expand the convention center, San Diego officials seem to have hope that they can keep the convention in its home town.
"It's one of those things you can't take for granted," San Diego Mayor Kevin Faulconer said in a recent interview with San Diego 6. "I won't. We're very lucky to have groups like Comic-Con come to the city."
This past Sunday, Faulconer attended a Comic-Con International board meeting to make his case to Comic-Con organizers for why the convention should extend its current contract past 2016 and through 2018. One of the biggest obstacles, according to Tourism Authority CEO Joe Terzi, is the cost of staying at Comic-Con for attendees. Those who have tried to book a room through Comic-Con's convention center rates know that even with a special CCI rate, room prices are one of the biggest expenses of the convention, with prices ranging from $152/night for one person at the Comfort Inn and Suites Hotel Circle South Seaworld in Mission Valley, up to $375/night for one person at the Hard Rock Hotel suites. The closer the hotel, usually the more exorbitant the price. And without the special Comic-Con discounted rate, rooms can go for over $800 a night, which would price out a large percentage of attendees.
"Comic-Con has expressed concern over the last several years that it's getting very expensive for their attendees to come to San Diego and while they recognize that they're here at a premium time of year, they feel they're being taken advantage of to a degree," Terzi said in an interview with U-T San Diego. "I believe that Comic-Con is ours to keep but we can't get too cocky and create an environment that doesn't work for their customers."
To combat this, the Tourism Authority is attempting to lock in the more than 50 hotels in the Comic-Con convention room block to lock in current rates through 2018, to ensure that room rates can't rise. According to U-T San Diego, around 30 have already signed agreements pledging that their rates will not rise above what they have agreed to charge for 2016. Additionally, U-T San Diego is reporting that "major waterfront convention hotels are committing to some free meeting space for Comic-Con events, and the center itself will adhere to a much discounted rent, which this year totaled nearly $200,000."
"This is the first time that I can remember in my time in San Diego that that kind of commitment was made. And it's appropriate, because this is our number one convention in San Diego," Terzi told San Diego 6.
According to Mayor Faulconer, the support behind the commitment is because both city officials and the hotels in the area realize just how much Comic-Con means to the city. "Comic-Con grew up here and is part of our San Diego family," Mayor Faulconer told U-T San Diego. "There are a lot of other cities that would love to have Comic-Con there and continue to actively reach out, and we want to make sure we work very closely with Comic-Con on room rates and room blocks because if Comic-Con is not here it won't help anyone and the hotels realize that."
Comic-Con International seems receptive to staying in San Diego, provided their concerns can be mitigated. In an interview with U-T San Diego, Comic-Con International's Director of Marketing and Public Relations, said, "Some people had mistakenly implied that an expanded convention center would be the thing that solidified our decision to stay or go, but there are a number of factors to be addressed: hotel room rates, available space within hotels and outside the center, things that could mitigate the issue of having outgrown the convention center. An expansion would be great for the city and us, but if it doesn't happen we've been able to make do without it, and if we can mitigate the concerns we do have we'll be able to stay here."
"They've been here over 40 years," Terzi told San Diego 6. "They started in the basement of the U.S. Grant [Hotel]. And so this is home for them. They recognize that. We're not going to let somebody come in and swoop them up and take them somewhere else because they belong in San Diego."
Terzi told San Diego 6 that the Tourism Authority is hoping to finalize an extended agreement with Comic-Con International by January.
With both sides seeming to understand how deep Comic-Con's San Diego's roots go, hopefully it's only a matter of time before Comic-Con International's fate is sealed in San Diego through 2018. And then we can all worry about this same situation again in another two years.
How do you feel about Comic-Con potentially staying in San Diego? Let us know in the comments.