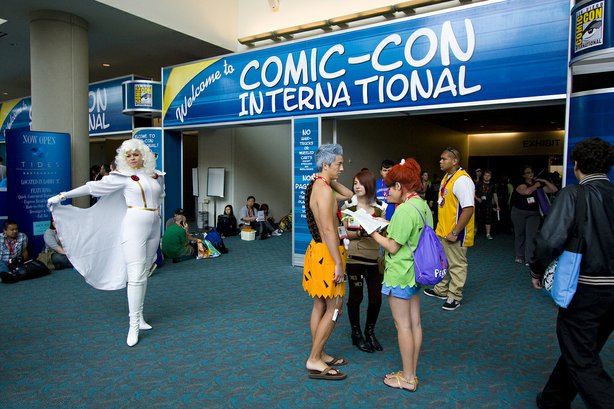 Is it your dream to hand out badges to the thousands of San Diego Comic-Con attendees, or to yell "Walk, don't run!" to someone entering Hall H and have it mean something? Well, today might just be your lucky day – because the volunteer interest list for San Diego Comic-Con 2015 is now officially open.
You can sign up now, by going into your Member ID and clicking on the "Volunteering" tab and following the instructions there.
This interest list does not guarantee that signing up will grant you a volunteer badge at Comic-Con. Instead, it's simply your way of telling Comic-Con International that once volunteer registration opens up at some point in 2015, that you'd like to be notified to try for a remaining badge.
Returning volunteers will get first dibs at volunteer badges during Volunteer Registration, and do not need to sign up for the interest list. From CCI's site, here's the official explanation:
Signing up for the Volunteer Interest list does not hold you a spot in the Comic-Con 2015 volunteer program, you must still sign up to volunteer when registration opens at a later date. By signing up for the interest list, you will be notified via email when online volunteer registration opens in 2015. The registration date and time will not be published anywhere online, and you will only be notified via email. Registration is filled on a first come, first served basis so please be sure to sign up with a permanent email account and check it frequently.

NOTE: If you completed at least one volunteer assignment for Comic-Con 2014, you do NOT need to sign up for the Volunteer Interest list. You will automatically be notified via email when priority registration opens in 2015 for returning volunteers.
If you're unsure of what a volunteering at the convention is like, you can check out our Insider's Guide to Volunteering at the Con.
Just like with general attendee badges, volunteer badges will sell out once registration opens, and it's possible that CCI could close the interest list at any time, so plan on signing up early, and keeping an eye on any e-mail updates. Sign up today.
Will you be signing up to volunteer? Let us know in the comments.