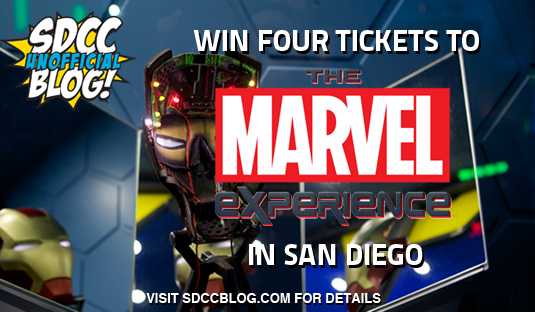 Just because San Diego Comic-Con is still several months away, doesn't mean that you can't still enjoy a taste of the Comic-Con experience with immersive offsite events year-round. And for anyone in the southern California area in late February, we're here to help.
With the next stop in San Diego, The Marvel Experience creators Hero Ventures have teamed up with one of the world's leading entertainment impresarios, Michael Cohl and Marvel Entertainment to create The Marvel Experience. It's heading to San Diego on February 7-22, at the Del Mar Fairgrounds — and we're giving away a set of four tickets, with contest details below.
The Marvel Experience is a massive traveling attraction with with seven huge Domes, a life-size Avengers Quinjet, and a state-of-the-art, 4-D motion ride.  The audience doesn't just sit there — they're thrown into the middle of a full-blown, Hollywood-scripted adventure alongside Spider-Man, Hulk, Iron Man, and a dozen other Marvel super heroes and villains. Everything happens with bleeding-edge technology and advanced computer animation.  Not only does the audience get to join the adventure, in the end they become heroes themselves.
As agents of S.H.I.E.L.D. in training, guests of The Marvel Experience will swing with Spider-Man, smash with Hulk, fly with Iron Man and more, all in preparation for an epic battle alongside Marvel's biggest Super Heroes in a fight against Red Skull, M.O.D.O.K. and an army of evil Adaptoids. The Marvel Experience incorporates next-generation interactive technology including augmented reality, multi-person gaming and RFID progress tracking so you can see yourself in action.
Tickets are available both at Ticketmaster.com and at www.themarvelexperiencetour.com/tickets, but we're giving away a set of four tickets to The Marvel Experience. The winner will be able to visit the attraction at any time Monday – Thursday while it's in San Diego.
The contest will end at midnight PST on February 2, 2015. In order to be entered to win, write to us on Twitter at @SD_Comic_Con, in the comments of this Facebook post, or in the comments of this post below with your answer to, "Which Marvel character would you want to take to San Diego Comic-Con, and why?".
We will judge the best answer and select a winner on February 3, 2015. The winner will have 24 hours to claim their tickets, and in the event that the winner does not claim their tickets in 24 hours, a new winner will be chosen.

Here's a closer look at the event:
Good luck, and go shawarma!