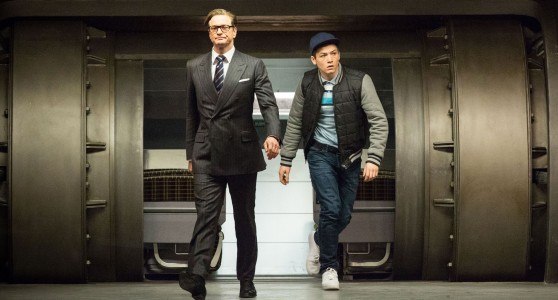 On January 15, 2015, I was lucky enough to attend an early screening of the 20th Century Fox movie Kingsman: The Secret Service. The promotion was run by Uber for one night only: 50 cities, 50 screenings. Most impressive is the fact that this is a UK film not scheduled for wide release in the UK until January 29, 2015, with the US release scheduled for February 13, 2015. That's a long time to wait for anyone who didn't attend the special screenings, because this movie is a lot of fun and enjoyable to watch.
The Secret Service started out as a six issue comic book, created in 2012 by Mark Millar and Dave Gibbons, and that story serves as  the framework for a loose film adaptation.  The film made itself known to San Diego Comic-Con audiences in 2014 with a panel including cast, crew, and footage, as well as a WonderCon sneak peek with special footage. Fans of the comic, like with so many other comic to movie adaptations, could become the film's core audience – but with the film's world famous cast, new faces, serious action, danger, and cheeky comedy, it's likely to appeal to a much wider audience.
The premise follows a brilliant, aimless, London hoodlum who is recruited as a candidate for a spot in a British spy agency called the Kingsman. Adding a layer of lore and intrigue to the spies, they are tailors by day and use of code names from King Arthur and the Knights of the Round Table. The organization works in secret to protect England, and the world, from major threats.
The lead character, Gary 'Eggsy' Unwin is played by actor Taron Egerton, a relative unknown to US audiences. The cast also includes Colin Firth as the mentor Harry Hart/Galahad, with Michael Caine serving as the leader of the Kingsman, Mark Strong as the instructor Merlin, Samuel L. Jackson in amazing form as the villain Valentine, and even some special appearances, like Mark Hamill. The cast contains a fantastic mix of American superstars, a veritable who's who of British icons, and did I mention Mark Hamill?
The events of the movie are set in motion when a Kingsman is killed in the line of duty, creating an opening for a new knight. Eggsy is Harry Hart's choice of initiate after having served with, and having his life saved, by Eggsy's father, resulting in his death. Harry keeps tabs on the boy until the time was right – when an investigation into the recent death of the Kingsman alerts the others of a situation requiring their specialized skill set.
Our villain, Valentine, is a strong believer in the negative effects of global warming. He has taken it upon himself to put a plan in motion to selectively and dramatically thin the herd.  Fewer people means less carbon emissions; problem solved, right? Not if the Kingsmen have anything to say about it.
As Egerton plays him with both swag and his own unique brand of charm, Eggsy makes for a fantastic main character. He's the underdog you want to root for, and his progression from trouble maker to spy is a journey that is something to behold. He acquires discipline, fighting techniques, and a wealth of Bond-worthy spy gadgets throughout the course of the film. Once he ditches his thug clothes for a bespoke wardrobe, he proves that the suit really does make the man. On top of that, he learns to turn off his street accent and play up a posh one when necessary. All of the above adds up to a swoon-inducing leading man that is very easy on the eyes. He shares the screen with his equally captivating teacher and mentor, Firth. Seeing Colin Firth do true action has been my favorite cinematic moment of 2015 thus far.
The movie's villains are equally enjoyable. Samuel L. Jackson plays the wealthy tech mogul, a matchy-matchy megalomaniac. Armed with his Google Glass and a lisp that won't quit, he is hell-bent on world domination. He is supported by a truly scary, murderous henchwoman wielding prosthetic leg "blades" equipped with, well, blades.  Think Kill Bill's Gogo meets Oscar Pistorius.
Without giving away too much of the movie, a recipe of great source material, an impressive cast, humor, a little parkour, and some seriously bad-ass fight sequences make for an enjoyable action comic book movie. You can expect a cheeky, edgy, violent, action-packed, coming of age, spy movie that is really really fun. Think James Bond meets Spy Kids, but better.
Here's a look at the trailer for the film, which is released in the US on February 13, 2015.
Did any of you get a chance to see a screening of the movie?  What did you think?  Let us know in the comments or on Twitter.