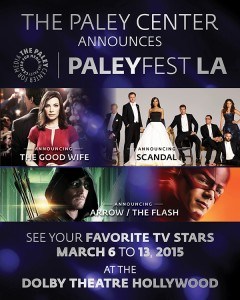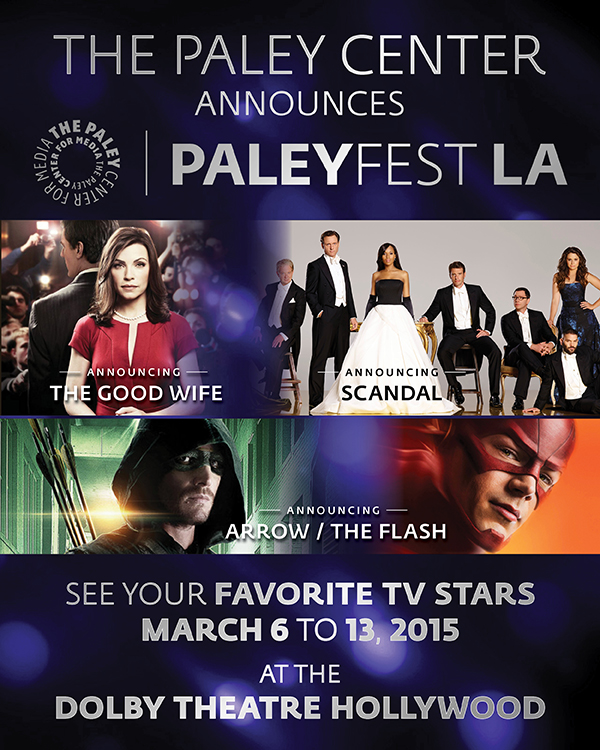 If you can't wait until July to get your Ballroom 20 fix, here's your chance to see some TV show panels. As we previously reported, the annual PaleyFest LA will be returning this March and today, they've added more shows to their list.
Along with the previously announced Arrow and The Flash, San Diego Comic-Con favorites Teen Wolf, Outlander, and  American Horror Story: Freak Show have been added to the line-up.
Also joining that list are Homeland, The Good Wife, Girls, Glee, Modern Family, Jane the Virgin, and a slew of Comedy Central shows including Broad City, Key & Peele, Kroll Show, and Workaholics.
The full list of shows and dates are as follows:
March 6th—Opening: Homeland  7pm PT
March 7th—A Salute to Comedy Central  12pm PT—Broad City; Key & Peele; Kroll Show; Workaholics
March 7th—The Good Wife  8pm PT
March 8th—Girls  1pm PT
March 8th—Scandal  7pm PT
March 11th—Teen Wolf  7pm PT
March 12th—Outlander  7pm PT
March 13th—Glee  7pm PT
March 14th—Arrow & The Flash  4pm PT
March 14th—Modern Family  8pm PT
March 15th—Jane The Virgin  4pm PT
March 15th—Closing: American Horror Story: Freak Show  8pm PT
Tickets will go on sale on January 22nd for members and January 27th for everyone else. For tickets and more information, visit the PaleyFest LA website.
Are you planning to see a panel? Which show are you most excited to see? Let us know in the comments.