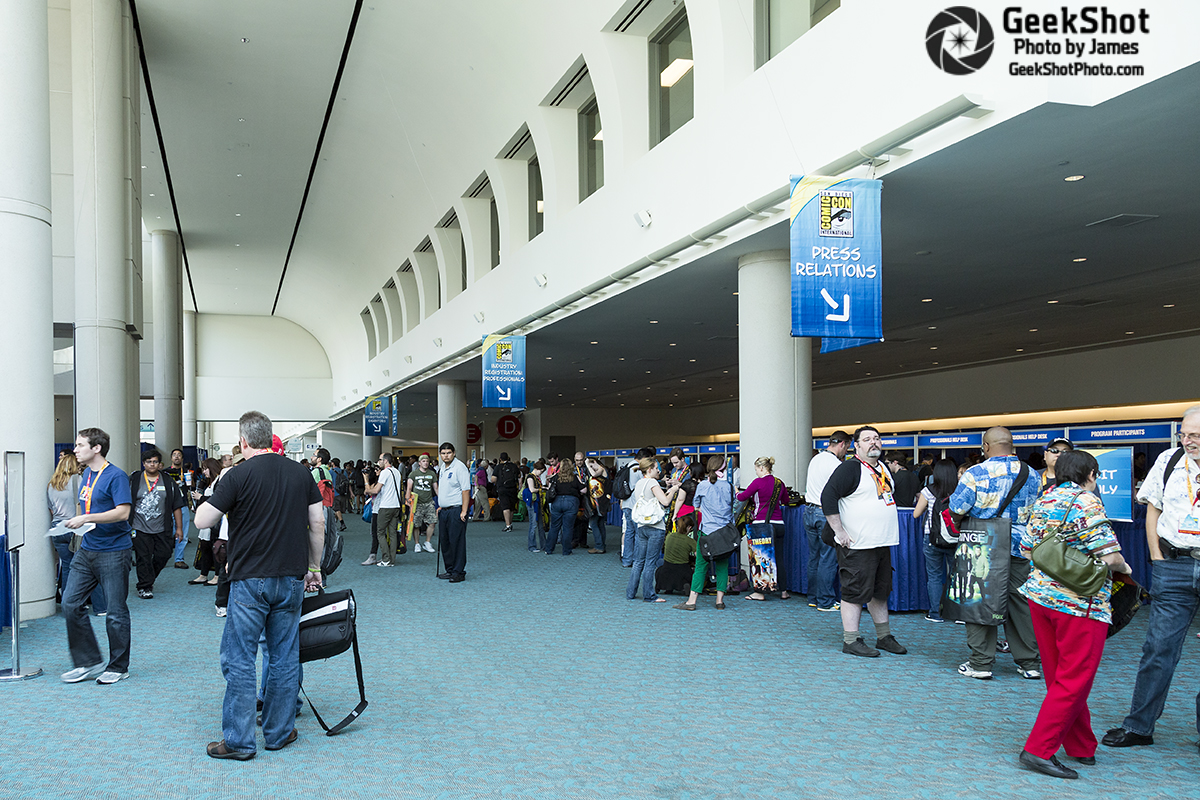 There's been a lot of concern from Professional attendees, following the announcement that Open Registration will take place this Saturday, February 21. Typically, Professional Registration takes place before Open Registration – but that isn't the case this year. Add on top of that that Creative Professionals (and likely Trade) have to use EPIC Registration's Waiting Room for the first this year, and that's led to a lot of very nervous San Diego Comic-Con attendees.
Comic-Con International delivered both good news and bad news today.
The bad news is that for those hoping, Creative Professional Registration will definitely not be happening before Saturday, February 21. Instead, instructions "on how to participate in online professional registration will be sent" within the next 10 business days. Trade Professionals will receive additional information later this spring.
The good news is, CCI doesn't think there's any reason to worry. Although they've stated that all types of badges during Professional Registration are of a limited nature and are likely to sell out, they've told attendees that they "do not need to attempt to purchase an attendee badge for your guest" during Saturday's sale. They do offer that "if you plan to bring more than one guest you may want to consider participating in Open Online Registration".
For those that do wish to go ahead and purchase a badge on Saturday – either for yourself or for your guest – then you will have the option to refund your badge if you manage to secure a Professional badge or a guest badge (free or paid), minus a 10% handling fee for the Open Registration badge. Purchasing a badge during Open Registration will not affect your ability to participate in the Professional badge sale.
As a final note, CCI offered attendees this note:
Please keep in mind that the number of badges available for both attendees and professionals are predetermined, and the badges being sold during attendee registration do not affect the availability of professional badges in any way.
For our money, if you and your guest(s) attending Comic-Con is a must, the worst that Open Registration does is double your chances of scoring a badge.
From Twitter user @egaal, here's a look at the full e-mail Comic-Con International sent out: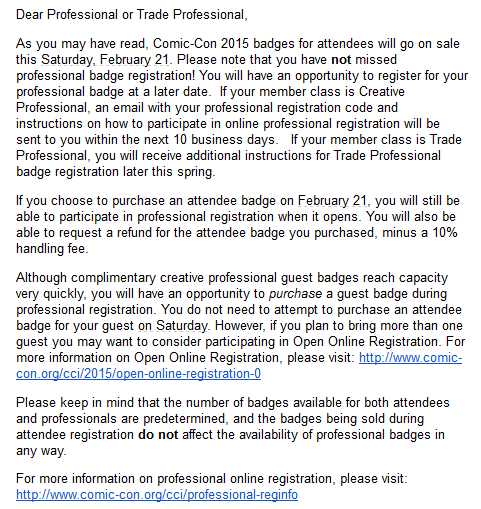 Will you be participating in both Open Registration and the Professional badge sale? Let us know in the comments.