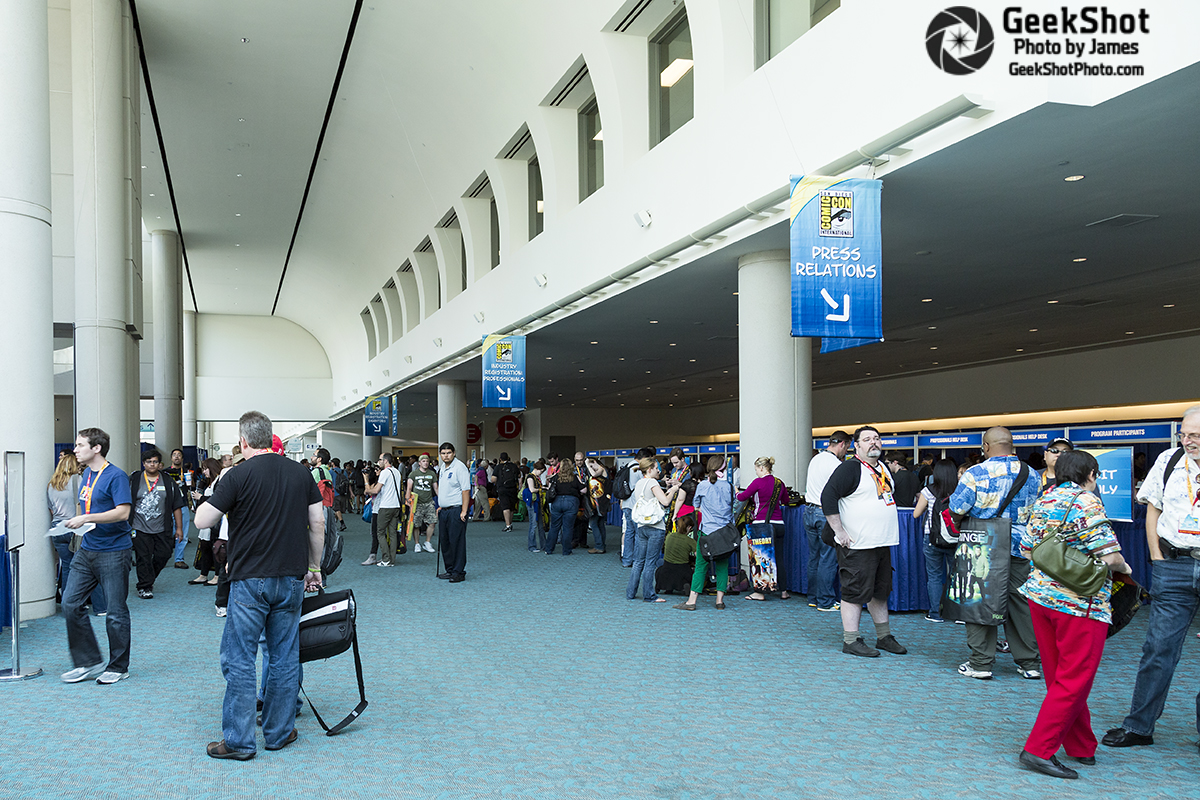 Creative professionals have thus far been immune from having to use the new, EPIC Registration randomized waiting room that Comic-Con International debuted in 2013 – but that's coming to an end this month.
We've had a lot of questions about when the Professional Registration for creatives (defined by CCI as someone who takes "an active role in the creation, design, writing, editing, or production of comics, animation, films, books, video games, or toys") will take place, and today, Comic-Con International announced that it will happen sometime this month.
These badges are highly sought after, because they're complimentary, and creative professionals may also register up to one complimentary guest and one paid guest (for $220), so long as supplies last. Due to the overwhelming demand for these guest badges, though, this year, Comic-Con International is "implementing an online waiting room feature that will alleviate some of the technical difficulties" for the guest badges. If you won't be registering a guest, you won't need to use the waiting room – however, there is no guarantee that badges will still be available.

Here's the exact wording from the e-mail in regards to availability:
If you do NOT plan to register for a complimentary guest badge, you do not need to follow the instructions above. Once all complimentary guest badges are sold out, the waiting room will close and you will be able to access your professional registration session through a direct link on our website. Please note that creative professional badges are very popular, and we anticipate that all badges will be claimed during the first day of registration. We recommend that you register for your badge as early as possible.
As in past years, each professional will have the opportunity to register for his or her own badge, as well as one complimentary guest badge and one paid guest badge, while supplies of each badge type are available. Badges of all types are limited, and verified professionals are not guaranteed to receive a badge or guest badges.
Again, we hope these changes will increase the efficiency of our online registration system. The demand for professional complimentary guest badges far exceeds the supply, and entry to the EPIC waiting room does not guarantee you a complimentary guest badge for Comic-Con 2015.
The EPIC Registration waiting room is the same process that general attendees have been using in the Preregistration and Open Registration badge sales for the last two years. Although there were some rough patches in the system the first year, most seem to agree that it's been fairly seamless since then. Your mileage on whether a randomized system is better than the old "refresh like crazy, click and pray" method may vary though.
So how does the system work, for professionals who haven't gone through the system before? Within 72 hours prior to the sale, each verified creative professional will be e-mailed a Registration Code. On the day of the sale, you'll need to enter that Registration Code to enter the waiting room on the day of the sale. The EPIC waiting room will open at 9AM, and you'll have until 10AM to enter. Just like with the general badge sales, there's no reason to get there early, because at 10AM when the waiting room closes, everyone in the room will be randomly assigned a place in line.
You won't be able to see your place in line, but when it's your turn to purchase guest badges, your screen will change to the actual registration session. Here, you'll need to enter things:
Your Professional Comic-Con Member ID
Your Last Name
You'll then be shown all available inventory. Unlike with general attendee badges, though, Comic-Con's FAQ states that in this sale, "badge inventory will not refresh". This could mean that the inventory could change will you are on this screen, rather than being reserved for you – so plan to act quickly.
You can read more about the process on CCI's site – and you can also read our Step By Step Guide to the general attendee registration process to get a better idea.
Trade professionals will register at a later date.
This is one of the last major badge sale left before Open Registration (along with Trade Registration) – which hopefully means that news about that sale is right around the corner.
Will you be trying for a Creative Professional badge? What do you think about the changes? Let us know in the comments.