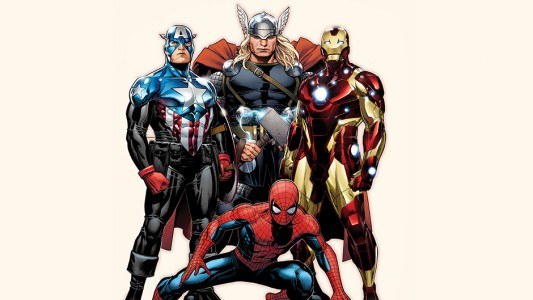 Late Monday night, two press releases direct from Marvel set the internet abuzz.
The first announcement outlines a new deal between Marvel Studios and Sony Pictures Entertainment that will see Spider-Man making his premiere into the Marvel Cinematic Universe (MCU), as well as Marvel Studio President Kevin Feige co-producing the next Spider-Man movie for Sony.
The partnership will begin with Spider-Man appearing in a Marvel film taking place in the MCU. From there, Feige, as well as his team at Marvel, will co-produce with Sony Pictures Entertainment co-chairman Amy Pascal the next Spider-Man movie for Sony, set to be released July 28, 2017.
According to the press release, "Marvel and Sony Pictures are also exploring opportunities to integrate characters from the MCU into future Spider-Man films."
Pascal has worked on the Spider-Man franchise for Sony since it's launch in 2002. The goal of this team-up is a new creative direction for Spider-Man that would be mutually beneficial to the studios, and the announcement also outlines the specifics of what this deal means for Spider-Man:
Sony Pictures will continue to finance, distribute, own and have final creative control of the Spider-Man films.
The second announcement revealed that four movies from the Marvel Cinematic Universe will be receiving pushed back release dates. Thor: Ragnarok will be moving from July 28, 2017 to November 3, 2017.  This of course guarantees no competition between the newest installment of Spider-Man, set to be released that same day.
The other movies receiving new releases dates are Black Panther moving from November 3, 2017 to July 6, 2018; Captain Marvel from July 6, 2018 to November 2, 2018; and lastly Inhumans from November 2, 2018 to July 12, 2019.
One benefit of this will be to help to evenly space out the release of newly cooperating Marvel content. This new expanded timeline also lends to the possibility of Spider-Man making appearances in these movies, or Marvel characters appearing in Spider-Man movies.
This leaves room for speculation as to what to expect in the future. The semi-recent hacks at Sony and the leaks of emails implied unhappiness with Andrew Garfield, and at the very least, the possibility that he would not be returning to reprise his role as Spider-Man. The press release mentions "the new Spider-Man", strongly implying that we'll be seeing someone else don the Spider-Man mask.
Also interesting is that this fresh deal starts with Spider-Man joining the MCU before he gets his own movie. With Avengers: Age of Ultron and Ant-Man both in post-production, the next possible movie he could easily appear in as more than a credits teaser is Captain America: Civil War. Spider-Man plays a large role in the original story, and while obviously Marvel was willing to move forward even without him, the presence of his character could make for a much truer comic book adaptation.
It may be sometime before the specifics surface, but the introduction of Spider-Man to the MCU and vice versa seems like a blessing to fans and a home run for the studios. Now add to that the possibilities for announcements, panels, and footage at Comic-Con 2015-2019, and things just got really exciting.
So what do you think of this news and what do you think it means for the future of Spider-man and the MCU?  Let us know in the comments.