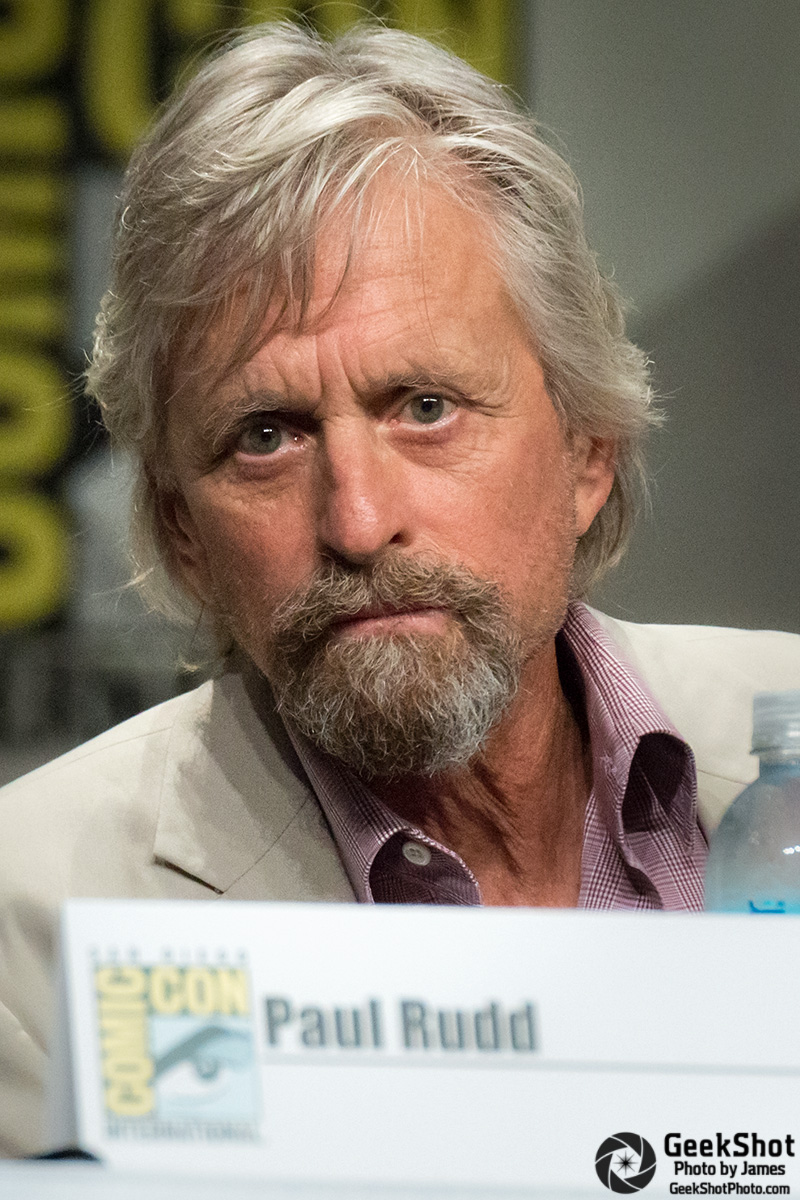 Welcome to the GeekShot Photo Exclusive Series. This will be a weekly post featuring cool, interesting, or just plain awesome moments we have captured during San Diego Comic-Con. Each week we'll post a photo by Beth or James of GeekShot Photography. We may include a short story about the photo, but sometimes we'll just let the photo speak for itself.
About This Photo
Michael Douglas at the Ant-Man panel at San Diego Comic-Con 2014.
I'm not sure you want Mr. Douglas staring you down, but having the Paul Rudd placard in front of him does make it a bit more humorous. It's always a treat when a veteran actor/director/whatever finally makes their first appearance at Comic-Con. It feels like it's something they now check off their bucket list in the industry.
Which brings me to the idea of a SDCC bucket list. As a photographer, I'm not sure I can ever have a list that can be completed. There will always be someone or something new that comes along that will get added to the list. There can be general things on the list though.
Cosplay photo with an awesome costume/background.
Perfect shot of an entrance/exit on a Hall H panel.
Capture a purely emotional moment on a panel.
Get the best shot possible of the Gaslamp.
Find a new way to get the "escalator" or "SDCC logo banner in circle" shots.
These are all specific for me as a photographer though. Depending on what you're attending SDCC to do/buy/see your list can include a variety of things. Considering how difficult it is now to get to Comic-Con you might consider writing out a list and start checking off things this year. Not only will this help you make decisions but you may do something different than usual. With so much happening there certainly won't be a shortage of things to choose.
What's on your SDCC bucket list? Let us know in the comments.
You can see all of the previous posts in this series here.