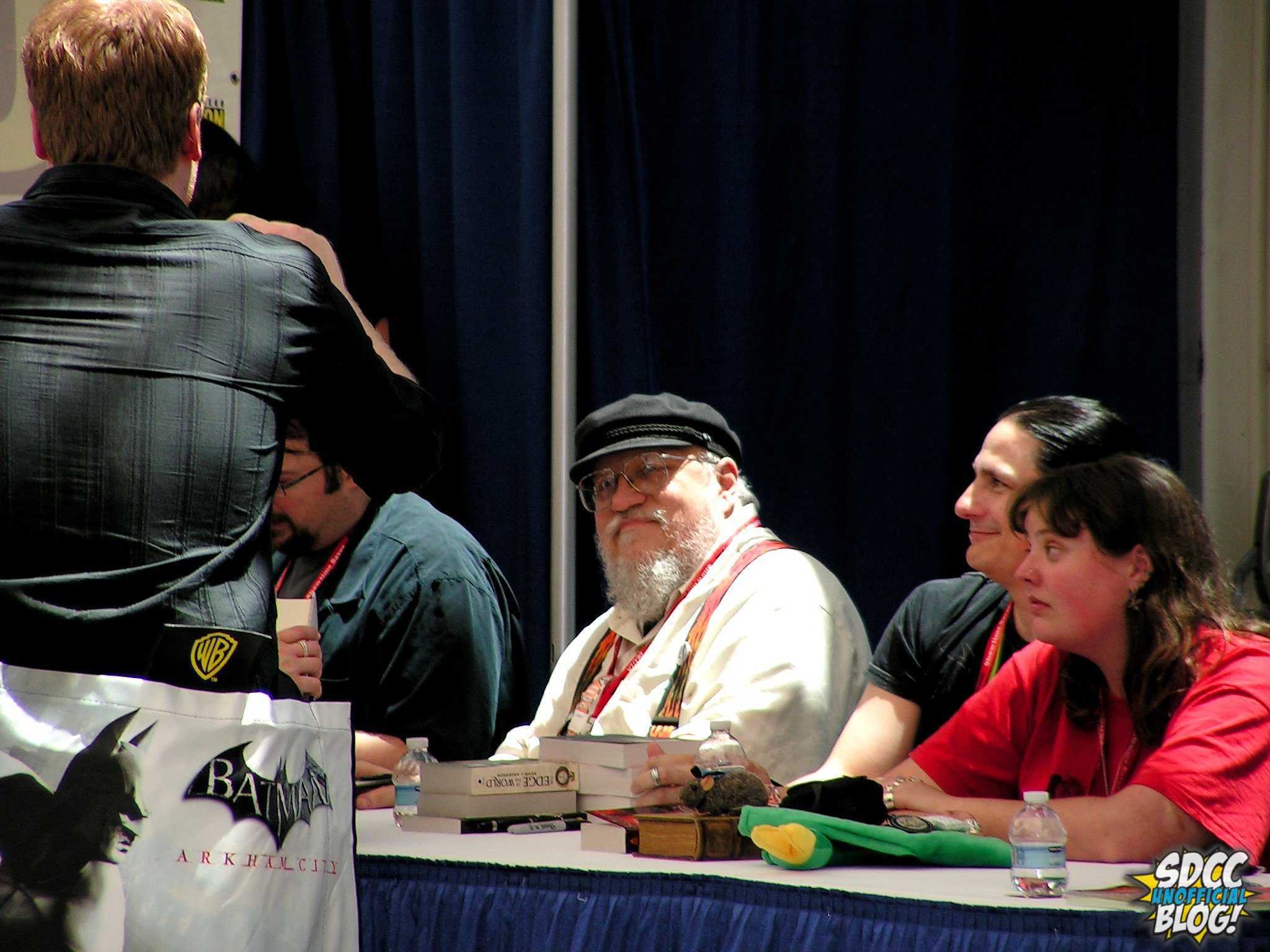 Simply say the words Game of Thrones and you will be hard pressed to find anyone who does not know what you are talking about. In fact, every year since the HBO show first graced our television screens in 2011, the show has only risen in popularity. Even within the halls of the San Diego Convention Center, Game of Thrones has always had one of the most popular panels and one of the longest Hall H lines that San Diego Comic-Con has ever seen.
Each year, it's expected that Game of Thrones will once again have some sort of presence at SDCC. Each year since its beginning, the show has had a strong con presence and author George R.R. Martin has always been a part of it. So what would Comic-Con be without the man who penned the fantasy saga that helped to create one of the most popular shows on television? Well, it seems we are about to find out.
Last night Martin took to his "Not a Blog" Livejournal account to reveal that he will not be attending this year's SDCC.  Although he mentions time constraints as the reason for missing this year's con, the news isn't that surprising.
Martin has been working with HBO from the beginning to help bring his A Song of Ice and Fire fantasy saga to the fans. Although showrunners David Benioff and D.B. Weiss primarily write the episodes, Martin has always had a hand in the television series. He has always contributed by writing one of the season's episodes himself. However earlier this year, Martin told Entertainmet Weekly that he would not be writing an episode for the upcoming season five, because he's "got a book to write". With that on his plate and Martin's already busy schedule, it does seem appropriate that that he has opted to forgo the con this year.
It also seems that Random House does not have any need to bring Martin to Comic-Con this year either.  Late in 2014, another of Martin's projects, the companion book to Martin's A Song of Ice and Fire fantasy series, The World of Ice and Fire: The Untold History of Westeros and The Game of Thrones, which was co-written by  Elio M. García Jr. and Linda Antonsson (of Westeros.org) was published.  Some had hoped to possibly see Martin, García Jr. and Antonsson at SDCC to possibly promote and sign the newly published book.  However when Westeros.org was asked via a tweet if that would be a possibility they replied that it depended on Random House, however they didn't expect any Con appearances or signings. 

@theReal_Rebel Depends on if Random House asks us over, but I expect not.

— Elio & Linda (@westerosorg) February 28, 2015
Although Game of Thrones fans will still likely have a lot to be excited at this year's convention, they'll also likely have to make do without the popular offsite that HBO has brought for the last several years. While there's no official word from HBO, the offsite will be in Europe this summer, making it unlikely that they'd ship the exhibit back overseas just for Comic-Con.
Will Martin change his mind and decide to join in the San Diego Comic-Con festivities?   There may still be a small measure of hope as Martin himself stated "[s]hould I complete and deliver WINDS OF WINTER before these cons roll round, I reserve the right to change my mind" in his Livejournal post. However, seeing the time and care that he takes to finish his books, that seems an unlikely possibility. Until then, Martin has made it clear that he will be saying "Not today" to SDCC 2015.
Here's a look at the full update from Martin to his fans:
I don't often attend the World Fantasy Convention (not to be confused with the World Science Fiction Convention, which I have only missed once thirty years), but I was there the last time it was held in Saratoga, and I had a great time. A terrific town, a wonderful con.

This year the convention is returning to Saratoga once again, and I was hoping to return as well. I'm not a guest of honor, and I'm not (so far as I know) getting an award; I just wanted to go.

Reluctantly, however, I've just had to scratch Saratoga off my list of 2015 appearances. For no reason having to do with the con itself. I am sure it will be terrific. It's just a matter of time.

I have too much to do. Too many things on my plate. Son of Kong foremost amongst them.

My apologies to anyone who saw Saratoga on my Appearances page and planned to go in order to see me. I won't be there. Go anyway. You'll have a great time.

Also, I have decided against attending this year's San Diego Comicon. Same reason. But since Comicon was never listed on my Appearances page, scratching it is not as big a deal.

(Should I complete and deliver WINDS OF WINTER before these cons roll round, I reserve the right to change my mind).
What's your reaction to Martin's announcement? Let us know in the comments.