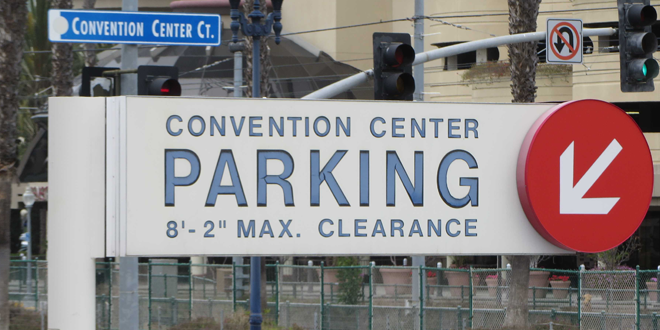 You've got your San Diego Comic-Con badge, you've hopefully got your hotel – but what about parking? It's a crucial piece of the puzzle for many attendees – although Comic-Con International offers a free shuttle to area hotels, and the city has the trolley and other public transportation options, the ability to have your own car in the vicinity, especially if you're local, is crucial.
Ace Parking announced today that this year, parking lot assignments will be done differently than in the past. Although in 2014 Ace revamped their website to try to meet up with increased demand for parking, the system was met with some glitches, possibly due to a DDoS attack, or simply because they weren't expecting the sheer number of attendees who all wanted parking at once.
This year, according to Ace to "provide the best experience possible and take the pain and pressure out of the process", they're moving to a lottery based system.
In order to be register, all you need to do is send an e-mail to cci2015@aceparking.com (one entry per e-mail address) between now and April 12. After that, a random drawing will be done to select the winners, who will then be e-mailed by April 15 with "details on how to purchase your permit at the location you were drawn for". If you are chosen, you are guaranteed a spot. If you are chosen and choose not to purchase a permit, it will be forfeited. The lots that are available in the lottery will be filled in this order:
Convention Center
Hilton Garage
Petco Lots (excluding Campus lot which will be closed for construction during Comic-Con)
Padres Parkade
Diamond View Tower
Horton Plaza
Gaslamp City Square
Once the lottery lots have been filled – which are the most sought after locations that Ace sells parking for – the system will be opened to the public for purchase of any remaining inventory.
[UPDATE April 2] We've learned some new information about how the sale will be run, directly from Ace Parking:

The sale is going to be done in phases by lot and each group will have five days to purchase their permit (weekend days included). In an effort to provide a small degree of flexibility, we're also going to allow each group to purchase permits for their drawn lot and any lower priority lot. We do recognize the fact that people are going to have a preferance and some people we have drawn for the Convention Center may actually prefer the Hilton Garage and on down the list. If the Convention Center doesn't sell out after the first group, the Hilton group will be able to purchase the remaining permits for the Convention Center and so on down the list. Also, refunds will be allowed and returned into the inventory pool for purchase by another user, so as the sale progresses refunded permits at the Convention Center and Hilton may become available for purchase by other customers.
Because selected users will only be able to purchase one permit (but for any/all needed days), this should hopefully keep lower-tier lots from selling out before the selected attendees for that lot have a chance to purchase them. Ace will continue the five-day group sales until all eight locations have been processed, and hope to have the system open to the public (anyone who wasn't selected in the drawing) by the first week of June and keep it open through July 1, 2015.
Attendees who registered and are selected will receive an e-mail on April 15.
[UPDATE April 1] Ace answered some common questions about how the lottery will be run:
Q: If I send in multiple entries from multiple email accounts that I own and win one of them, can I purchase my permit with any of the emails I registered with or only the one that won?
A: Only the one that won. Your winning email address must be registered in the account you are going to use to purchase the permits. The purchase process will require you to log into your account first and will validate your email address. If your email address matches one on the selected list, you will be given the option to purchase a permit at the lot your name was drawn for. If there is no match, the option to purchase a permit will not be available to you.

Q: Can I register for the drawing with an email address that I haven't registered an account with in the permit system?
A: Yes. Accounts in the permit system are separate from the registration emails. If one of the email accounts you entered from is selected to purchase a permit, you have the option to create an account for that email address, or update your existing account with that email address to qualify for the purchase option.

Q: If my entry is selected for a lot, can I purchase a permit for multiple days, or just a single day?
A: When you enter the system to purchase your permit, you will have the option to purchase permits for all five days during the show (preview night and four show days.)

Q: Can I register multiple times for the lottery?
A: Yes and no, the system will accept your entries, but the drawing will be restricted to one entry per email address.
You can find more information on Ace Parking's website.
What do you think of Ace Parking's new system? Let us know in the comments.