Last week, the San Diego Padres announced changes to their parking system, noting that the "Parcel C" parking lot adjacent to Petco Park is now permanently closed off for the development of a mixed-use complex, with a condo high-rise and retail spaces.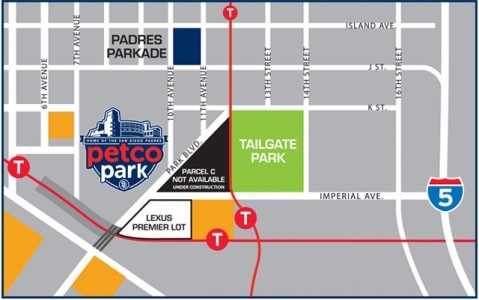 The Parcel C development was initially approved in 2005 and delayed for many years, but will finally be breaking ground before Comic-Con this year. The space will be under construction during this year's convention, and will likely be under construction for several years to come. You can read more about the planned Ballpark Village in this 2013 article from the Union-Tribune San Diego.
A more immediate issue is that the closure of this lot removes 520 parking spaces from the Comic-Con parking pool. Along with some street parking removed for the Deco Bike stations, and the 100-space lot next to the Hotel Solamar removed for the construction of a new hotel, we are losing quite a bit of our SDCC parking.
We reached out to Jon Gjerset, CIO of Ace Parking, the company that handles SDCC parking permits, who confirmed that, "Unfortunately, that means we will be losing about 500 spaces for Comic-Con, and other than lots that are available a little further away from the Convention Center, there will be no replacement for it."
This will make the use of the convention shuttles, public transit or ride shares during this year's Con even more important.
Although there's no word yet on when parking for this July will go on sale, Gjerset said, "As for the sale of the parking permits, we are working on a process to ensure we can get through the sale as smoothly as possible. More details on how that will work will be forthcoming in about a month."
What are your plans for transport and parking during Comic-Con this year? Let us know in the comments.