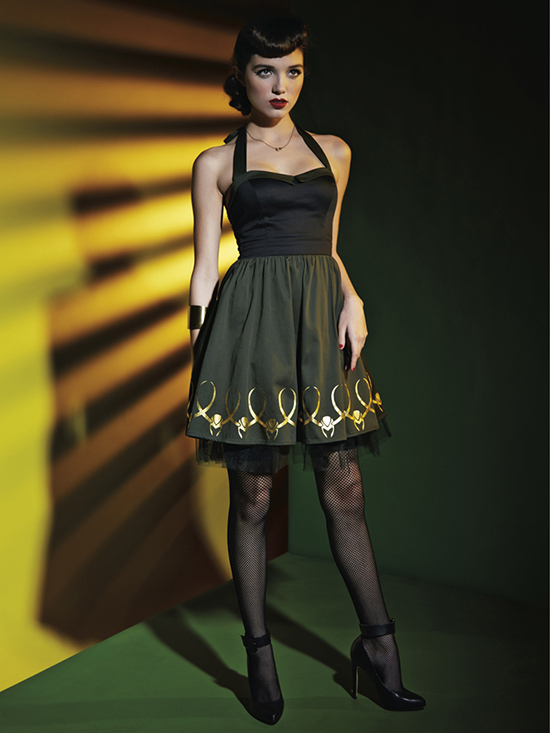 Ashley Eckstein's popular geek-themed clothing line, Her Universe, and Hot Topic are teaming up to bring San Diego Comic-Con attendees the second annual "Geek Couture" Her Universe Fashion Show.
For those who attended in 2014, you already know that this event was filled with exciting designs created by fans of both pop culture and fashion, featuring designs inspired by everything from Doctor Who, Marvel, DC, and much more. And for 2015, amateur fashion designers will once again be able to submit their pieces, inspired by geek culture, to possibly show off their final designs in the live show, set to take place in on Thursday, July 9 at the Manchester Grand Hyatt Hotel. There is no official time yet, but we've been told that it will take place in the evening, similar to last year's event.
"We're thrilled to announce The Her Universe Fashion Show is coming back to San Diego Comic-Con 2015," said Eckstein in a press release. "I can't wait to see the designs submitted this year. It's going to be impossible to choose only 25 designers to compete in this year's show. SDCC brings together a pool of incredible talent!"
Last year's winners, Amy Beth Christenson and Andrew MacLaine, wowed the audience with their original, handmade creations and, as a result, their exclusive Marvel Avengers Collection is premiering in Hot Topic stores and hottopic.com this May.
"The success of last year's fashion show highlighted the unique opportunity to directly engage fans in what is clearly a labor of love," said David Glanzer, director of marketing and public relations for Comic-Con International, in the same press release. "We are excited to welcome Ashley and The Her Universe Fashion Show back for what is sure to be another fun and exciting event."
Submissions are being accepted through April 22, and the top 25 contestants will be selected and announced by April 28. You can find the full list of rules on the Her Universe contest page.