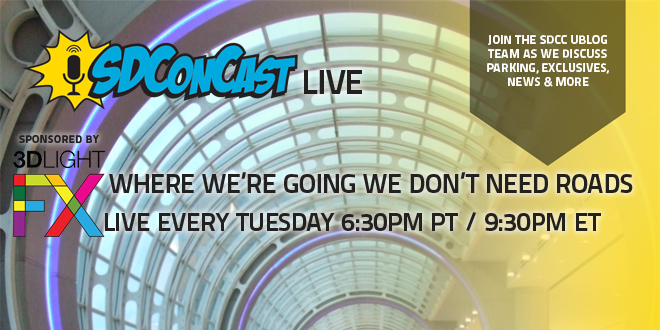 We're back! We kicked off the official start of season four of the SDConCast on our new home of Tuesday nights.
This week, James, Kerry, and Sarah discussed the parking sale's move to a lottery, exclusive news, and much more. There was even a special announcement about our reader party, Enchantment Under the SDCC.
Join us again next week!
The SDConCast is brought to you by 3DLightFX, the makers of the innovative cordless 3D Deco Lights. Find the perfect Marvel, Nickelodeon, Hasbro, or Disney light to decorate your or your child's room. And now, you can pre-order the brand new Star Wars lights, available in Darth Vader, Yoda, or Boba Fett. Visit 3DLightFX.com to find out more.

Show Notes:
Enchantment Under the SDCC tickets
3DLightFX Star Wars lights now available for pre-order
Contest: Win 2 Passes to Walker Stalker Fan Fest
Site Links:
[Google+ Event Page] [SDCCBlog.com] [Facebook] [Twitter] [YouTube]
Music:
Intro: "Omg I <3 Livejournal (And My Livejournal Loves Me)", Talkshow Boy
Podcast Links:
Download: 93.7 MB, 51 minutes [Direct Link]
The Hosts:
James Riley
Twitter:@danregal
Website: geekshotphoto.com
Kerry Dixon
Twitter: @kerrydixon
Sarah Lacey
Twitter: @slacestation