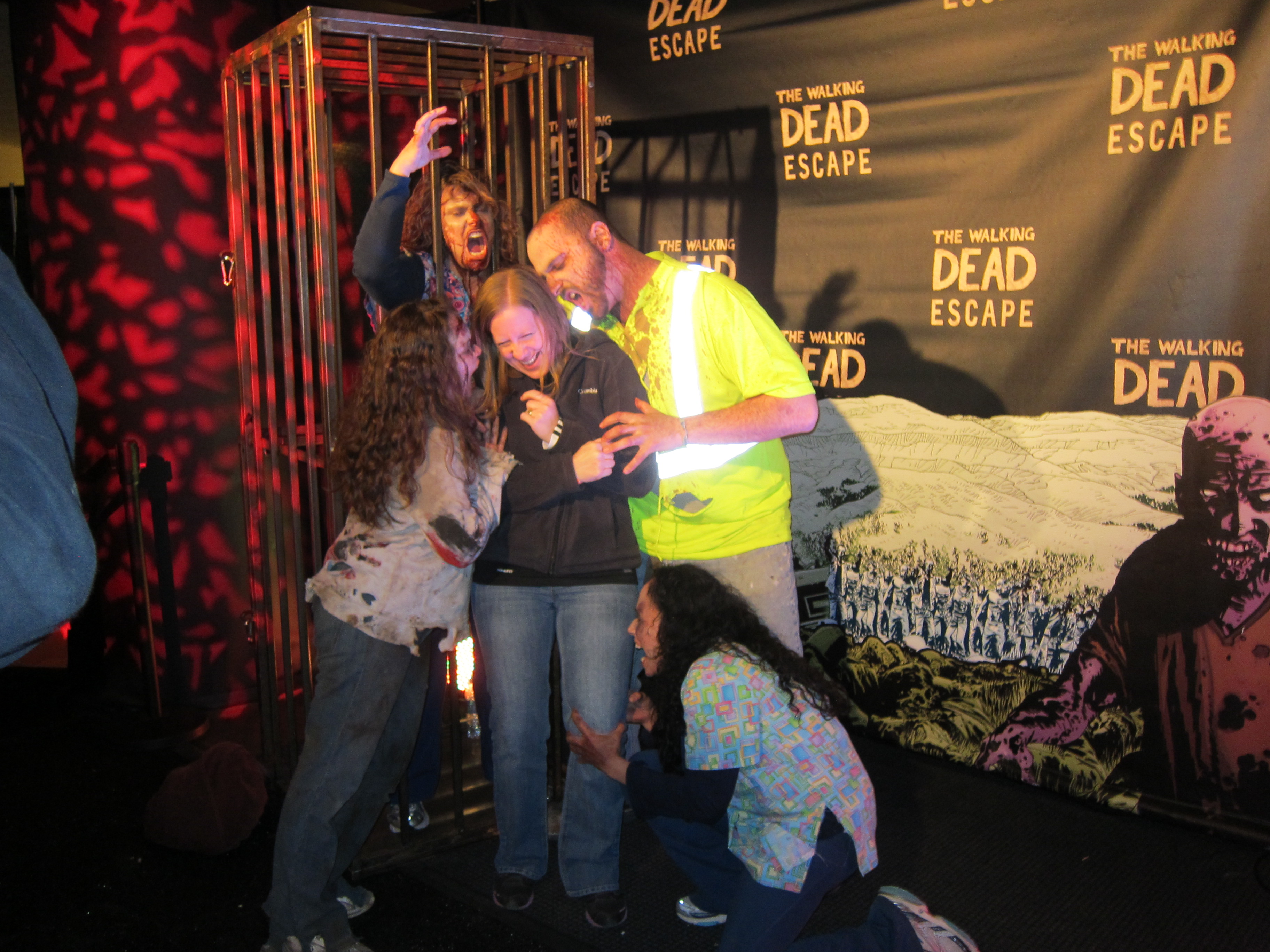 You might just lose your head over this announcement: The Walking Dead Escape, the popular offsite event based on the hit comic and television show, will be returning to Petco Park for San Diego Comic-Con 2015.
The website for the event confirms that the Escape is back at Comic-Con for the fourth year running, on July 10 and 11, from 6PM-10PM. New this year, you'll also be battling Negan and his Saviors.
Tickets will be on sale "within the next few days", and include several different options, including $40 for a Survivor to run through the Escape, $75 to become a "Walker" and receive a zombie makeup makeover, $100 for either a combo ticket to let you do the Escape twice (once as a Survivor battling the zombies, and once as a Walker) or a Walker VIP ticket, which includes the same zombie makeup makeover, a prosthetic makeup piece, a Walking Dead Escape t-shirt and poster, and more. A Survivor VIP is also available, which includes the Walking Dead Escape t-shirt and poster for $65. You can find more information on The Walking Dead Escape's ticket page.
That won't be the only The Walking Dead themed event going on in San Diego, though. According to the Facebook page, a Walker Stalker Fan Fest is also coming in the daytime to Petco Park, where fans will "participate in multiple Walking Dead immersive experiences at the Fan Fest, including interactive games, panels, and the opportunity to meet some of your favorite celebrities". That event will take place from 11AM-5PM on both Friday and Saturday of Comic-Con, with tickets on sale "soon".
Prices range from $30 for a Friday or Saturday day pass, $55 for 2-day admission, or all the way up to $800 for a Platinum VIP pass that includes four photo ops, four autographs, a tour guide, and being escorted to the front of each guest line.
You can find more information about the Walker Stalker Fan Fest on the event's website.
[UPDATE]
Tickets for both events will go on sale on Saturday, April 18, at 10AM PT.
TICKETS for #TWDEscape & #WSFanFest #SanDiego will go ON SALE Saturday at 10 am Pacific Time! http://t.co/hyVTaLPoDM http://t.co/ZucfApkEgF

— TWD Experience (@TWDExp) April 18, 2015
In the meantime, take a look at our videos below for a first-hand account of the Walking Dead Escape course from 2013, as well as the walker make-up process.
Are you excited for walkers to once again invade Petco Park during SDCC? Did you participate in the event last year? Let our readers know your thoughts in the comments.