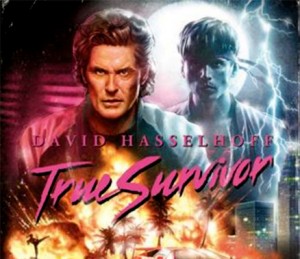 The Hollywood Reporter is reporting that The Hoff himself, David Hasselhoff, will be performing at San Diego Comic-Con this year.
David Sandberg, director of the Kickstarter-funded short film Kung Fury, told The Hollywood reporter, "He coming to Comic-Con. And he really wants to perform."
Hasslehoff performed the theme song "True Survivor" for Kung Fury, which recently saw its full-length feature film debut at Cannes, after raising $630,000 through Kickstarter, thanks in large part to a two-minute trailer which featured Hasslehoff and the song.
Now, it looks like Hasselhoff will have that opportunity to perform the song for Comic-Con attendees. There are currently no details about where exactly that performance will take place, but THR goes on to say that the "Comic-Con performance is aimed at further promoting" the full-length feature film of Kung Fury.
This won't be Hasselhoff's first SDCC appearance, either, as he had previously come to the convention in 2010 to promote his then upcoming series, The Hasselhoffs.
Here's a look at the original two-minute trailer for the film:
https://www.youtube.com/watch?v=72RqpItxd8M
Are you excited about seeing Hasselhoff at SDCC? Let us know in the comments.